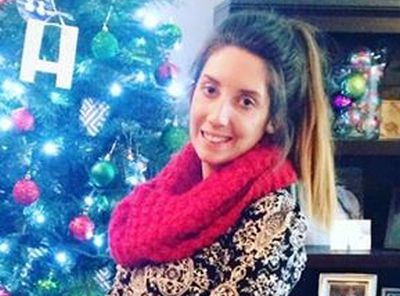 Kayla Jackson, who starred on the third season of 16 and Pregnant, has just announced that she's pregnant again! Kayla, who is already mom to five-year-old Preston, took to her Instagram earlier this week to break the big baby news.
"[I'm] a little over 18 weeks [pregnant], so this summer Preston will be a big brother," Kayla captioned a photo of her tiny baby bump. "We're all so excited for 'the new kid' (as we call him/her) to join our crazy family."
Kayla is pregnant by her boyfriend of over three years, Matt Neyers. This will be their first child together. (She broke up with Preston's father, Michael Schwing, years ago, but the exes have remained good friends. In the time since he appeared on '16 and Pregnant' with Kayla, Michael has joined the military and is about to enter basic training next week.)
On Twitter, Kayla told a follower that she is due in August.
Kayla is one of the last girls from her season of '16 and Pregnant' to have a second child. Now that Kayla is pregnant, there is only one girl– Taylor Lumas— from that season who has not gotten pregnant again since appearing on the show. The other nine girls who appeared on Season 3 have had second babies or pregnancies.
Last year, Kayla expressed her regret over her decision to appear on the MTV reality show. In a Twitter post, Kayla wrote that appearing on '16 and Pregnant' was "the worst decision" she ever made.
"I hate '16 and Pregnant,'" she wrote in March 2015. "It was the worst decision I've ever made. And every time they replay [my episode] and people ask me about it I regret it all over again." (Click here to read what else she said about the show.)
To find out what's happened to some of the other girls from '16 and Pregnant' Season 3, click here!
(Photo: Facebook)