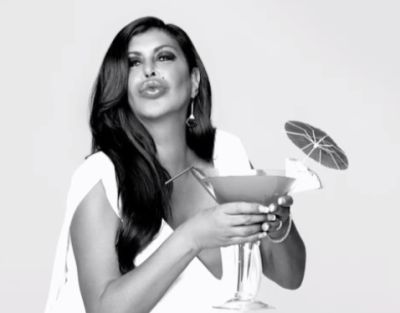 By Holly & The Ashley
VH1 has announced plans to air a tribute special in honor of recently deceased Mob Wives star Angela "Big Ang" Raiola. "Larger Than Life: A Celebration of Big Ang" will give fans a look at some of Ang's most memorable moments.
The special will immediately follow the series finale of 'Mob Wives.'
Big Ang quickly became a fan favorite when she debuted as the gravelly voiced momma bear on 'Mob Wives.' Ang joined 'Mob Wives' in the second season and was such a hit that she eventually landed her own spin-off show on the network. The show Big Ang gave viewers an inside look at the "fabulous life of Big Ang." It showed her life as a mother, as well as a Staten Island bar owner.
Big Ang was diagnosed with throat cancer in 2015 and it eventually spread to her lungs and brain. She passed away on February 18, 2016.
In the meantime, Big Ang's family and fans have been working to keep her memory alive. Yesterday, a mural of Ang was unveiled in Staten Island, New York. The mural, which is displayed at Ang's sister's store, Country Mouse, features a cartoon drawing of Ang, as well as her catchphrase, "I'm not here for a long time, just for a good time."
The artwork was done by Danielle Mastrion and Vincent Santorella. The unveiling event attracted news coverage, as well as many of Ang's family, friends and fans.
UPDATE: In a press release sent out on Tuesday, VH1 revealed that the special will feature interviews with other celebrities who knew Big Ang. The special, which will be hosted by Nina Parker and Nessa, will include interviews from Ang's former 'Mob Wives' cast mates, as well as  Yandy Smith, Carmen Carrera, Nicole 'Snooki' Polizzi, 'Couples Therapy' star Dr. Jenn Mann and Joe Budden. Former 'Jersey Shore' star Vinny Guadagnino will interview fans on the street as well.
Watch the trailer for the 'Mob Wives' finale and Big Ang special below:
(Photo: VH1)