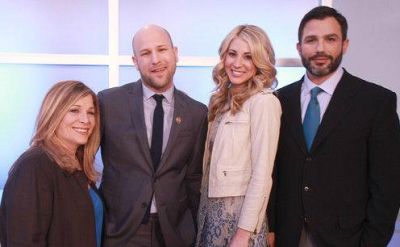 Another one bites the dust!
Yet another expert has announced that he is leaving Married at First Sight! Just days after the show's psychologist, Dr. Joseph Cilona and sexologist Dr. Logan Levkoff confirmed that they are leaving the hit A&E reality show, spiritual adviser Greg Epstein announced that he will not take part in the show's upcoming fourth season.
Greg, who, like the other experts, has appeared on the show since it began three seasons ago, cited his busy schedule as the reason for his departure.
"Not doing Season 4 but it's been an honor & privilege," Greg tweeted on Tuesday. "Thank you all for the adventure. #rootforlove… As Married At First Sight began I'd just signed contract to write my 2nd book-hard to do that/MAFS/Harvard Humanist job. Excited to finish book."
Now that Greg has added himself to the show's "departure" list, that leaves only sociologist Dr. Pepper Schwartz on the show. She has not yet stated if she will continue on into Season 4, which is already in production.
While the show has done great in ratings, it has not had a great track record of creating lasting married couples. Some fans believe that this may be the reason the experts are jumping ship from the show.
"I don't blame you," one Twitter user tweeted to Greg after he announced his departure. "These people are in it for the fame and not the commitment. Marriage takes work."
"Are you guys leaving because you no longer believe in the experiment?" another asked him.
When asked for comment, a rep for A&E told The Ashley that the network had "no further comments at this time" regarding the future of the show's experts.
(Photo: A&E)