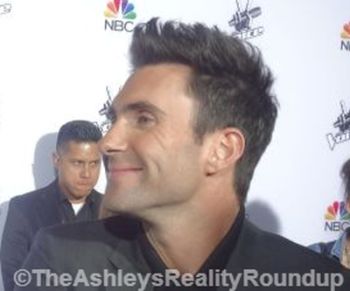 One of the "book end" coaches on The Voice is about to become a first-time dad and, despite what the tabloids are saying, it's not Blake Shelton!
Us Weekly broke the news that Adam Levine is expecting a baby with his wife, supermodel Behati Prinsloo. Adam and Behati have been married since 2014.
The magazine's sources state that Behati is currently about three to four months pregnant. This will be the first child for both Behati and Adam but, if Adam has his way, it certainly won't be his last.
"I want to have 100 kids," Adam joked during a 2014 radio interview. "I want to have more kids than would be socially responsible."
Adam and Behati have yet to speak out about the pregnancy but the tabloids are already spinning with stories that Adam is planning to leave 'The Voice' after the completion of Season 10, due to the new baby and his desire to leave the show while it's at its peak.
"Adam has had enough of 'The Voice,'" a source reportedly told Life & Style. "He wants to make this his final season. He doesn't want to stick around until the show is in decline. He wants to leave on a high note."
Of course, this last part should be taken with a grain of salt, as Adam has made no indication that he intends to leave 'The Voice.'
If Adam does decide to leave, it's likely that Blake Shelton will follow him. Last year, Blake said that he wouldn't do 'The Voice' without Adam.
"I've told them if that ever comes up, I'm just gone period," Blake said in November. "[Adam and I have] figured out what people like about our relationship, and that's the immaturity, and the fact that we can't hurt each other's feelings, so there's no holds barred."
Blake, who is usually quite vocal on social media, has yet to mention Adam's impending fatherhood.