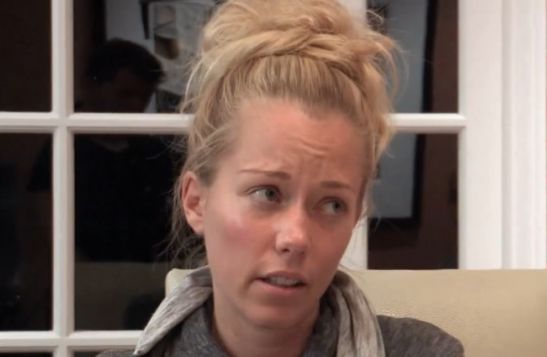 By Holly
Although the fifth season of Kendra On Top won't premiere until April 1, WEtv is giving us a sneak peek of the new season. The first trailer for the season is out and it's dramatic–and confusing!
The trailer makes it seem like Kendra and her husband, Hank Baskett, are no longer together. Kendra is shown partying with several men who are hitting on her, and proclaiming that she's making big changes in her life.
"I'm making up grades in my life," Kendra is heard saying. "Out with the old, in with the new…I'm not the type that should be married."
However, Kendra herself confirmed to The Ashley last month on the red carpet of the OK! Magazine Pre-Oscars Party that she and Hank are doing better than ever.
Hmmm….
The trailer also hints that Kendra is no longer getting along with her BFF, Jessica Hall. In the trailer, Jessica says that Kendra never calls her anymore, and when Kendra blows Jessica off, Jessica tells her, "Fine hang out with Jade everyone else."
However, The Ashley can confirm that Kendra and Jessica showed up to the same OK! Magazine party together in late February and partied together like BFFs all night. (They must really be fishing for storylines this season. It's no surprise; Kendra could only ride the "my husband cheated on me with a transsexual model" storyline for so long.)
One thing that hasn't changed in Kendra's life is her feud with her mother, [Party] Patti Wilkinson. We learn from the trailer that Kendra's mother is still threatening to write a tell-all book about her, and Kendra is bitter about it.
"She took my tears off of my face and sold them," Kendra says of Patti.
It seems that Kendra will also continue to feud with her former Girls Next Door co-star, Holly Madison. Kendra's manager is claiming that someone reached out to him about a "Girls Next Door" reunion. While Kendra doesn't say if she's planning to attend the reunion, we are keeping our fingers crossed! Maybe we will finally get to see Kendra confront Hollyin person, instead of just talking about her!
While the trailer makes it seem like this season is going to be very explosive, it doesn't exactly match what Kendra recently told The Ashley.
"This new season a lot is changing," Kendra told The Ashley in late February. "I am fully healed from all the drama that me and Hank went through. I don't think about it anymore, I'm healed and there is no going back. You won't hear us go back again this season."
We will see it all go down when 'Kendra On Top' Season 5 premieres on April 1 on WEtv!
Watch the trailer below: