The Ashley has good news and bad news for y'all! The good news was that the seventh season of Teen Mom 2 premiered on Monday night!
The bad news is…we now have to face the fact that we've been watching this horrific show for seven seasons now. Do you know how long that is? Over here on The Roundup, The Ashley doesn't like to break things down in years. Instead, she prefers to think of it in terms of how many engagements Jenelle has had and/or how many different hair colors Chelsea has sported over the course of the series. Any way you put it– we've been watching this crap for way too long.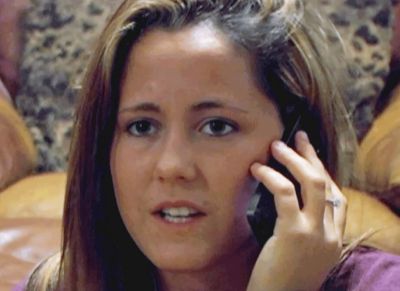 Anyway, Season 7 kicks off with a refresher course on all the ridiculous happenings from Season 6. Jenelle screamed at our Babs (as per usual), she got engaged to her soulmate (as per usual), and then everything went to crap and someone ended up in handcuffs (as per usual). Leah found out that Corey wanted to take her twins away and that Jeremy wanted to get as far from her as legally possible. She handled all of this ex-husband drama by (not) taking happy pills and falling asleep on babies.
Meanwhile, Chelsea is still paying for the poor decision she made at 16 to let Adam boink her sans condom. After years of generally terrorizing the state of South Dakota, Adam decided he wanted to be a parent to Aubree. Kail got in a lot of fights with Javi, as well as her ex, Rappin' Jo.
Now that we're all caught up on the gals, it's time to start Season 7!
We begin with Jenelle. Within literally 30 seconds, we learn that Jenelle has, yet again, gotten in trouble with the law. (You can always count on them to cram all of Jenelle's most-recent legal offenses into the first 30 seconds of her voiceover in a new season. Soon they will have to hire that fast-talking guy from the Micro Machines commercials to read the voiceover, though. He'll be the only one that can manage to get all of her offenses in under 30 seconds!)
Anyway, as usual with Jenelle, "things got out of control" when ol' Nathan brought his new soulmate over to Jenelle's house. We don't know what Jenelle did (yet), but somehow it managed to end with a mugshot and assault charge.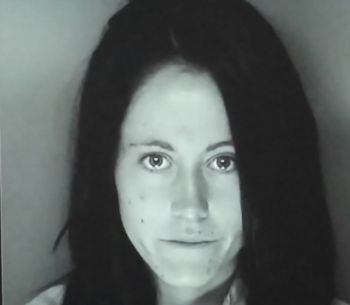 Thankfully, MTV treats us to Jenelle's latest mug, which is suitable for framing if you ask The Ashley! Babs must be showing all her Wal-Mart coworkers Jenelle's mugshot, and telling them stories of what her "bitch of a daughta" is up to now!
Jenelle has been quite busy, though, in between the assaulting and whatnot. She graduated from medical assisting school, moved closer to Casa de Babs, and is still fighting with Nathan over who gets Kaiser, (the baby, not the healthcare plan).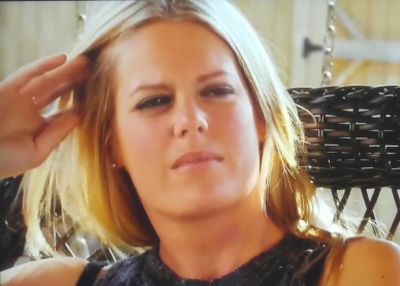 In honor of the new season, Jenelle's secured a new degenerate friend named Jaime. She's a pretty girl and, though she has unfortunate taste in clothes, appears to be somewhat normal. (By Jenelle's friend standards, that means that she has all of her teeth and has no visible ankle monitoring system.)
Jenelle tells Jaime that she was charged with assault after she attempted to spray water on Nathan's new girlfriend but accidentally let go of the glass ("somehow") and the glass hit the girl on the head. Jenelle can't even keep a straight face as she explains this story to her friend. Nathan happens to call at the exact moment that Jenelle is talking about him! (Isn't that just a knock-ya-in-the-head-with-a-glass coincidence!?)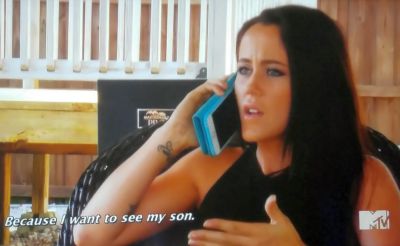 Nathan is upset because he thinks that Jenelle is withholding Kaiser from him, simply because Nathan is dating Glass Girl. This is, of course, exactly what Jenelle told her friend she was doing just seconds before Nathan called.
Jenelle screams at Nathan when he says that he would have to put Kaiser in daycare while he is at school. Um…didn't Jenelle just tell us that Kaiser is currently being babysat by her friend, even though Jenelle is just sitting out in her backyard and talking to her random friend? Why isn't Kaiser with her?
Nate brings up that Jenelle is destined to become a lowdown felon. Jenelle, of course, ain't having none of that!
"First of all," she says, "it's a misdemeanor!"
She hangs up the phone all "dramastically" and huffs off.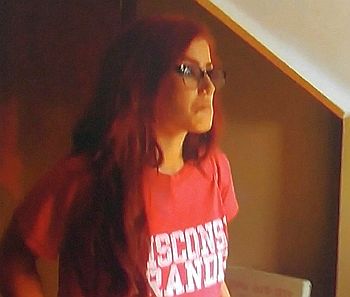 Meanwhile, Chelsea and Aubree are living happily with Cole. Aubree has just turned six and is about to start kindergarten. Chelsea tries to help Aubree pick something out to wear for her first day. Since no one appears to be taking heavy narcotics or throwing glasses over at Chelsea's cabin, we move right along to Leah's segment.
Leah's fresh from the 'hab, and is apparently all cured of her various, um, ailments. While her relationship with ex-husband #2, Jeremy, is cordial, Leah's not getting along with ex-husband #1, Corey. That dern Corey Tyler is still insistin' on gettin' full custody of the twinseses, which makes Leah angry.
Leah doesn't have time to worry about that today, however. She's been tasked with getting her girls to school by 7:15. It's 6:24 and Addie is still sleeping in a heap in the living room, and Ali is rummaging through the fridge, DSL (Desperately Seeking Lunchable).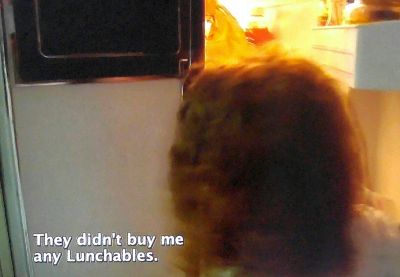 To Ali's dismay, she realizes "they" (who is most certainly not Leah and her secret live-in boytoy, T.R. Dues, of course) have forgotten to purchase her any processed meat packages for her lunch box.
Leah is staggering around the house, trying to corral kids into her Trashmobile so she can get them to school so that dern Corey Tyler don't yell at her for making them girls late. Leah looks like she's been awake since Season 6 ended. Seriously….whoa. Most women aren't camera-ready at 6:30 in the morning, but Leah is a special kind of, um, tired in this scene.
Aleeah is also sleeping in the living room and is reluctant to get up. Since she's Lunchable-less, Ali is hoping to at least be able make a sandwich for her lunch, but Leah squashes that dream when she tells her daughter that she is also out of bread. Where's a can of raviolis when you need it!?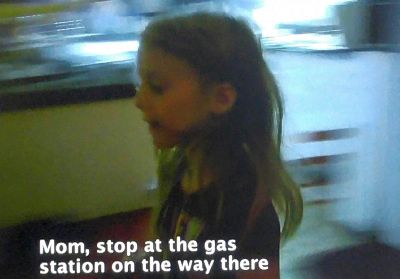 Aleeah is trying to figure out a way to get herself some damn lunch that day, so she suggests that Leah stop at a gas station so they can get some sort of food for their lunch.
You know things are bad when your kid is begging you to buy her some gas station food.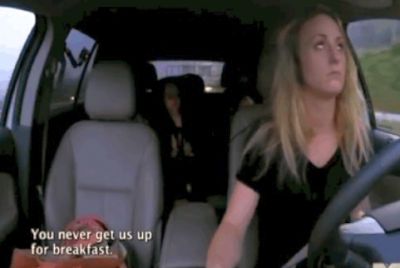 It's now 6:40 and Leah is just loading the kids into the car. Again, Aleeah begs for some gas station rations, but her request is denied. Ain't nobody got time for no gas station food, Aleeah! Come on!
Leah and her crew hit the streets of West Virginia. She's basically driving with one eye open and is texting as she drives.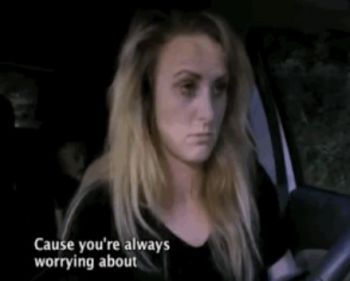 Who the hell is she texting at 6:45 in the morning? Perhaps she's texting the gas station attendant and asking him to throw two Lunchables into her car as they drive by?
Aleeah is pissed off that she has not been fed. She demands that her mother take her home. Aleeah isn't holding back– she then chides her mother for worrying about everything but picking them up and feeding them. Leah looks unfazed (and kind of unaware of who the short person who's screaming at her actually is).
"I'm cold and I don't have nothing to eat!" Aleeah wails. "You never get us up for breakfast. Daddy and Miranda does!"
The mention of her arch nemesis' name, Miranda, snaps Leah back into reality. She tells her daughter that she isn't "Daddy and Miranda" so don't be coming at her with ridiculous requests like being fed or whatnot.
Do we even need to see Kail's segment at this point? Or any other 'Teen Mom 2' segment ever? Nothing will ever top that scene…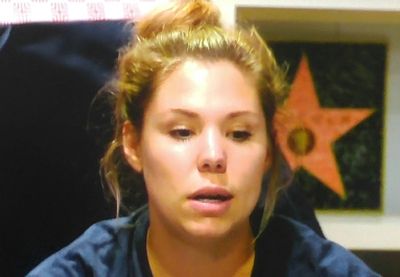 Kail tells us that she's still in college and that she's getting along with Jo much better now that she's not all up in his pockets. Kail and Javi are getting along too, but probably only because they rarely talk throughout the week.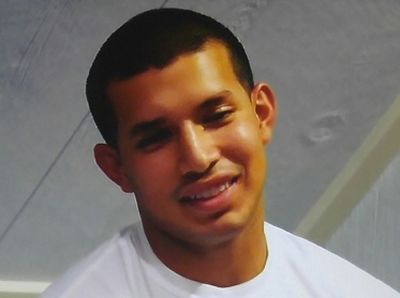 Kail tells Javi that she is planning to take family photos with the kids and, because he's still in the family, she'd like him to be there. Jo and his sperminated girlfriend Vee will also be attending the photo shoot festivities. Javi doesn't want to hear anything about Jo, but Kail encourages him to try to get along with Jo.
Ho-hum. Can we please get back to kids begging for Chevron chili cheese dogs please? That's much more exciting (albeit disturbing)…
Anyone else think that Chevron or some other gas company really missed an opportunity here? They should have bought an ad that aired right after Leah's scene.
"Chevron: Our food is beg-ya-momma good!"
Anyway, it's morning at Chelsea's house and Aubree has to go to school. Things at Chelsea's cabin are very different from what we saw of Leah's morning routine.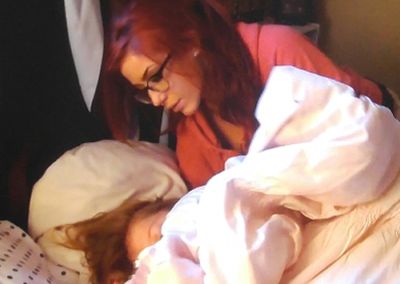 Chelsea's trusty pal Other Chelsey (whom we can only assume has been living in the garage since Cole moved in), is there to help get Aubree ready for school. They get Aubree out of bed and fix her a bowl of cereal for breakfast.
She's brushed, groomed and dressed for school and out the door with enough time to pose for pictures. They pile into Chelsea's car and barrel through the cornfields, as Chelsea tells her daughter how proud of her she is.
Later, Chelsea tells Other Chelsey that Adam actually showed up to see Aubree go to school. He asked to talk about visitation, but Chelsea is hesitant to make any changes in Aubree's life.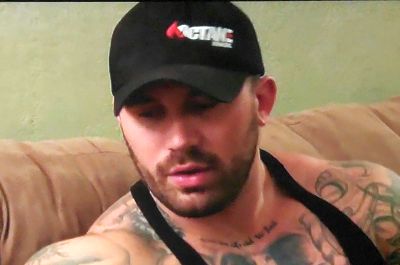 Speaking of Adam, we next get to check in on him. He's still hanging out with his trusty pal Justin, who looks like the creepy dude on the "Neighborhood Watch" signs. Adam is now certified to teach people to pump iron. Perhaps he can teach his pal how to speak English? Seriously, Justin just mutters an assortment of sounds when he's supposed to speak.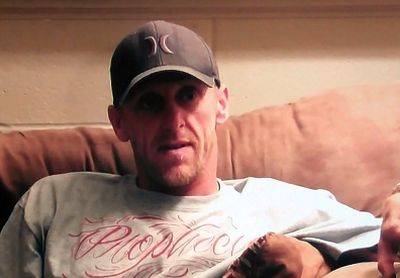 Adam says that he's hoping that Chelsea will let Aubree come over his house more, and that he doesn't understand why she won't allow Aubree to stay the night at his place.
Um…probably because you have creepy looking people like him at your place, Adam!
We go back to North Carolina where Jenelle is Facetiming her lawyer, Amy. The lawyer assures Jenelle that, while she was trainwrecky enough to rack up a misdemeanor charge, she wasn't quite trashy enough to get herself a felony charge as Nathan implied.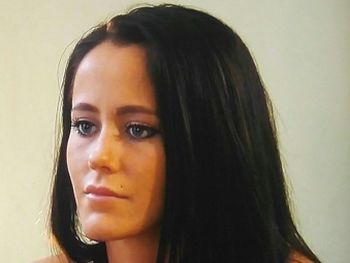 "I would have to beat her in order to get a felony?" Jenelle asks. (Better luck next time!)
Still, the lawyer tells Jenelle that she is currently facing 30 days in jail. (The fact that Jenelle doesn't even bat an eyelash when this is mentioned is quite telling.) Jenelle is a little worried, though, because she's "in the medical field" and she wants to be able to get a job.
That joke just kind of writes itself, doesn't it?
Later, Jenelle meets up with her pal, Tori to talk about all of Jenelle's assorted custody fights. Jenelle says that she can't fight for custody of Jace until she gets this darn violent assault charge dropped.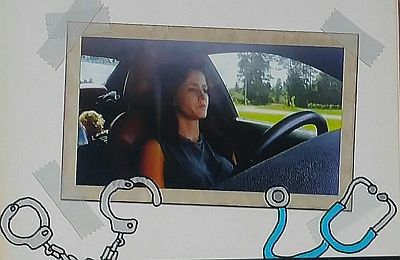 "It scars me for life, dude!" Jenelle wails. "If I have this charge, I'm never going to get a job in the medical field, dude!"
Maybe if Jenelle's dream of being a brain surgeon or whatever doesn't work out, she can get a job at the gas station in Leah's town, slinging Lunchables?
Jenelle brings up the fact that this charge will pop up when her potential employers do a background check on her. For some reason she seems to forget that she's been documenting her trainwreck life on a stupid MTV reality show for about six years and has been shown getting HIGH! HIGH!, arrested and doing other assorted hoodlum things on camera.
Tori doesn't seem to understand what all the fuss is about.
"There are felons out there that have jobs, Jenelle!" she tells her pal.
Hey, as we all know "being a felon ain't illegal!" You'll be OK, Jenelle!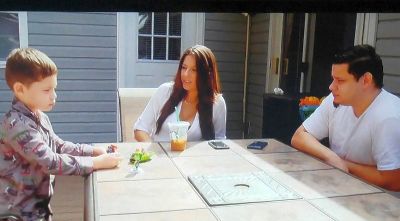 In Delaware, Jo and Vee are preparing to take to take Isaac to Kail's photoshoot. Before they leave, however, Vee reveals that Isaac is dying for her to "give birfff" already. She's very pregnant with Jo's second child.
They all arrive at the photo shoot, except Javi, who decided not to attend. Afterward, they all decide to go get something to eat, so Kail calls Javi to invite him along. Javi says he's too tired to go, but he wants Kail to drive Lincoln home. Javi starts to get all fired up so Kail hangs up on him. As you do.
In West Virginia, the twins are at school while Leah and her cousin Chasity head to have some lunch. Leah's youngest daughter, Addie, is zonked out after all of the mornings' antics.
Leah tells her cousin that getting the twins to school is hard for her because she has to get up at 5 a.m. and sometimes she's "so sleepy" that she can't stay awake while she's driving.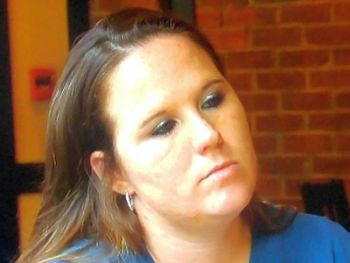 Leah explains to her cousin that Aleeah was being whiny, asking for breakfast and lunch, and stating that Corey and Miranda actually make them breakfast in the morning.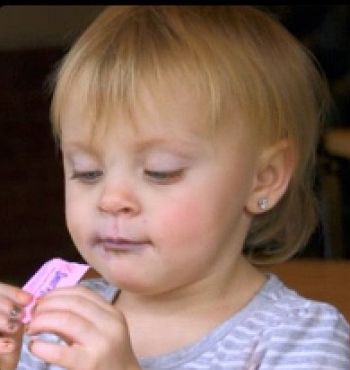 Meanwhile, Addie has woken up and is pawing through the sugar packets on the table. She shoves a few in her mom's face and Leah opens them for her and Addie starts guzzling SUGAR packets like they were candy. It's then that we notice that Addie's mouth is already blue around the edges, likely from some other type of pop/gummy/liquid candy object.
Chasity is just sitting there with her mouth open, trying to decide if it's worth forfeiting her MTV-paid-for meal to call out her cousin.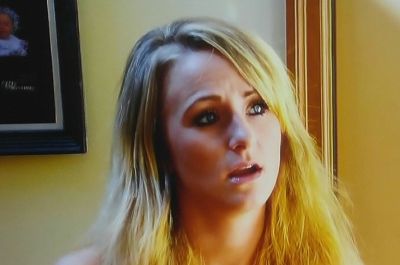 So, let's review: we have girls begging for gas station food and downing sugar packets. Just another day in the life of Leah, y'all!
Later, Leah prepares to take Ali to a doctor's appointment in Ohio. Corey and Miranda will also be attending the appointment, which makes Leah nervous.
The whole gang arrives at the hospital for the appointment, and Ali's wheelchair is brought in. Things are very cold between Corey and Miranda and Leah, but everyone keeps their cool during the appointment. Ali's doctor delivers some heartbreaking news about Ali's condition. He recommends that Ali start using her wheelchair once it's been fixed, and tells Leah and Corey that Ali's condition will continue to get worse once she turns seven.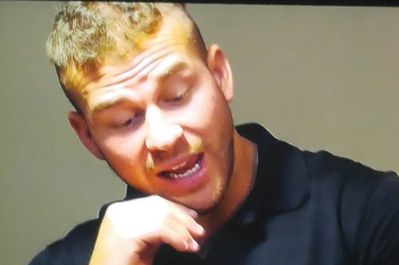 In South Carolina, we get to check in with Nathan and his new girlfriend Jessica. Nathan is actually wearing a shirt with sleeves and, although the shirt is purposely two sizes too small in order to show off his muscles, at least we've made progress since last season's cut-up Superman tank.
Jessica looks like someone you would have met at an Avril Lavigne concert circa 2004.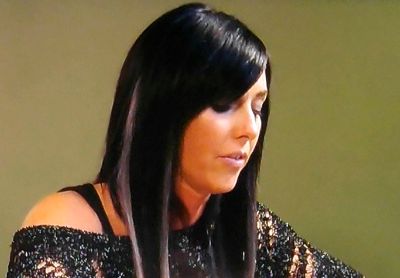 Nathan is making it seems like his life has changed a lot since he ended things with Jenelle. He's talking about trigonometry and tricep curls and whatnot, and it's painfully obvious that both he and Jessica are doing their best to show how "stable" they are. Nathan's "Joe College" routine is kind of ridiculous but, hey, at least he's not throwing glassware at people I guess.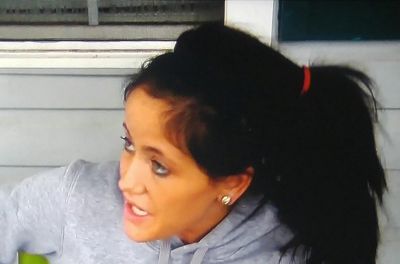 Back at Jenelle's Kaiser is sick, so Jenelle is freaking out about what to do. Babs is on her way to pick up Jace, who looks like he's counting the minutes until his grandma arrives. Jenelle decides that Kaiser needs to go to the doctor, and Tori takes over care of the screaming baby while Jenelle yells at Jace for spilling "drink" on her leather couch.
A few minutes later, we see her: Barbara has arrived!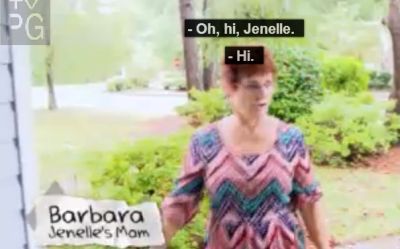 "Oh hi Juh-nelle!"
We got it in, right on the buzzer! Thanks for making my day, Babs.
As soon as Barb asks how Kaiser is doing, Jenelle completely loses her crap. She starts screaming at her mother for no apparent reason. When Barb brings up Jenelle's upcoming court date(s), Jenelle explodes again.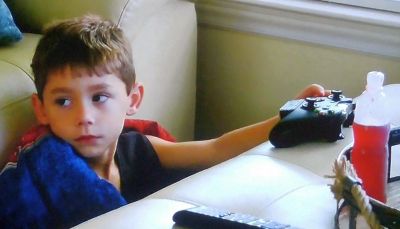 Babs starts to cry.
"Ya always hurt my feelings!" Barb yells. "Ya always want to be mean to me!"
Barb escapes with Jace, who seems happy to be out of Jenelle's House of Chaos.
Until next week….
To read The Ashley's 'Teen Mom 2' Season 6 episode recaps, click here!
(Photos: MTV)