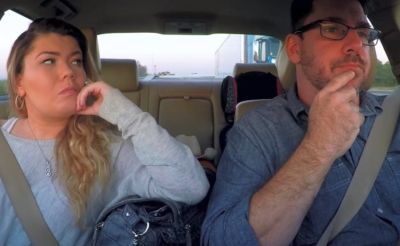 Teen Mom OG has its fair share of critics, but a new group of woman are starting to sing its praises.
Those women– the baby mamas of Matt Baier— are thrilled that the show is continuing for Season 6…but only because that means that they are finally going to be getting some child support money out of Matt!
The Ashley can exclusively confirm that some of the mothers of Matt's alleged nine children have already received the first payment from Matt, thanks to him getting his first big 'Teen Mom OG' check.
Although Matt has been featured in the last two 'Teen Mom OG' seasons, he was not counted as a "full time" cast member; therefore he was not making any type of big MTV check. Now that he has gone into a third season, The Ashley can confirm that he will be getting a salary from the show, with the first of these checks going out earlier this month.
One of the baby-mamas tells The Ashley that she got a $500 check last week– the first child support check she has ever received from Matt. That money came after the Department of Revenue was informed that Matt would be receiving a large check from Viacom (MTV's parent company).
"They are withholding 65 percent of his checks and dividing it up among the moms, from what I have heard," the mother told The Ashley.
Although Matt is now admitting to having five kids (he previously only acknowledged two), this particular baby-mama's child is not one of those five kids. Matt and his fiance, Amber Portwood, have stated that Matt has five kids who are all in their twenties, but this particular mom's child is still a minor (and a young one at that!)
For a full run-down of the seven kids whose mothers currently have pending child support filings against Matt, click here. For information on alleged child number 8, click here. The Ashley will have more info on Matt's alleged ninth child and baby mama very soon!
The Ashley also hears that Matt, who recently lawyered up for the child support court cases he's facing, is trying to settle out of court with all (or most) of the mothers of his children. (The Ashley is working to confirm this detail, but please fill this part under 'report' until further notice.) While he may be able to do that with the moms of the children who are now adults (and he simply owes back child support to), The Ashley's source tells her that it's unlikely that he'll be able to do that for the kids that are under 18.
"Matt is trying to come up with an amount for everyone to be comfortable with," the mom tells The Ashley. "[Matt and his lawyer] approached the Department of Revenue about it, but the DOR feels that it's a minor child that needs weekly upkeep. They won't allow them to do that for [a minor]. If he owes for the older kids, he can approach and settle. But for a minor child, like mine, they won't allow that to happen."
This particular mom has been watching Matt on 'Teen Mom OG' and says she's been disturbed about the way he's spoken about some of his children.
"What really pissed me off was when he was on the last Reunion and Matt got mad because everyone was bringing up what he called 'last season's stuff.' This is not 'season' stuff, this is real life, these are your children!" she said. "He is only recognizing five of his kids, and none under 13. You can't create a human being and walk away."
While it's hard for her to watch Matt on 'Teen Mom OG,' this mom says that she's hoping he stays on the show for a long time. The reason is simple, of course– Matt's appearance on the show means that he'll finally be making an income, which means that the moms he owes thousands of dollars in child support to are finally getting paid.
"I struggle because if Amber dumps him and he is no longer off the show, then he has no money again," she said. "But I know that it would be so much better for Amber and Leah if [he were gone]."
The Ashley can report that, although Matt's court hearing for the seven child support filings against him was supposed to begin on March 22, the hearings were cancelled for that day and rescheduled for May 10.