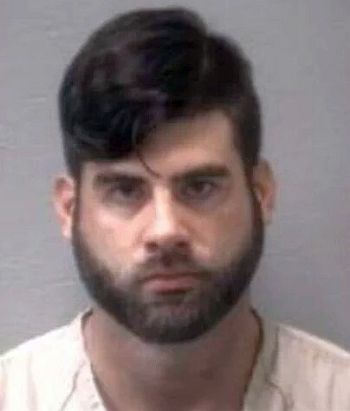 Just yesterday, David Eason, the boyfriend of Teen Mom 2 star Jenelle Evans, was posing for Easter photos to post on Instagram, but less than 24 hours later he was posing for a different kind of photo: a mugshot!
The Ashley has confirmed that David (who will appear on upcoming episodes of 'Teen Mom 2') was arrested around 10 a.m. Monday morning for violating a domestic violence protective order against him. A spokesperson for the New Hanover County Sheriff's Department has confirmed to The Ashley that David was picked up at a house in Wilmington, North Carolina.
David just posted a $2,500 bond and is now out of the slammer. The 27-year-old was able to add yet another mugshot to his already extensive collection. According to Starcasm, he had previously been arrested at least nine times before today's incident.
It appears that Jenelle is standing by her man, despite his legal problems. Although she has not yet spoken out on social media about David's arrest this morning, she has already begun to exchange messages on Facebook with her fresh-from-the-slammer soulmate.
"Just want to say I love you very much," Jenelle posted on David's Facebook timeline this morning. As soon as he was released from the detention center, David responded.
"I love you to the moon and back baby! More than you could even imagine!" he wrote.
One of David's baby mamas currently has a protective order against him, and Radar has just posted a story in which "someone" (cough, Jenelle, cough) explained what happened.
"David got arrested today because he has a no contact order on him," the 'mystery' source explained. "And he was in the grocery store getting juice for Kaiser when he saw his son and gave him a hug…His ex's mom was with his son, not his ex, and her mom got mad and told his ex. His ex contacted the police. The source added, 'Since he was around his son, he 'violated' the no contact order.'"
A representative of the Wilmington Police Department confirmed to The Ashley that David will face the charge from today in court on May 11.
The Ashley will update this story when more information becomes available.
(Photo: New Hanover County)