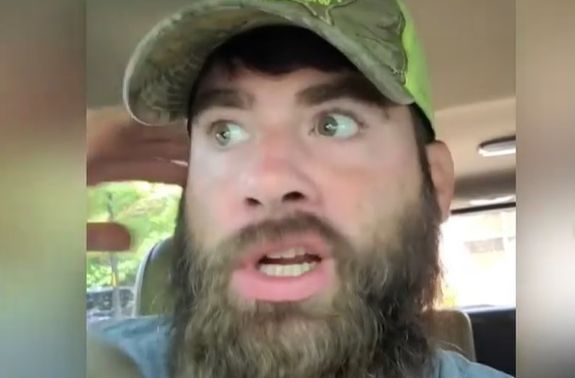 UPDATE #2: According to a clerk at the Columbus County Courthouse who spoke to The Ashley to on Monday, David's charge of "Driving While Impaired" has been "closed out," or dismissed. The reason for the dismissal, according to the clerk, was that there was "no probable cause" for the charge.
Over the weekend, a Twitter user (who has posted plenty of reliable info related to Jenelle in the past) leaked what is supposedly David's breathalyzer results from Friday night. The Ashley can't confirm that this paperwork is real; however, if it is real, it proves that David did, indeed, pass the breathalyzer test and only blew at .01%. (In North Carolina, it is illegal to drive a vehicle while noticeably impaired or with an alcohol concentration of 0.08 or above, so David would have been within the legal limits.)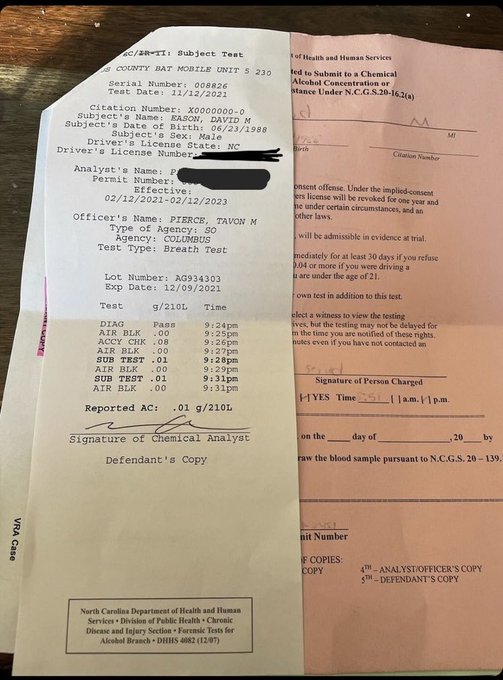 His driving with license revoked charge remains, with that one listed as "open" and with a bond of $750 (which David paid). As for the open container charge, that is still listed as having an "unavailable" charge code, which means it could still be pending. There is no bond amount listed for that particular charge.
UPDATE #1: In the time since this article was originally published, the North Carolina Judicial Branch website has updated, revealing that there are actually two separate incidents in question here. There is a case in Pender County, North Carolina, with a court date on February 9, 2022, as well as a case pending in Columbus County, North Carolina, with a court date of February 16, 2022.
The Pender case is reflected in the original story published Saturday. However, the Pender charges did not occur on Friday night as The Ashley originally stated. (The Ashley regrets this error.)
However, The Ashley is now adding David's other case, which does stem from his arrest on Friday night, which actually took place in Columbus County. On Friday night, David was charged with Driving While Impaired, Driving On a Revoked License and Possession of an Open Container of Alcohol in Passenger Area of Car. (See the end of the article for all additional updates!)
The Ashley apologizes for the confusion. (With so many court dates and arrests, it's hard to keep all the swamp happenings straight!) The story has been updated below, and The Ashley will continue to update it to reflect the most-accurate information available.
Original Article (published Saturday):
David Eason spent a little time outside the swamp on Friday night, taking yet another trip to the Ye Olde Slammer!
The Ashley can confirm that David— who is the husband of former Teen Mom 2 star Jenelle Evans— was arrested around 10:30 p.m. on Friday night. (It was a bad day for the Easons, as Friday was also the day Jenelle had her upcoming sweaty lounge wear line cancelled by the designer.)
Anyway, David received three charges, which he will have to answer for in court on February 16, 2022.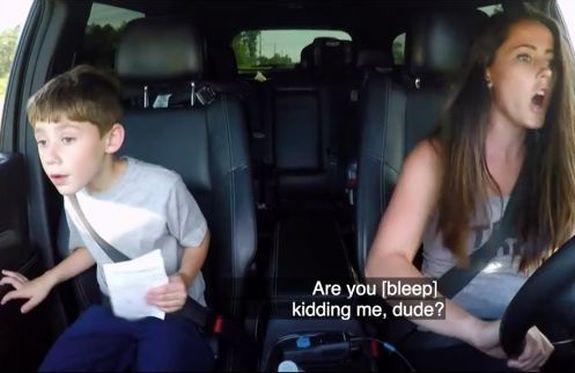 The first charge is Driving While Impaired. (This is essentially the same as a DUI charge.)
This is not the first time David has been charged with this. He was charged with DWI in 2012, 2013 and twice in 2014.
The next charge—Driving With License Revoked— is serious, as David already has had at least one previous DWLR charge. (He was charged with this in July 2020; The Ashley does not know if he was convicted on that charge.)
If a person in North Carolina is convicted of this crime three times, that person may lose their license permanently, according to the official North Carolina DMV website.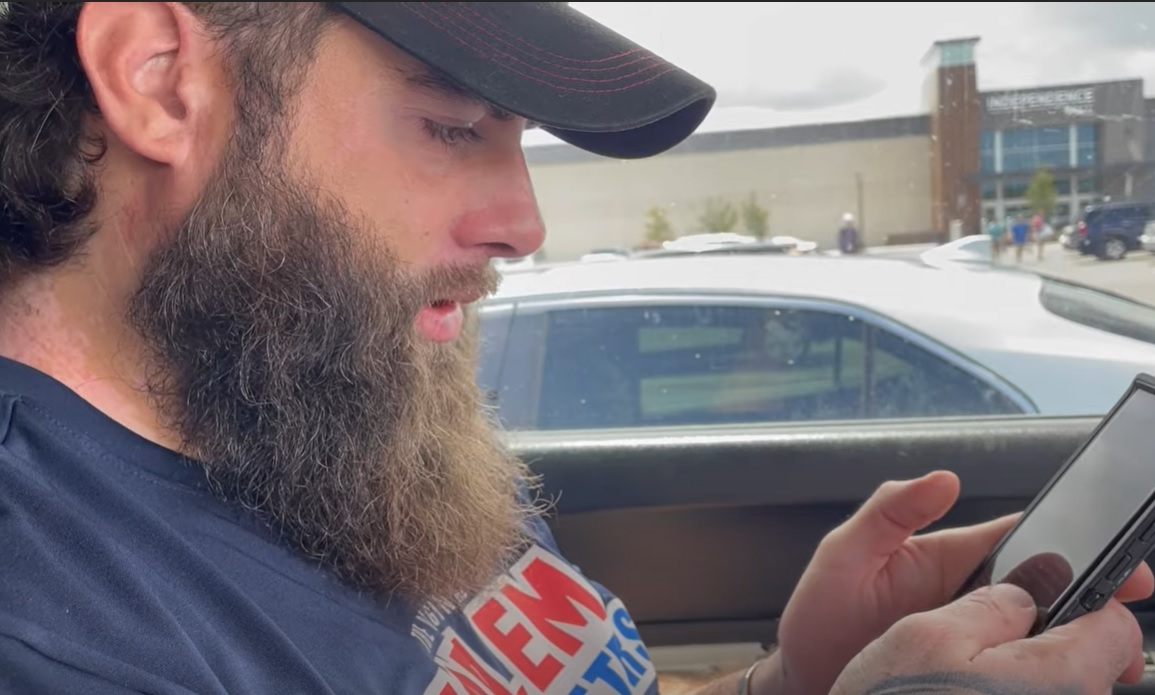 According to court clerk The Ashley previously spoke with, a North Carolina resident's drivers license can be revoked for any number of things, but most likely is due to unpaid traffic tickets, or not showing up for court for traffic offenses. (The Ashley is not stating that is why David's was revoked, though.)
It should be noted that David actually had a court date for a traffic offense in nearby New Hanover County on Friday. If David failed to show up for this court date, or failed to pay an outstanding traffic ticket, this could have been why he had his license revoked.
The North Carolina DMV website states that, "if a [person's] driver's license is revoked, their driving privilege is terminated and can only be reinstated if they meet eligibility requirements and any conditions or terms set forth in a hearing by the N.C. Division of Motor Vehicles."
According to the Columbus County Sherriff Department, David was also handed a charge of Possession of an Open Container in the passenger area of the car. (This charge is an infraction.)
He was booked into jail around 10:30 p.m. Friday night and eventually bonded out of jail around 2:40 a.m. on Saturday morning.
For the other incident— in Pender County— David was charged with Driving On a Revoked License, Driving with Expired Tags and/or Registration, as well as Driving with Excessive Speed.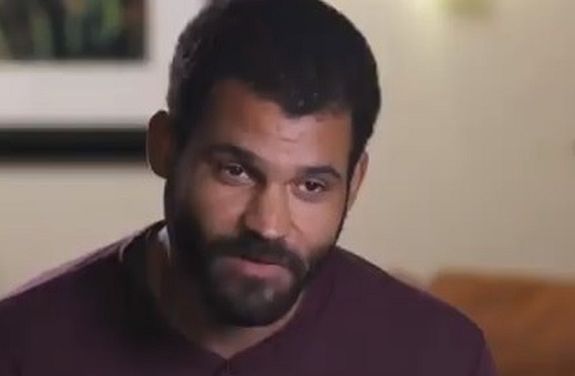 These charges were not from Friday night, as The Ashley previously stated. (The Ashley regrets this error.) According to court records, David was tested on the scene during this incident (which, again, was not on Friday) to see if he was driving under the influence. He passed the test.
This is hardly David's first arrest. Last year, David was arrested twice (in 48 hours!) One of those arrests came after he failed to show up in court for a misdemeanor charge against him. The next day, he was arrested and charged with "Assault with a Deadly Weapon," as well as "Communicating Threats." (You can read more about that incident here.)
In 2016, David was arrested for violating a domestic violence protective order against him. (His second baby mama Olivia Leedham had filed the order, preventing David from approaching her or their shared son Kaden. David approached Kaden in the grocery store and was arrested for it.)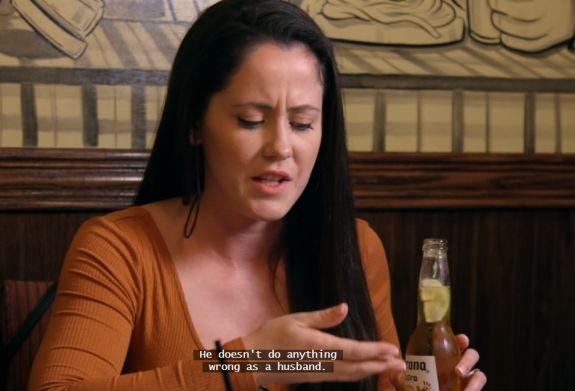 He was arrested a whopping FOUR times in 2014, according to Starcasm. On February 21, 2014, he was arrested for Driving While Impaired. Three days later, he was arrested again for Driving While Impaired. In May 2014, he was busted for a bond surrender, and in June of that year he was arrested for failing to appear in court.
In February 2013, he was busted for Driving While Impaired, as well as Reckless Driving to Endanger.
In November 2012, he was arrest for Driving While Impaired, along with Reckless Driving to Endanger. That same year, he had four other arrests, with charges including larceny, possession of drug paraphernalia, misdemeanor breaking and entering, larceny after breaking and entering, and willful and wanton injury to real property.
Jenelle and David have yet to comment publicly on David's latest arrest.
RELATED STORY: Former 'Teen Mom 2' Star Jenelle Evans Cries After Clothing Company Drops Her About-to-Launch Line; Says Her Haters Are To Blame
(Photos: MTV; YouTube)