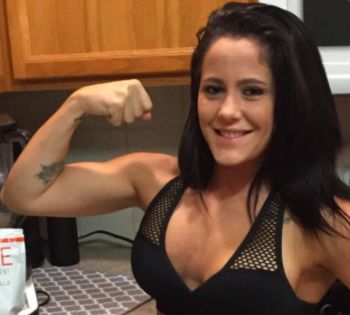 Earlier today, The Ashley reported that David Eason, the boyfriend of Teen Mom 2 star Jenelle Evans was arrested in North Carolina for violating a domestic violence protective order that is currently filed against him. When curious 'Teen Mom 2' fans went to the New Hanover Sheriff's Office website to see David's name on the daily arrest log, another familiar name appeared on the log: Jenelle Evans!
According to the website, Jenelle was arrested for cyberstalking this afternoon at the Detention Center. Moments after that news started to circulate on Twitter, Jenelle insisted that she was not arrested and was simply served with some papers.
The Ashley can reveal that Jenelle is actually telling the truth. According to a representative of the New Hanover Sheriff's Department, Jenelle was not actually arrested today, despite how the Sheriff's Department website has it listed.
"It wasn't actually arrest," the representative told The Ashley exclusively. "She was served with a criminal summons. A criminal summons is a paper that states that someone is accusing you of a crime, and telling you to show up in court for a judge to decide if a crime has been committed."
The representative tells The Ashley that the summons was for the crime of cyberstalking…and it was filed by Nathan Joseph Griffith, Jenelle's ex and the father of her son, Kaiser.
"She didn't actually go behind bars, there was no arrest," the rep from the Sheriff's Department tells The Ashley.
Jenelle will have to answer to the new criminal summons on April 18, according to the rep.
Since Jenelle wasn't arrested, she didn't have to take a new mugshot, so David's new (extremely creepy) mug will have to tide us over for now! However, this new cyberstalking charge will be added to Jenelle's heap 'o' legal issues.
(Photo: Instagram)