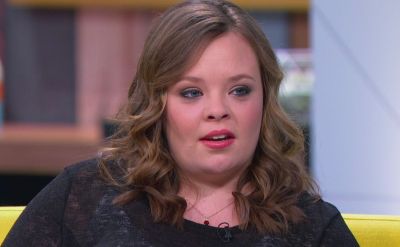 Earlier this month, Teen Mom OG star Catelynn Lowell announced that she was heading to an Arizona rehab facility to get treatment for her depression and anxiety. Catelynn had discussed her mental health issues during the show's most-recent season, and on March 16, she checked herself into an inpatient facility to seek help. (Catelynn has made it clear that she is not at the rehab center for any type of substance abuse issues.)
Catelynn has not updated her social media since she arrived at the treatment center, but according to her stepfather, Butch Baltierra, Catelynn is "doing really good" in treatment. The Ashley can confirm that Catelynn is at the Sierra Tucson facility, which is the same facility that Teen Mom 2 star Leah Messer sought treatment for her mental health issues last year.
Since checking into rehab, Catelynn has had a few visitors. Last week, Catelynn's husband, Tyler Baltierra, paid her a visit, as did their daughter, Nova. The Ashley can confirm that Catelynn's mother, April, also made the trip to Arizona to visit Catelynn.
It's no surprise that Catelynn's closest family members have visited her, as Sierra Tucson encourages their patients' family to participate in a Family Program. According to the facility's website, the Family Program is "designed to assist patients and family members in identifying problems that have had significant impact on the family system. Additionally, this program will work to change attitudes and, ultimately, behaviors between family members and patients, as well as clarify their role as healthy, supportive figures."
In addition to attending therapy sessions and working with the facility's staff, Catelynn also has the opportunity to work with horses and therapy dogs, do outdoor activities like rock climbing and swimming, and work out in a gym.
Catelynn has not revealed how long she will be at the facility, or if MTV is filming her while she is in treatment. (The other 'Teen Mom OG' girls are currently filming the show's next season.) However, from what The Ashley has heard, Catelynn is due to leave the facility on April 16, but she cannot confirm that date yet.
(Photo: MTV)