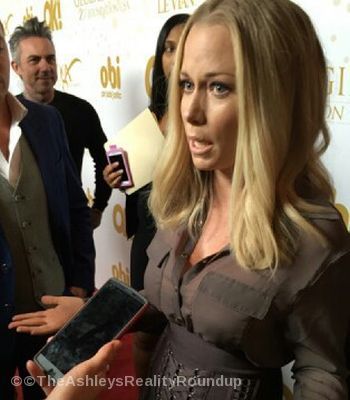 The new season of Kendra On Top will be full of drama and craziness, but there's one thing we won't be seeing when the reality show's fifth season premieres on Friday: Kendra Wilkinson and Hank Baskett trying for more babies!
The Ashley caught up with Kendra on the red carpet of last month's OK! Magazine Pre-Oscars Party in Los Angeles, where Kendra revealed her thoughts on having more children.
"No way! I'm never having any more children!" Kendra told The Ashley. "Never! I'm done!"
Kendra is already the mother of six-year-old Hank Jr. and daughter Alijah, who is almost two. Since giving birth to her daughter in 2014, Kendra said her body changed– for the better.
"I love my body the way it is now!" Kendra told The Ashley.
Kendra, who will turn 31 in June, said that she has recently become more aware of how she's treating her body.
"Now that I'm in my thirties, I have to be more aware of how I'm eating, when I'm eating and what I'm doing for exercise," she said. "I make sure to cut down on the inflammation foods."
'Kendra On Top' Season 5 premieres on April on WEtv. Click here to watch the sneak peek trailer!
(Photo: Rosa Montano)