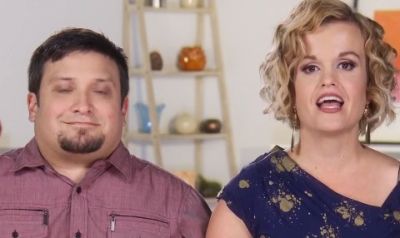 By Holly
The stars of Little Women LA are procreating like crazy! Terra Jole has just announced that she is pregnant with her second baby. The star, 35, told US Weekly that she found out the exciting news while on vacation with friends in Mexico in December. She said she shared the news with her husband, Joe Gnoffo, on her return and that they're both ecstatic.
Terra and Joe told the magazine that they plan to keep the gender of the baby a secret this time around.
"We're really hoping this time that we don't find out the gender and can go all the way without knowing," said Terra , who is due in August.
The couple is already parents to 13-month-old daughter, Penelope, who has dwarfism and also suffers from hydrocephalus, which means she has excessive accumulation of fluid on the brain. Little Penelope recently underwent spinal decompression surgery.
Terra said she's feeling better now that she's in her second trimester, but that her first pregnancy was definitely easier.
"I was only nauseous two days maybe with Penelope," she said. "There is not a day [during this pregnancy] that I didn't have nausea in the first trimester," she said.
Terra isn't the only 'Little Women: LA' star that is currently pregnant.  Star Briana Manson is almost six months pregnant with her second child, while Elena Grant is currently pregnant with twins!
Dang! What was in the water during those 'Little Women: LA' shoots?!
Terra's pregnancy confirmation means that we also now know that Terra was in fact pregnant when she got into the glass-throwing fight with her co-star Christy McGinity Gibels back in January. As The Ashley previously reported, Christy filed charges on Terra after the fight.
Break out the Pitocin and put your feet in the stirrups! It looks like we're in for a dramatic next season!
(Photo: Lifetime)