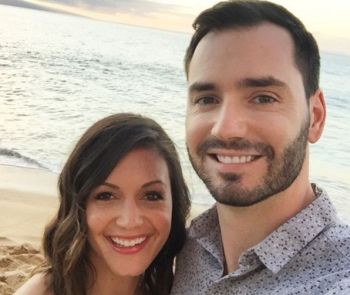 The Bachelor Baby Bump-o-Meter just keeps getting bigger and bigger! Yet another Bachelor franchise star has announced her pregnancy!
Desiree Hartsock, who met her husband Chris Siegfried on the ninth season of The Bachelorette, revealed yesterday that she is pregnant with the couple's first child.
"We have a bun in the oven and it's not the warm pastry kind!" Desiree captioned an Instagram photo she posted of her and Chris pointing at her baby bump. "We are beyond excited to share that we have a little one on the way! A new chapter we are both looking forward to."
Des and Chris told Us Weekly that they found out that Des was "with child" while vacationing in Maui in February to celebrate their one-year wedding anniversary. She told the magazine that she is now 13 weeks pregnant
Desiree is just one of many 'Bachelor' franchise stars to find themselves pregnant right now. In fact, three other former Bachelorettes are currently pregnant, including Season 5 star Jillian Harris, Season 6 Bachelorette Ali Fedotowsky and Season 8's Emily Maynard. (It's the first baby for Jillian and Ali and the third for Emily.)
In addition to the Bachelorettes, a few other members of the 'Bachelor' family are pregnant, including Catherine Lowe (who met and married Bachelor Sean Lowe), Erica Rose (who appeared on 'The Bachelor' and several Bachelor Pad seasons), and 'Bachelor' Season 13 (sort of) winner Melissa Rycroft, who is due to give birth to her third child next month.
(Photo: Instagram)