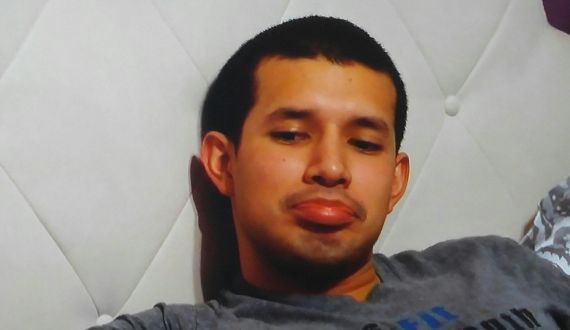 Howdy y'all! Tonight on Teen Mom 2, it seems that everyone is leavin' or screamin"! You know it's going to be a good episode when the preview is basically just one long ugly cry fest. The Ashley can hardly wait to dive right into this crap.
We kick things off with everyone's favorite almost-felon, Jenelle, who is getting all gussied up for an important date. No, she's not heading out for a romantic evening of Instagram photo snapping with her boyfriend, Lurch, no sir! This "Mary Kay experience" is for her ex, Nathan Griffith, whom Jenelle is meeting up with to talk about Jenelle holding their lovechild Kaiser hostage, as well as the assault charges against her. It's basically the same things that everyone talks about over lunch.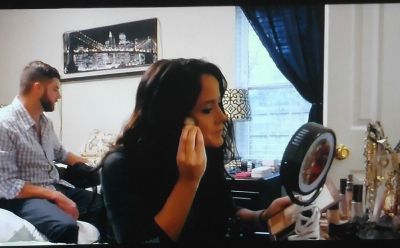 As per usual, though, Lurch is hovering over his meal ticket soulmate, and will probably be sitting at home, staring at the wall until she returns to their humble abode. Jenelle then offers Lurch the opportunity to come with her and "sit from a distance" while she speaks to Nathan. (Nothing spoils a lunch more than having ol' Lurch giving you that dead-behind-the-eyes stare from 20 feet away over at the Burger King.)
Jenelle says she's happy to be able to have a conversation with Nathan one-on-one, without Nathan's new squeeze Jessica sitting over his shoulder. (Um…didn't you just invite your new squeeze to sit over your shoulder? WTF?) Lurch opts to come along for the ride to "protect" Jenelle from Nathan (and possibly get a free Whopper meal out of MTV).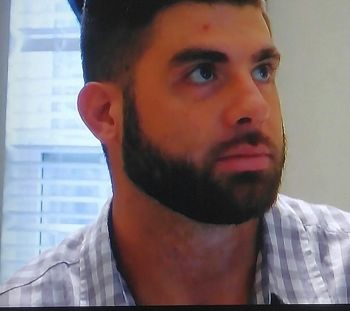 Lurch isn't thrilled that Jenelle is having a lunch date with Nathan to discuss their issues, rather than her just calling him.
He also seems to notice that Jenelle's got her hair and makeup done like she's going to the prom, but Jenelle defends her actions as David slams himself into the bathroom to pout. He gets all jealous and threatens to beat Nathan's spray-tanned ass should he raise his voice at Jenelle.
Ahhh….as always, Jenelle's relationship is the picture of perfection and stability. Well, Juh-nelle, ya never disappoint with the booooooyfriends, do ya?!
Also…did anyone else notice the half-empty bottle of tequila sitting on Jenelle's nightstand? She must be on the Amber & Matt "Sober Living Plan."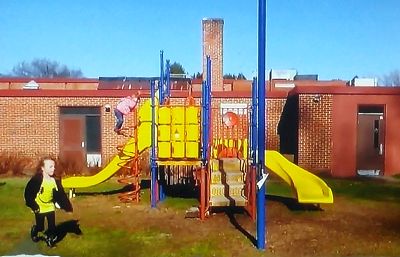 We move on to check in with Leah, who is hanging out at the park with her entire litter of girls. To be fair, I'm being very generous when I call it a "park." It actually looks more like a playground in Chernobyl. The grass is all sad and patchy brown, and the play gym is just randomly behind some brick building that may or may not be the county jail.
Anyway, it's a special day for Leah's girls because…well, they get lunch. Leah's done stopped at the gas station and picked up a pizza and some wings for her, the girls and her long-lost friend Kayla to stuff into their gullets. (Unfortunately for us, Chasity wasn't invited to the Chernobyl park outing. It would have been fantastic to watch her try to give Leah "advice" while slopping down a box 'o' wings.)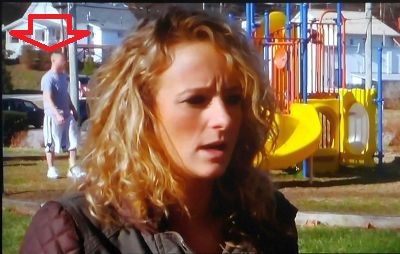 Anyway, Leah's all giddy as she explains to Kayla that she had a "great talk" with Jeremy over a dinner. Leah admits that she's not "completely over" Jeremy but that she doesn't want to be in a relationship with anyone right now. That's good, of course, because Jeremy obviously would rather claw his own eyes out with an icepick than be in a relationship with Leah again.
Also…Leah was living with T.R. Dues when this scene was filmed…but that's none of my business…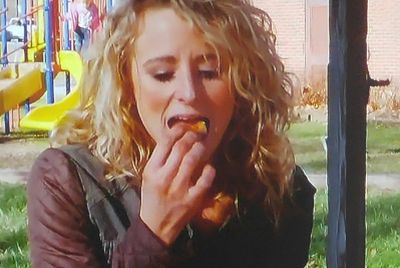 Next, Kayla seems to remember that Leah has a bunch of kids, so she asks how Ali is doing. Leah explains to her pal that soon Ali's condition will start "affecting other organs that's muscle."
Kayla stares at her like she has no clue what the hell Leah is talking about. I miss Chasity. What Leah just said would have made complete sense to her.
Meanwhile, in South Dakota, Other Chelsey is hanging out at Chelsea's zoo cabin, and the girls begin gabbing about Chelsea's upcoming wedding. Pigs, dogs and other assorted critters are running all over. Speaking of critters, the conversation soon turns to Adam and the fact that Chelsea's planning on getting more child support money from him.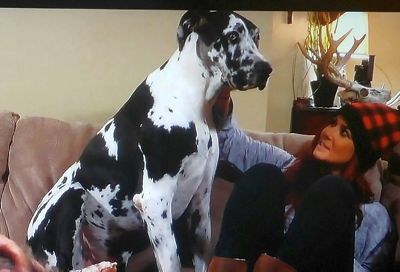 Chelsea tells us that, in regard to child support, Adam goes in spurts. (Anyone else feel mildly queasy at the thought of Adam "spurting?") Apparently, Chelsea means that Adam pays child support whenever he happens to have a few extra bucks left over after he buys his protein shakes and muscle tanks for the month.
Chelsea reveals that Adam currently pays about $150 a month for his child, but Chelsea is hoping to bump that up big time, now that Adam has a job teaching Jazzercise (or something), not to mention that GIANT check he gets from MTV every so often.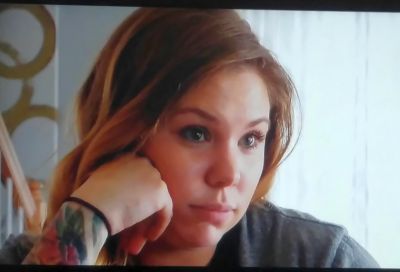 Lastly, we head to Delaware, where Kail is preparing for Javi to leave on deployment. She's making him a going away video to show at the party they are throwing to celebrate him leaving. Kail gets Lincoln to film first, and although she's trying to get him to say goodbye to his dad, Lincoln simply busts out his signature slogan "NO!" (Hey, at least he didn't call Javi a 'puta' this time. That would have been awkward…and amazing.)
The next day, Kail & Co. are planning to drive to Philadelphia, where they'll be hosting a big party for Javi before he ships off. Javi is sad thinking about having to leave his home, but Kail is still pretty emotionless about the whole thing. Javi seems sad that his wife can't even squeeze out one tear over his departure. She promises she'll bust out a few tears before he leaves.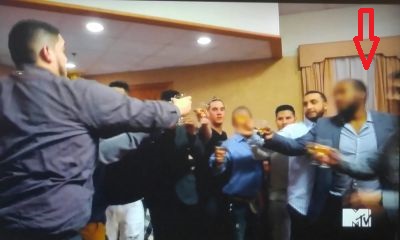 Javi bids his dogs and home farewell, but perks up once he arrives at his deployment party.  A bunch of Javi's friends toast to Javi (but a few apparently didn't sign the release form so they are sporting "Blur Face.") Kail tells her friends that she is hoping that Javi being gone will help her like him more.
It's time for Kail to play the goodbye video for Javi, and everyone gathers 'round to watch it. Everyone's on there– Sterling, Javi's family, Isaac and Lincoln– and finally Kail starts bawling and soon everyone in the room is crying. Good times.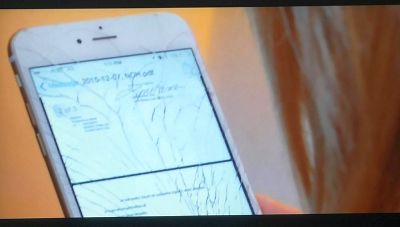 In West Virginia, some sort of PDF arrives via text for Leah. She struggles to read it, not because of all the big words but because her phone screen is so horribly cracked that she literally can't make out what the papers say. She's gonna have to start borrowing Mama Dawn's Jitterbug phone pretty soon if she doesn't get that dingdang glass fixed!
Anyway, Leah sits down on her laundry pile so she can call up Chasity and tell her what the papers said. Apparently, the papers were from the courts, and they were informing Leah that her motion to have the twins' custody reexamined has been approved.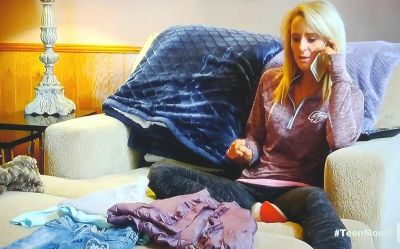 "We have a date, me and Corey!" Leah says, to which Chasity starts "Ooooohing" like she's in the audience of a Full House episode taping and DJ and Steve just kissed.
I know Leah means court date, but…something tells me she wouldn't mind taking ol' Corey on one of them other kind of dates, you know, the ones where boxer shorts go down and the unplanned pregnancy rate goes up.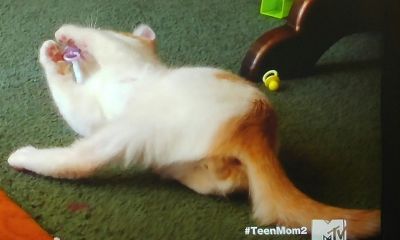 Leah's thrilled that the courts are reconsidering the custody. After all, as she puts it, she's totally got her s**t together. (As she says this, she's sitting in a room full of clothes and trash, her cat is literally about to choke on a plastic pacifier and her daughter is chewing the plastic off of some muffins. As you do.)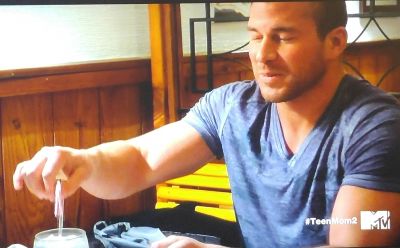 Meanwhile, in South Carolina, Nathan and Jessica are having a fancy dinner. Nathan starts dumping Splenda into his drink (Addie-style) as Jessica proclaims that she's "made out of artificial sweetener."
Seriously? Is she just reading a CD insert of a 2005 Ashlee Simpson album or something? Also, for some reason, she's all dressed up like Janice from Friends, with big hoop earings and a coat with a giant black fur collar. She's obviously attempting to look "more classier" than Jenelle.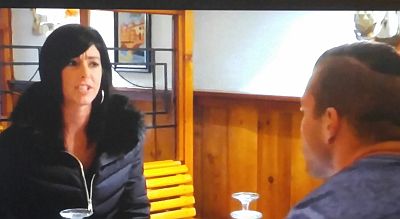 Anyway, Nathan tells his girlfriend about Jenelle's grand plan to meet up for lunch to talk about "Kaiser." Since Nathan hasn't seen his son since he was Jenelle's soulmate, he's hoping that Jenelle will at least bring his son to the meeting. Jessica is suspicious as to why Jenelle suddenly wants to meet up. Nathan suspects that Jenelle is going to try to beg him to have Jessica drop the charges against her, but Nathan promises that will not happen.
Nathan uses his phone to look up Lurch's rap sheet (and mugshot collection). It's impressive, and Nathan is scared because Jenelle has essentially made Lurch Kaiser's new daddy.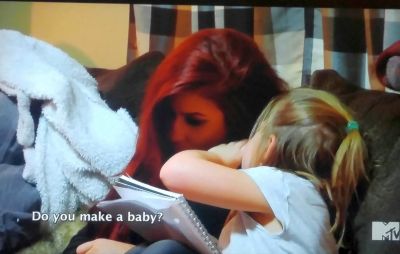 In South Dakota, Chelsea getting Aubree's opinion on how long she should wait after the wedding to get sperminated by Cole. Aubree advises her mom to wait until two days after the wedding to get pregnant. Hey, that's longer than most of these girls wait to get knocked up!
Later, Chelsea tells Cole that as soon as that wedding band goes on, the sperm better come out, because she wants babies right away. Cole seems OK with that plan, but Chelsea is sad that Aubree will have a different last name than the rest of her family. Chelsea is thinking about asking her lawyer if they can change Aubree's last name from Lind to DeBoer-Lind.
UM?!?!?!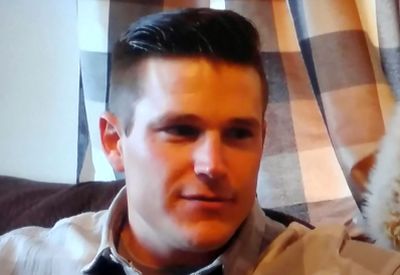 Can you picture the 'roid rage Adam's gonna have when he hears this one? Let's hope an MTV camera crew is there to capture that Kodak moment!
Adam, meanwhile, is bragging about having spent $500 on toys for his dogs. He tells his friend that he is frustrated that he has to spend "double" for Aubree, since he's paying child support and for the food etc that Aubree eats while she's at his house. This is the man that literally just said he spent $500 on dog toys. Jesus God (Leah).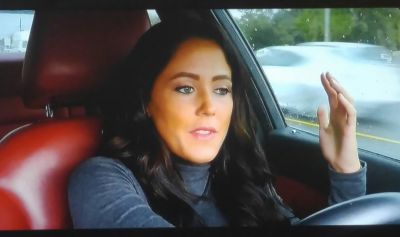 It's time for Jenelle's big "date" with Nathan, and Lurch is still all butt-hurt about it. He finally agrees to go along because…well, he has nothing better to do.  They head out to the restaurant and Lurch and Jenelle discuss how Nathan is such an unfit parent because he has a one-bedroom apartment and no highchair for Kaiser.
Speaking of Kaiser…um, where the hell is he? Did they forget him in his crib in the dark room or something? Perhaps Jenelle just wants to be a "bitch of a baby mama" and not let Nate see his son, so she dumped him off on Tori/Lurch's mom/Babs/the UPS man who just happened to arrive at her door at the moment she realized she needed a sitter.
Jenelle and David pull up to whatever fine dining establishment this godforsaken meeting with Nathan will be taking place at.
Lurch is getting all bug-eyed and sweaty, which means he's about to have some weird violent outburst.

"I feel like I'm about to fill this entire street with uppercut!" Lurch mutters. (The Ashley watched it back with closed captioning and that is, indeed, what he was muttering. What the hell it means is anyone's guess.)
It's almost cruel to make fun of Lurch. He's kind of like Forest Gump…with a rap sheet and a puffy face.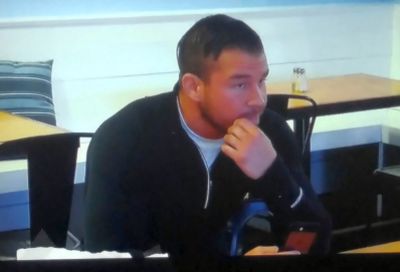 Nathan's already at the restaurant waiting, as Jenelle walks in. Lurch is sitting in the car, just waiting for the signal to come in and "fill a street with uppercut."
Nathan is unhappy to see that Jenelle has "forgotten" Kaiser because he feels that he misses his daddy. (Jenelle smiles wickedly at that remark.) They start talking over each other and Nathan insists that he has all necessary equipment to keep Kaiser alive.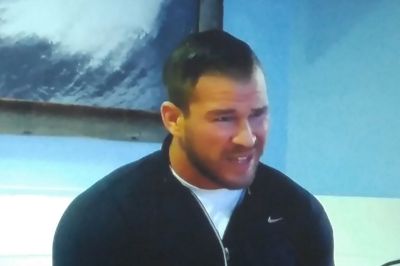 "You live with a felon, I don't!" Nathan says.
HEY! Being a felon ain't illegal, Nate!
"He just got out of prison for domestic violence!" Nathan says of Lurch.
Jenelle defends Lurch.
"He wasn't found guilty!" she insists.
Seriously, at this point, I think Luigi, the fry boy at the restaurant they're at would be a better parental unit for Kaiser than any of these degenerates.
Nathan advises Jenelle to make wiser decisions in her life.
UM…ya think!?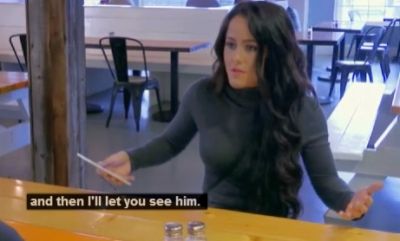 Nate requests that he can bring Kaiser some Christmas presents, and Jenelle says that's Ok if…Nathan will just drop those darn glass-throwing assault charges against her. She starts bawling and begging Nathan to not "ruin" her life by keeping them going in the court.
"I'm just trying to be a better person by letting you see Kaiser so I just hope you do the right thing," Jenelle says.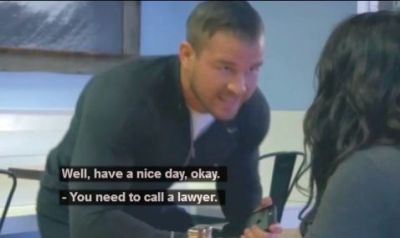 Uh….she's only being a "better person" and letting Nathan see his kid because she needs something from Nathan. You better believe that if Jenelle didn't need him to drop those charges, Nathan wouldn't see Kaiser again until the kid was old enough to call Jenelle a bitch of a mother.
Also…what does custody have to do with assault charges? They're two different things!
Meanwhile, Leah, Corey and Corey's dad have made their way to Ohio to attend Ali's appointment with her doctor.
They tell Ali's doctor that Ali falls frequently and the doctor keeps repeating what he's been saying for months: put the kid in a power wheelchair!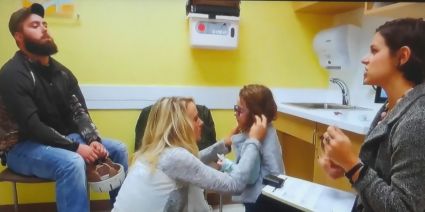 Later, a hospital social worker comes in to make things all awkward. She asks if there have been any changes regarding the custody of Ali and Corey looks like he wants to "power wheelchair" over the lady's face for bringing up the subject.
"That's uncomfortable, I'm sorry," the social worker says, obviously realizing that she's basically opened up Pandora's Box and will now be subjected to Leah spouting off about how Corey done took her kids away for no dingdang reason and how them Simms always lie when it comes to the youngins.
The social worker gets the answers to her questions and gets out of there fast so she doesn't have to be involved in whatever the hell is happening with these people.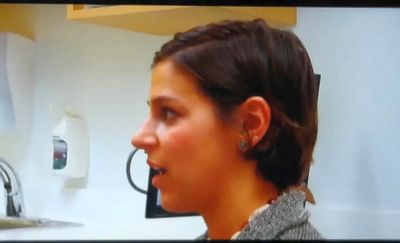 Before the social worker left, however, Leah made sure to let her know that she and Corey  would be heading to court next month. Ali is in the room during all of this, of course, but luckily is more focused on shoveling Skittles into her mouth than the adults' conversation.
Afterward, it's a lot of awkward silence between Leah and Corey, as Corey takes Ali home and Leah goes home kid-less. Corey and his dad talk in the parking lot about how uncomfortable it was talking to the social worker, and how wrong it was of Leah to mention the court date in front of Ali. He says that dealing with Leah is like dealing with a child.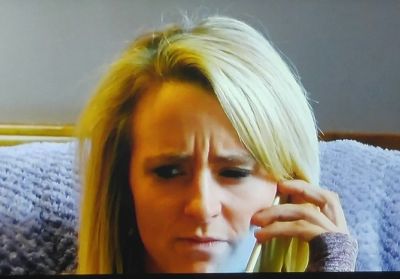 Leah can't wait to call up Chasity to report on Ali what that dern Corey Tyler did. Chasity's face pops up on Leah's splintered phone and it's mildly disturbing. Leah explains that Ali's fine, or whatever, but that she could feel the tension between her and that smart ass, Corey, when the social worker asked about custody.
"I think that he knows that I'm doing better and that pisses him off," Leah says.
Um…why would the father of your child be upset that you are doing better? Why would he be mad that you are now (possibly) feeding your kids and getting them to bed before the bars close at night?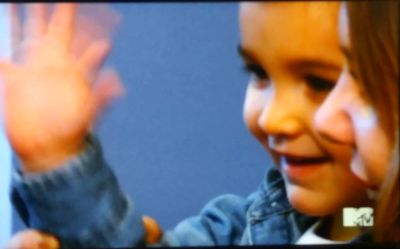 In Pennsylvanian, it's the day of Javi's departure. Javi is feeling so sentimental, talking about how much his life has changed since he met Kail, and Kail reflects on how hard it will be without Javi. She is nervous that her relationship with Javi won't be able to withstand the six months he's gone. Javi proclaims that he's going off to save the world.
They all head down to the street to see Javi off, and everyone is getting emotional. Kail advises her husband to go to the gym, and Javi tells her that she's his best friend. Soon, everyone is crying. Javi tells Isaac that he's his best friend (OMG, tears) and that he's the man of the house now.
Javi loads into the car and drives off, leaving the family standing there crying as the episode ends.
To read The Ashley's recap of the previous episode of 'Teen Mom 2,' click here!
(Photos: MTV)