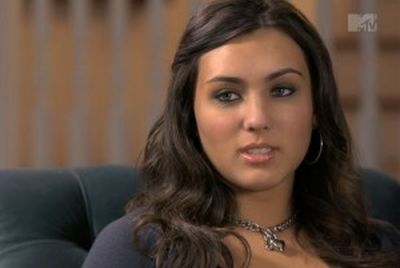 Izabella Tovar didn't let anything slow her down– not even an unplanned pregnancy at the age of 15. Izabella, who starred on the third season of 16 and Pregnant, just became a proud college graduate, joining the very small group of girls who get pregnant as teens who earn a college degree.
The 21-year-old mom of two just received a Bachelor of Science degree in Psychology from the University of Utah, making her the first girl from the '16 and Pregnant' series to get a Bachelor's degree (to The Ashley's knowledge). What's more- Izabella did it in only three years!
Statistically, only two percent of girls who were teen moms graduate from college. In an exclusive interview with The Ashley, Izabella says that she was able to do it thanks to support from her parents, fiance Jairo Rodriguez and two kids, one-year-old Anastazia and five-year-old Enrique (also known as Henry).
"I could not have gone to college without the support from my family," Izabella said. "My parents and Jairo have always supported my goals. They have always been willing to watch the kids while I went to classes or worked on homework. Without them it would have been much more difficult to leave my kids."
Even with a great support system, Izabella said she still faced obstacles on the way to earning her degree.
"The biggest obstacle for me was the exhaustion," she said. "Even with the help from my family, I still had countless late nights doing homework, writing papers, and meeting deadlines. Being a mom myself meant that I still had to wake up early the next morning."
Very few girls from the '16 and Pregnant' series have earned any type of college degree. Izabella is the only girl from the series to obtain a Bachelor's degree (although Season 1's Farrah Abraham sometimes states that she has one but it's never been confirmed). Season 1's Maci Bookout, Season 2's Kail Lowry and Season 4's Katie Yeager all hold Associates degrees. (Kail is due to graduate with her Bachelor's in Mass Communications in December.)
Izabella acknowledged that there were times she thought about giving up on her college goals.
"I thought maybe I should just a get a job so that when I'm off work, I'm off and then I can go to sleep at a decent hour," she said. "But I am glad I stuck through it because now with a degree under my belt I have so many more opportunities available to me. It was so worth it."
Izabella has been with her fiancé', Jairo, since she was 14 years old. They learned they were expecting Enrique a few months before she turned 15. They became engaged back in 2011, and welcomed a daughter three years later.
Izabella said Jairo earned his insurance sales license and now works for an insurance agency and loves his job. After a years-long engagement, the couple is finally planning to tie the knot.
"We are getting married soon. I'm not going to say when because we want it to be a surprise, but we are so excited," Izabella said.
What else does the future hold for the recent graduate? More school!
"I'm going to continue my education by taking additional science classes to fulfill medical school pre-requisites. Then, I am going to apply to medical school," she said.
It's safe to say that Izabella will be the first (and most likely only) doctor to come out of the '16 and Pregnant' series!
Izabella posted a graduation photo to her Instagram account, along with a very inspirational caption:
(Photos: MTV, Instagram)