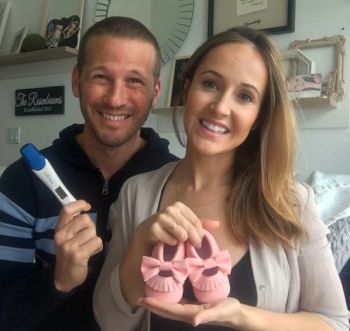 The next generation of Bachelorette stars continues to grow– yet another former 'Bachelorette' has announced her pregnancy!
Ashley Hebert, who met her husband J.P. Rosenbaum during the show's seventh season in 2011, revealed yesterday that she is pregnant with the couple's second child. Ashley and J.P., who are already parents to 20-month-old son Fordham, announced via social media that Baby #2 is a girl.
"100% excited that we're #ClearblueConfirmed w/ baby #2, my face says I'm 78% nervous b/c #ItsAGirl," J.P. tweeted along with a photo of him and Ashley in which he's holding up a Clear Blue Easy pregnancy test. (Nothing like a product plug that also serves as a baby announcement, eh?) Ashley wrote a similar product plug/announcement on her Twitter account as well.
With Ashley being pregnant, that means that five former 'Bachelorette' stars are currently expecting—Season 5's Jillian Harris, Season 6's Ali Fedotowsky, Season 8's Emily Maynard and Season 9's Desiree Hartsock. (It's the first baby for Jillian, Desiree and Ali and the third for Emily.)
Since there have only been 12 women who have served (or in JoJo Fletcher's case is currently serving) as 'Bachelorette' that means just under half of those woman are currently expecting. In addition, several other women from the franchise are pregnant.
Chris Harrison better start buying his baby shower gifts in bulk!
(Photo: Twitter)