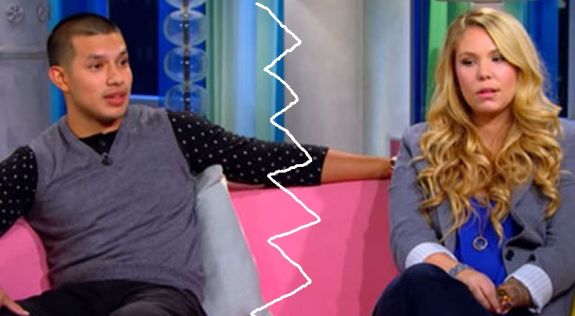 Fans have been speculating for months that Teen Mom 2 stars Kail Lowry and Javi Marroquin are divorcing, and many have been analyzing show footage and trying to decipher cryptic tweet-and-deletes posted by both stars to find out the truth. Today, however, Kail finally revealed that the divorce rumors are, indeed, true.
Daily Mail sent some paparazzi out to Kail's hometown of Dover, Delaware, today, to confront the 'Teen Mom 2' star directly. In a video posted to the site, a reporter can be heard asking Kail, "So is it true? You guys really getting a divorce?"
Kail, who seems a little surprised to see the reporter, answered honestly.
"Yeah, it's true," she replies.
The reporter then brings up the rumors that Kail had something going on with her ex(es). Kail denied that there was any truth to those rumors.
Kail's admission comes just days after her soon-to-be-ex-husband, Javi, posted some very telling tweets about his marriage and relationship with Kail. Last week, a fan brought a tweet to Javi's attention where a male friend of Kail's was complimenting her new, Dr. Miami-enhanced butt. Javi was livid. He said Kail had told him that guy was her "best friend." When fans commented that maybe he was just a friend, Javi wasn't having it.
"That's being disrespected and all her friends laughing at me disrespecting us. No thanks." He also tweeted, "Guy friends is fine. Not guys that don't respect her marriage and expect me to shake hands with him."
Javi's Twitter account was later deleted, but he hopped on Instagram and stated that his Twitter was hacked and that's why it was deleted. He also confirmed that everything he had tweeted previously about Kail was true.
Javi then created a new Twitter account and posted, "Now there are circumstances where you can get past infidelity. I've seen it but you have to be willing to acknowledge and be sorry…I'll be damn if any of my kids talk about a married woman like that."
When a fan asked if he would still remain close with his stepson Isaac Javi replied, "he's tattooed on my body. Always."
Kail, however, has stayed relatively quiet on social media about the whole ordeal. This is the first time she has confirmed that the marriage is officially over. Javi is currently deployed overseas so it is not yet known what will happen when he comes back to the United States.
"We're trying to do the best we can for our kids because they are what really matters," Kail told Daily Mail today.
The whole divorce drama will likely play out during the upcoming next season of 'Teen Mom 2.' The cast is already busy filming!
Click here to watch the video in which Kail confirms that the divorce is happening!
(Photo: MTV)