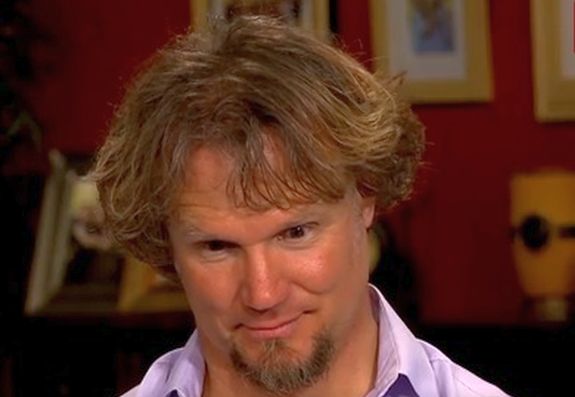 It's once again time to head to the Brown Family Cul de Sac of Broken Dreams!
When we last checked in with our polygamist pals, all the Sister Wives were busy celebrating Queen Robyn's pregnancy, while Meri and Janelle were learning ways to suppress their urges to hit the other one up-side the head with one of Kody's hairbrushes.
Meri and Janelle decide that the best way for them to improve their relationship is to spray paint coffee cans and take turns stuffing fake flowers into them. The resulting flower cans will be used to decorate the tables for the big Brown Family Thanksgiving dinner.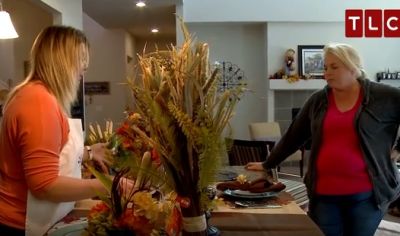 The Browns celebrate Thanksgiving like they do everything…on a large scale, so they there will be 70 people in attendance on turkey day this year. Meri and Janelle have taken on the task of decorating for the event.
Last week when the two women went to therapy, they discussed why they can't stand each other.
"Janelle and I have always had kind of a stress between us," Meri says. "We have a good sister wife relationship, but we don't have a deep friendship."
Meanwhile, Kody is trying to hang Christmas lights outside…and (shocker alert!) is desperately failing. Christine gets roped into helping Kody create his Christmas light masterpiece, and they seem to be getting along really well.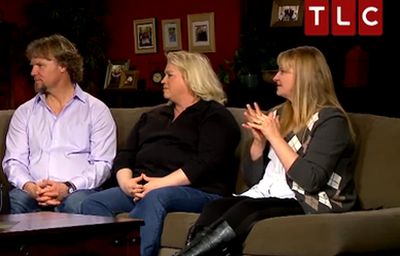 Does anyone else think that Kody is most suited to be married to Christine than any of his other wives? They are both loud, easily offended and kind of goofy. If only Kody would have ditched those other broads, he probably could have had a decent marriage with Christine.
Anyway, Kody decides that, because this Thanksgiving may be the only time that all the Brown kids will be back home for a long time, he wants to connect all of the Brown houses via Christmas lights, just like they did for that weird, random "family commitment ceremony" thing they did a few years back.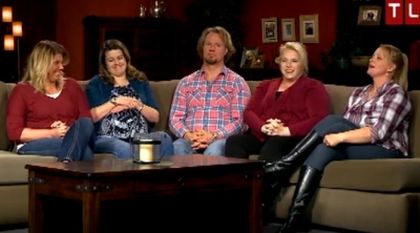 Kody said the lights project was only going to take three hours…but he's already in two days and is nowhere near done. Kody and Christine enlist one of the sons to come help. Genius Kody decides to climb to the very top of the ladder (in a Vegas windstorm, as you do), to connect all the lights at the center, while Christine just laughs. (She may have been counting out what ¼ of Kody's life insurance policy would be, who knows?)
According to Kody, the lights are a metaphor for the family, and he wants them all to be "connected."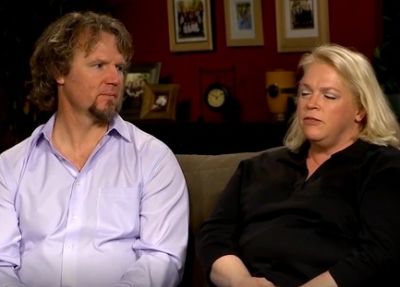 Kody explains what is going through his mind as everything goes wrong while hanging the lights.
"If you can't get it done right, get it done stupid," he says. "Just get it done."
Why do I feel like that is Kody's life motto? Get it done stupid.
"This is just like Kody," Christine says. "It's just his absolute goal to bring the family together."
They finally finish the light project without anyone having to be taken away in an ambulance, which really is a Thanksgiving miracle.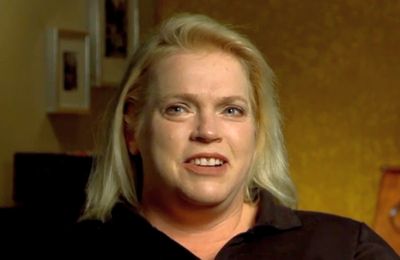 Inside one of the homes, Janelle and Meri are talking in depth about table decorations. Are we really going to have to spend the whole episode watching them decide on place mats?! Janelle has a glazed-over look in her eyes as she listens to Meri explain about the different fabrics and place settings she wants to use.
DO BETTER, TLC! If these people aren't using those place settings to knock each other unconscious, we're just not interested.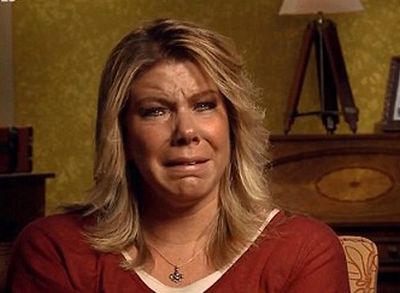 Meri and Janelle are making the table centerpieces but they are acting like they're planning a CIA mission or something. Everyone is talking like this is such a serious thing. It's fake flowers in a coffee can, people!
Still, the activity is allowing Meri and Janelle to spend time together.
"This is just the very beginning of the new possibility of this new relationship that Janelle and I are trying to work out," Meri says.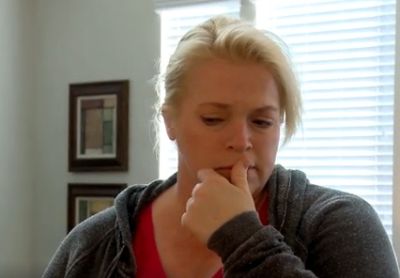 Later, Kody goes over to Janelle's house and starts going through her Christmas decorations. He discovers everyone—even the dog and Logan's girlfriend– have a Christmas stocking but he doesn't. Maybe she's trying to tell you something, Buddy!
"I'm just a sire, not a father," Kody says.
Ew. Although that's a disgusting thought to process, it may be the most correct thing Kody has ever said on this show.
The next day Kody and his favorite wife Robyn start working on turning half of Solomon's room into the nursery. They are going to make one half of the room boy-themed and one half girl-themed for the new baby.
"I think Robyn is insane. I think it's a stupid idea. I think it sounds as confusing as can be," Christine says.
Tell us how you really feel, Christine!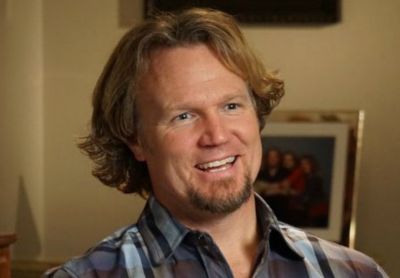 That night, Hunter arrives home and everyone just loses their s**t. He's been gone a few months at the Air Force Academy but everyone is acting like he was lost at sea for years or something. Kody, ever eager to take the attention away from someone, creeps outside to turn all of the lights on. He then announces that he has a HUGE surprise for the family.
This is exactly like "Christmas Vacation." Everyone trots outside to see what the surprise is and everyone looks disappointed that it's just a bunch of stupid lights. No one is really that impressed at all with what Kody's done. He seems to be expecting the entire family (pregnant Robyn included) to break into a flash mob 'o' happiness to thank him for hanging the lights.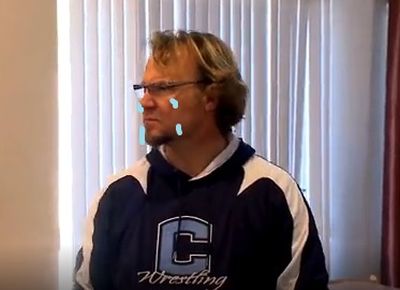 "What the heck," Kody says. "It's a big deal! I spent days putting these in."
Um…that just proves what can be done when you don't have a real job!
It's finally time for Thanksgiving. The sister wives have cooked 30 pounds of mashed potatoes and a farm full of turkeys and are ready to go. Kody comes in and is mad that they decided to move the tables together. Meri blames Christine.
"It's easier for me if Kody isn't mad at me," Meri says. "So I will say whatever to make Kody not be mad at me."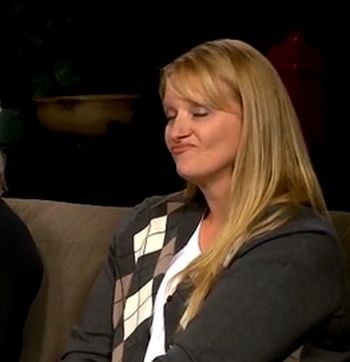 Christine doesn't even look upset that her sister wife threw her under the bus. It's par for the course at this point, probably.
Next time on "Sister Wives," Meri is going to Utah for some reason and asks to take Solomon with her, which makes Robyn uncomfortable. Also, Mariah and Meri will discuss their issues.
"She ruined our relationship and she wants me to fix it," Mariah says. "This is not my fault this happened and she's trying to get me to be the one that forgives her and I don't forgive her…at least not yet."
Is this about Meri's catfish caper? We'll have to wait until next week to find out!
To read our recap of the previous episode of 'Sister Wives,' click here!
(Photos: TLC)