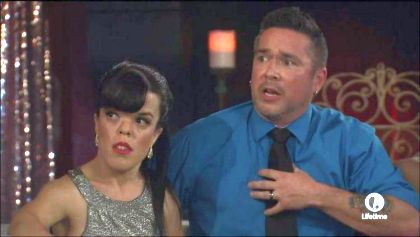 Little Women: LA fans have apparently had enough of Briana Renee Manson and her cheating husband, Matt Ericson. In fact, hundreds of fans have already signed a petition to get Briana and Matt booted from the hit Lifetime reality show!
However, the pregnant reality star doesn't appear to be even a "little" concerned that she'll lose her day job. (Yes, that was a horrible pun.)
Last week, one disgruntled 'Little Women: LA' fan started a Change.org petition calling for the network's vice presidents of reality programming  to kick Matt and Briana off the show, due to Matt's alleged record of domestic violence, his "abusive" onscreen behavior toward 'Little Women' cast members, and his admitted infidelities.
"Several disturbing facts surrounding Briana's now-husband Matt and his past have come to light which call into question the safety of Briana herself, her young daughter, and her fellow cast members. This new information leads us to believe that it is no longer appropriate for Matt and Briana to remain on the show," the petition states.
"Matt, Briana, and Lifetime TV are sending a dangerous message to women by ignoring the above facts and allegations. This message is that abuse, infidelity, disrespect towards women and hostility towards co-workers should be both tolerated and excused," another part reads.
Over 800 people have already signed the online petition.
On Tuesday, Briana posted her thoughts about the petition against her and her husband.
"For those who keep posting a petition to get Matt and I kicked off 'Little Women:LA,' which is a top-rated drama reality series, I want to say thank you for bringing even more attention to the show!" she wrote on her Facebook fan page. "By not supporting us you have given us more publicity! All press is good press for this business… So thank you!"
Unfortunately for the fans petitioning to have Matt and Briana removed from the shows, these fan-driven petitions have rarely been successful in getting anyone kicked off any reality show. (Remember, over 18,000 people signed a petition back in April 2015 to have Farrah Abraham removed from Teen Mom OG. The petition did nothing, as Farrah has since been cast in two more seasons of the show.)
It's been a rough few months for Briana. In addition to getting a lot of online hate over her dramatic relationship with Matt, she was also recently hospitalized after she went into early labor. Doctors were able to stop the early labor, and Briana is now in her seventh month of the pregnancy.
(Photo: Lifetime)