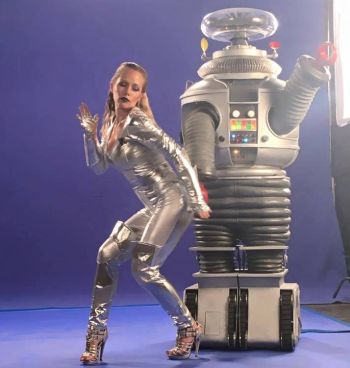 Kendra Wilkinson has just debuted the video for her song, "Lost in Space"… and it's really weird, even for Kendra.
Kendra featured the making of the music video on the season finale of Kendra On Top, so viewers got to see a few bits and pieces of what is featured in the video but… trust The Ashley, you can't get the full creepy effect unless you watch the entire video.
The video starts out with a clip of the retro TV show "Lost in Space" which Kendra has been inserted into.
She stars as a creepy green alien that's just chilling outside a spaceship (as you do). The club music starts to pump in the background and then all auto-tuning hell breaks loose.
From the actual lyrics ("can't keep me on a leash, I'm on a cloud" or "Gotta get it out my system, I'm on a bad bitch mission"), to Kendra's horrible monotone 'singing,' "Lost in Space" is on par with the musical monstrosity that is Farrah Abraham's "Blowin'" song and video.
Watch the full video below:
(Photo: WEtv)