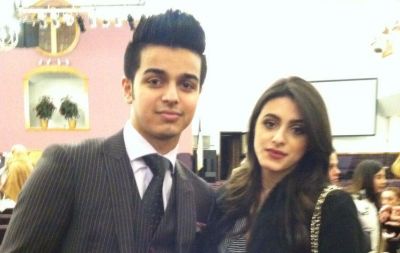 The Arranged baby has arrived!
Christian and Maria Miller, who starred on the show's first season (and have been featured in the recent Arranged Life segments), recently became first-time parents! Christian and his parents revealed in a web video earlier this month that Maria had recently given birth to the couple's first child, but the couple has not given out any other baby news.
"Sorry, there's some things that are meant to be kept secretive," Christian recently tweeted when a fan asked him on Twitter to spill baby details.
The birth must have been relatively recent, as Maria is still not allowed to be seen in public. (According to gypsy culture, a new mother has to stay home for six weeks after having a baby).
Although the teens have not revealed if the baby is a boy or a girl, Christian's mother, Nina Miller, tweeted that he/she would be "rolling in style," via the Versace baby stroller she recently purchased. This is the first grandchild for the Millers, who were featured prominently on 'Arranged' alongside Christian and Maria.
On the second episode of 'Arranged Life,' Christian and Maria, who married in September 2014 after being arranged by their parents, revealed which baby names they were considering. At the top of their list of baby names were Michael for a boy (after Christian's father), or Ariel, Alison or Layla for a girl. The couple  has not announced the baby's official name yet.
Maria announced her pregnancy during the 'Arranged' Season 1 finale in November 2015.
(Photo: Twitter)