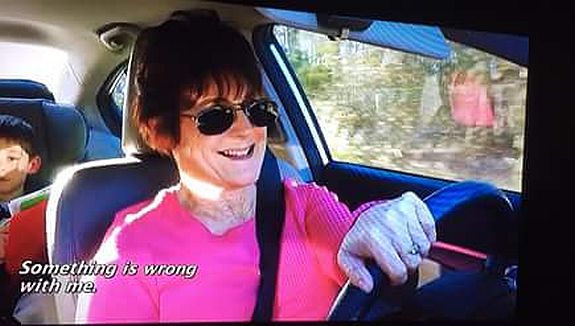 It's hard to believe that we're already on Episode 10 of this season of Teen Mom 2! Season 7 has flown by faster than one of Leah's marriages, has it not!?
This week, we're still all tangled up in custody cases and boyfriend/soulmate/husband woes. Let's get started!
We kick things off with Jenelle who, once again, is treating her soulmate Lurch to a midday meal at a restaurant. As per usual, Kaiser is nowhere in sight. It's happy hour for the couple, but, then again, every hour can be happy hour when you don't have jobs!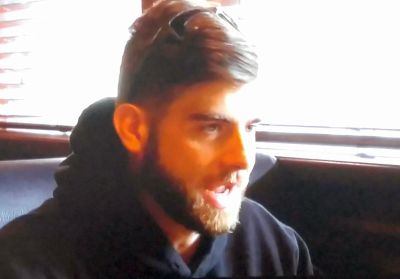 Lurch is once again regaling Jenelle of the tale of how Barbara "attacked" him last week like a "Doverman." (Oh, it hurts so good!) Jenelle agrees that her mother was, indeed "Doverman"-like, and Lurch says it is hard for him to deal with crazy people.
Um…you're dating Jenelle, bro. If that's how you feel, you've made a terrible, terrible mistake.
Jenelle decides it's best to call up Babs right there in the restaurant because, well, I guess it's just more fun to yell at your mother on the phone when there are a lot of people around. Jenelle asks Babs if she can have Jace for the weekend, but Barb is understandably hesitant to let her grandson go back to Jenelle's Little Shop of (W)horrors, after what happened last time. She tells her daughter that Lurch better not call the cops on her again.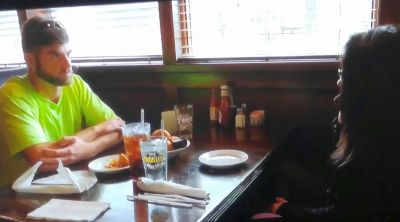 During this whole conversation, Lurch is just staring at Jenelle while she's on the phone, with these creepy, "I-wanna-make-your-face-my-face" eyes.
Jenelle insists that David is a great guy who does work. He hasn't been going to work, though, because he has to be there to take Jenelle to restaurants because she can't drive herself, due to a self-diagnosed thyroid issue.
Wait…um, sorry….what?! I watched that explanation three times and it still makes no sense at all. David can't work, but he can take Jenelle to the Fuddruckers for chili fries and margaritas on the regular?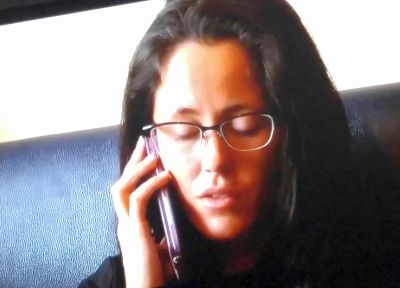 Jenelle says that she's basically become a sweaty mess, due to all the hot flashes and "sweats at night" and whatnot. She's also been having nightmares. (Perhaps she's dreaming of a life where she actually had to work a 9-to-5 job?! The horror!)
Barb doesn't seem all that concerned, despite the fact that Jenelle is insisting that she's basically at death's door. Babs isn't sure if she'll let Jace visit, and she wants to talk to her sweat-soaked daughter before she allows him to come over again.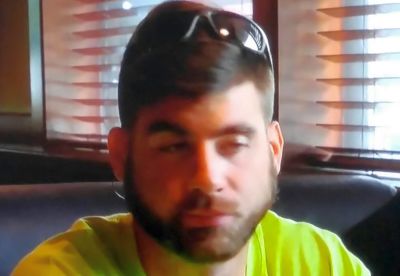 After Jenelle hangs up on Barb, Lurch states that Jace needs some one-on-one time with him, so that he can make him a man.
Is anyone else getting a MAJOR red flag here!? While I'm sure they are just tons of mothers lining up to let Lurch "make a man" out of their young sons, I'm finding the whole conversation rather creepy.
Lurch then states that Barb doesn't care about Jenelle's happiness, because if she did, she would have never taken Jace away from Jenelle.
UM?! Jenelle was out paaaaaaartyin', gettin' HIGH! HIGH! on the heroin and "kilos of weed" and getting arrested, while Barb took on her responsibilities and raised that kid. Jace would be in foster care right now if it weren't for Babs. You can say a lot of negative things about Barb, but you can't take that away from her.
Meanwhile, in Delaware, things are relatively normal with Kail & Co. The dogs are humping each other, Lincoln is pushing his brother and Kail is Facetiming one of her friends.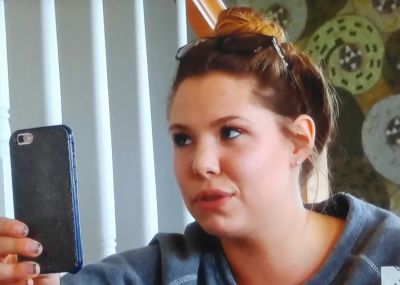 Kail says she's going to hit up Vee to see if she wants to go eat stuff with her. Since Vee is friendless in Dover, Kail figures she'd rather talk to her than a bunch of humping dogs. Kail's friend says that Kail hanging out with Vee is a good idea.
Down in the holler, Leah is exchanging the offspring with Corey alongside the road. Leah says she wants to keep things civil with Corey, but wouldn't you know that gersh-dern ex-husband of hers is ready to stir the ding-dang pot once again! Corey brings up the fact that Ali's diet is not up to par, and says that he thinks she's been losing weight.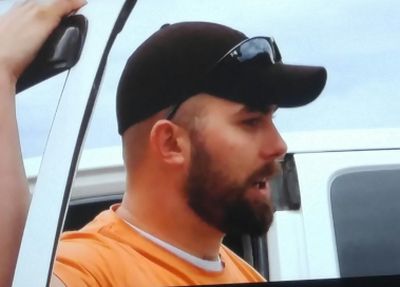 Did Addy not save any icing for her sister to eat!? Did Leah run out of canned ravioli!? Has the cupboard once again run low on Lunchables?! What could it be?
Leah insists that Ali is not losing weight, and her britches fit just fine, thank you very much. Leah knows firsthand that a youngin can live off of assorted snack cakes and Chef Boyardee creations; after all, that's what her Mama fed to her!
Leah says that Ali eats just fine when she's at her house, so it's obviously all those fruits and vegetables that Corey is trying to feed her.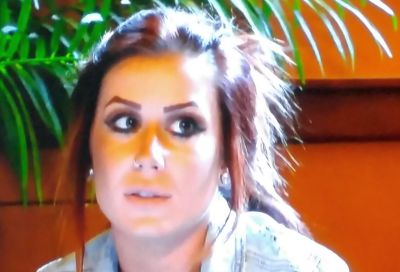 In South Dakota, Chelsea is having lunch with her father Randy and talking about– what else?– Adam. Chelsea recently went to a child support hearing, and Adam was a no-show. It's no surprise to Chelsea, because Adam never contacts her about anything to do with Aubree.
There's a father/daughter dance coming up at Aubree's school, and Chelsea is sad that she has to tell Adam about it. She wants Cole to take Aubree, since Cole is the one who acts like a real dad to her, but, hey, we can't choose who we bone in high school and get knocked up by, can we?
Chelsea texts Adam to let him know about the dance, but is planning to have Cole on stand-by in case Adam is too busy pumping iron to take Aubree.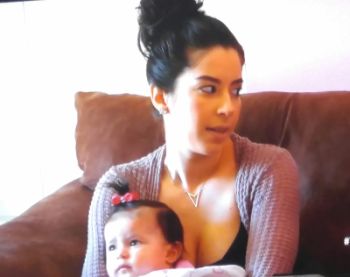 In Delaware, Vee tells Jo that Kail wants to meet up. Vee is suspicious, due to the fact that in the past, Kail has basically been a raging bitch to her. Now that Javi is off saving the world, though, Jo and Vee say that they've seen a major change in Kail. Jo tells Vee that he's pretty sure that Kail won't poison her drink if they go to lunch, but he seems hesitant about the whole thing.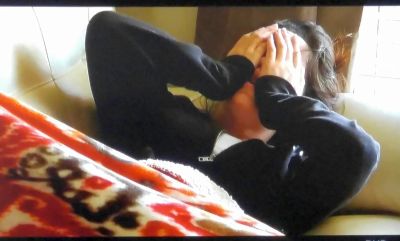 Over in North Carolina, Jenelle is still on death's door, but now she's even sicker and sweatier than ever! She may not even be able to fetch Jace because of how deathly ill she is. Jenelle's made a doctor's appointment (which may or may not be code for 'meeting up with Kieffa to see what happy pills he has in his knapsack at the moment').
Jenelle's knees, back, tongue and joints all ache. I'm pretty sure she even included 'prostate' in her list of assorted body parts that hurt.
Meanwhile, Barb tells Jace that his mom is at the "docta's" and that maybe it's best if she takes him to her house the next day, since Jenelle may be in bed the whole time he's there.
Um…isn't that what the kid said happens every time he visits Jenelle? Business as usual!
Just then, the phone rings in Babs' caaaaahr.
"Oh, it's Juh-nelle!" Babs cackles as she picks up.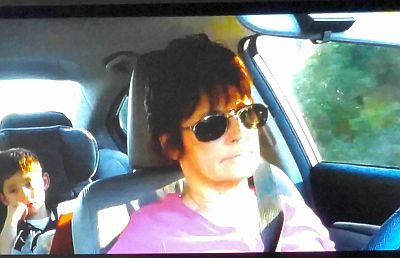 Jenelle is very mad because NO ONE is taking her symptoms seriously. The doctor was no help, despite the fact that Jenelle is obviously on the brink of death! Jenelle says she needs to get her sweaty mitts on some Xanax, but wouldn't you know the doctor wouldn't give her any! Apparently, Jenelle's on the North Carolina Pill Poppers of America list.
Jenelle, of course, is pissed. She was addicted to HEROIN, not benzos, so what's the damn problem!? Jenelle sees no reason why the local doc can't fill her gullet with some pills, and she's angry that people are holding a pesky little thing like admitted heroin use against her. Geeeeeez!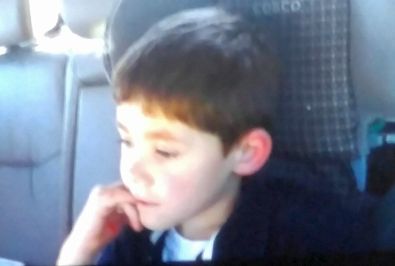 Meanwhile, Barb is just a sight for sore eyes. Her face is priceless as she listens to her daughter wail about not getting the drugs she wants. Jace, too, looks completely over this conversation. Well, at least he'll have a new "My mama's so crazy" story to tell his friends on the playground on Monday!
Barb reminds Jenelle that a law was recently passed in North Carolina to help prevent junkies from getting their paws on prescription drugs (much to the dismay of said junkies and, most likely, the producers of the show Intervention).
"It's not even about the meds!" wails Jenelle. She says she just wants someone to believe her that she's got one foot in the damn coffin! To express this, she starts swearing, but Babs scolds her for cussing while she's on the caaaaahr phone with Jace in earshot.
"I have restless leg syndrome!" Jenelle screams. "My knees and my joints hurt! I think I have MS!"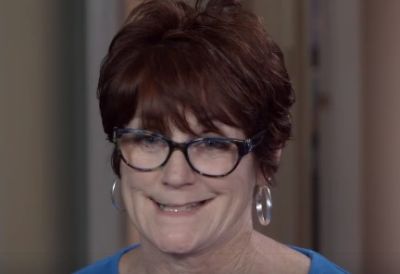 At that, Barb can no longer contain herself. She starts cackling as she listens to her daughter's laundry list of ever-changing symptoms. This obviously isn't the first time Babs has heard something like this from her daughter. You can almost tell Barb is just waiting for Jenelle to scream, "I have leprosy! I have testicular cancer!"
This is fun. I just love this.
Jenelle continues to wail and list the symptoms that are crippling her. (Did someone give her some sort of picture book of illnesses or something that she's just reading from?)
Barb offers up diabetes as a possible cause of Jenelle's medical crisis, and Jenelle gets so offended that she hangs up on her mom. (She must have realized that Barb has no Benzos so there's no use in talking to her. However, if anyone on this show ever deserved anti-anxiety meds, it's Barb!)
"Maybe she'll be in a better mood tomorrow," Barb tells Jace of Jenelle.
Well, that is if the hoof-and-mouth disease doesn't overtake her by then. #PrayForJenelle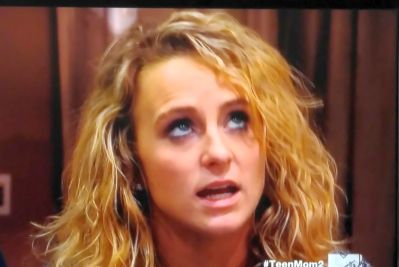 In West Virginia, Leah has managed to rid herself of all of her youngins somehow, so she's able to chat with her sister Victoria without constant interruptions.
For some reason, Victoria's all dressed up like it's club night at the Cracker Barrel. Leah tells Victoria that she's spending her night correcting the twins' school work. Although we know that Leah's not much for readin' and 'rithmatic and all that, she's trying her best to help with her daughters' learnin'.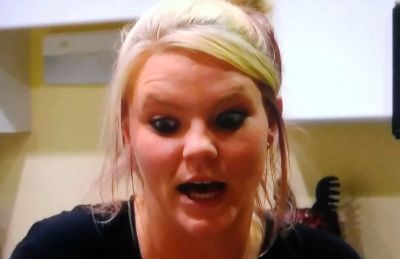 Leah then tells her sister about what Corey said about Ali's diet. She's plenty mad that Corey has been hinting that she's not properly feeding the kids.
Victoria says that Leah needs to tell Corey that Ali eats "perfectly good" when she's at Leah's house. (Let's hope that they don't let Victoria help with the girls' homework…)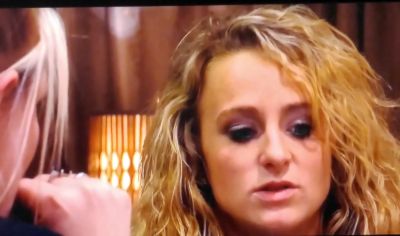 Leah has no idea why Ali eats "perfectly good" at her house, but doesn't eat at Corey's. Well…it could be because everything that Leah gives Ali is covered in processed cheese-like powder…or icing. Kids love that stuff!
Leah says that she doesn't want to keep arguing with Corey, and then Victoria utters what may be the understatement of the season…
"You don't fight about nuthin'!"
Really?!
In South Dakota, it's time for the father/daughter dance. Adam is still missing in action, but Chelsea is getting Aubree ready. Aubree's teacher said she could bring both Cole and Adam to the dance (which, won't be awkward at all), but Chelsea has no clue if Adam will actually come through to take her.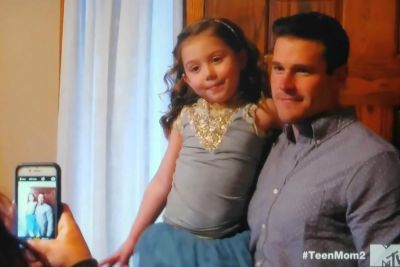 Aubree is hoping to take both guys with her to the dance, but when it's time to go, only Cole is there, so he takes her.
Chelsea is so grateful that Cole was there. She knows that otherwise, she would have been calling up Papa Randy, pulling him out of some sort of dental surgery or whatnot, to beg him to take Aubree, and/or watch helplessly as Aubree starts to develop "daddy issues."
Speaking of daddy issues, it's time to check in with our favorite diseased degenerate, Jenelle. Since the doctors in North Carolina wouldn't give her drugs couldn't figure out what was wrong with her, Jenelle has trekked to New York City. She'll trot all over the country in her quest for answers (and apparently, Xanax).
Jenelle is somehow able to leave her deathbed long enough to grab a meal with Lurch. Unfortunately, flying to New York may not have been a great idea. Not only have Jenelle's restless leg syndrome/anxiety/MS/hot sweats/aching joints/etc followed her to the Big Apple, but new symptoms are being added.
"I can see MOLECULES!" Jenelle exclaims.
This is getting to be a bit much, even for Lurch (and that's saying something!) He insists that she needs to see a doctor, and not one of those stupid North Carolina doctors who keep a tight grasp on their prescription pads!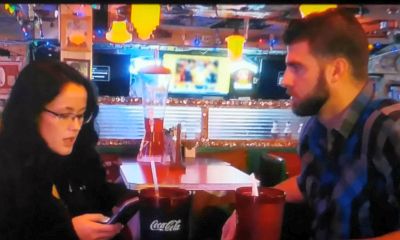 Jenelle has decided to be pro-active in her crusade to find out what's wrong with her. She's pulled up the WebMD on her phone and has basically diagnosed herself with every single ailment and illness listed…ever.
WebMD has probably been rather useful to Jenelle in the past. Imagine how many times she and her pal, Trashbag Tori, have sat around a computer, using the site while playing "Guess which STD it is?" Ahh…memories.
David's obviously tired of this whole charade but…hey, it's scored him a few free vacations already so he goes along with it. If his soulmate says that she has eyes that "feel huge," itchy legs, a numb tongue, a body that jerks uncontrollably and whatnot, that's OK with him. #PrayForJenellesItchyLegs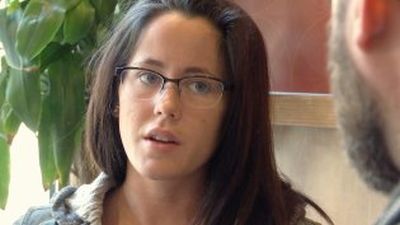 Seriously, Jenelle rattles off about 40 things that are wrong with her. It's a gosh-darn miracle that this girl is even still alive, guys! If she has, indeed, been fighting all of these symptoms, she deserves to be in some sort of medical book or something.
"I've been bedridden for three weeks now!" Jenelle says.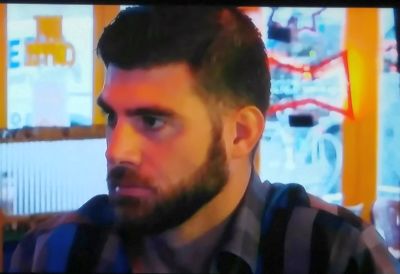 Um, sorry what now? Girl, the only time you're "bedridden" is when you're making babies with a soulmate! Come.On.
(Also, according to Jenelle's own Instagram account, during this time when she was "bedridden," she was ice skating and bowling in New York, as you do.)
Anyway, Jenelle says that David has been taking care of Kaiser for her (gulp) because she's too sick to get out of bed. She's happy that she'll finally be able to see a doctor who doesn't know her (except from that whole MTV reality show thing, of course), and may be willing to give her the drugs she wants.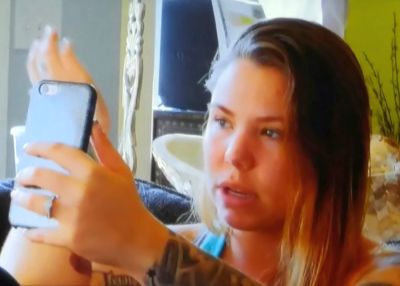 In Delaware, it's time for Kail's regular FaceTime call with Javi. She tells Javi (who, for some reason, is always shirtless in every FaceTime call), that she's having lunch with Vee that day. Neither one of them seem thrilled about the Vee lunch, but, hey, it makes for interesting camera time. Otherwise, we're going to be forced to watch Kail's dogs hump the whole time. (Personally, I'd vote to watch the dogs humping, but no one listens to The Ashley…)
They are both completely robotic on the phone to each other. Seriously, did they take all of Jenelle's benzos or something? Neither one of them are giving off any sort of emotion, and it's kind of creepy.
Javi begs Kail to show some emotion toward him. Kail tells Javi that she loves him but she's not about to bust out any tears for his sake. They hang up and Kail stares off into space for a moment for dramatic effect.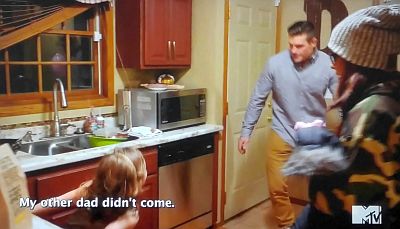 Meanwhile, Cole and Aubree have returned from the father/daughter dance, and Cole reports that Adam was a no-show. Aubree still had a great time with Cole, however, and they even came up with an adorable dance to do together at the wedding.
So.Much.Cuteness.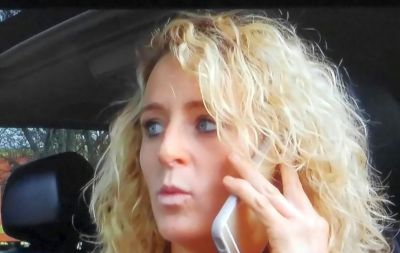 Over in West Virginia, Leah is wranglin' her litter into the car. Once she's got them "setting" in their seats, she rings up Corey to let him know how Ali's most recent doctor's appointment went. She tells Corey that the doctor doesn't think Ali has lost weight and that Corey made a big deal out of nothing.
The next day, Leah gets a call from her trusty cousin, Chasity. We all know that Chasity loves a good hunk of drama, and the one she has now is a doozie! Chasity tells Leah that Ali was telling her something about Miranda, and Chasity decided it would be best to film Ali talking so she could send it to Leah.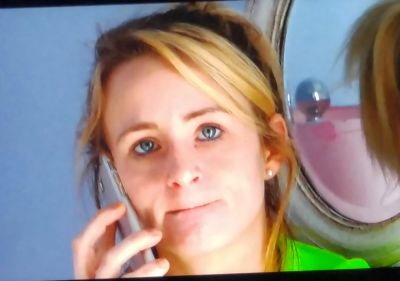 Wait, Chasity actually has a smartphone? That seems kind of high tech for her. I figured she just used payphones and took all of her photos via Kodak Fun Share disposable cameras.
Anyway, Chasity says that Ali told her that Miranda wouldn't carry her backpack because she had to hold her newborn baby, Remi. While that seems like a totally normal thing for someone to say, we have to remember that we are dealing with Leah & Co., so, of course, this blows up into something huge 'right quick!'
Chasity says it's "heartbreaking" to hear Ali report that she and Aleeah don't get the same amount of attention that Remi gets.
Um…Remi is a newborn baby…and a premature one at that! Of course she gets a lot of attention, and of course a six-year-old is going to get jealous. But, of course, Leah's cousin has to play hillbilly hellraiser and make it into a big thing.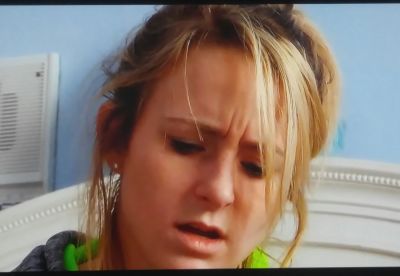 Chasity sends over the video of Ali, and Leah watches in "horror" as Ali describes how that evil Miranda tells her that she can't hold the backpack and a baby.
Jesus God (Leah).
Meanwhile, it's time for Kail's lunch with Vee. They talk about Vee's latest trip to Jersey, and whether or not they plan to shoot any more babies from their loins.
The lunch is a snoozefest because no one screams at each other.
Luckily, Jenelle is always good for a little screaming. This time, her victim is the neurology center, who have DARED to close at 4pm! Jenelle, who is awaiting her test results, is livid that the office closed without even consulting with her first. How rude!
Now we may never know if Jenelle is dying from the black plague!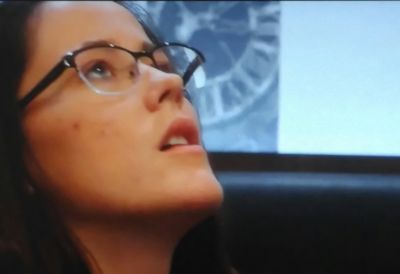 "They're closed!? Are you serious?" Jenelle screams. "Why do they close at four? That makes no sense!"
Surely Jenelle has been to enough doctor's offices during her battle with small pox or rabies or whatever to know that most offices close around that time.
Back at her hotel room, Jenelle is frustrated after "trying everything for her health." She can't even go out to eat now because her disease has made that uncomfortable too. Good God, the illness has taken Jenelle's one joy from her– snarfing free greasy food!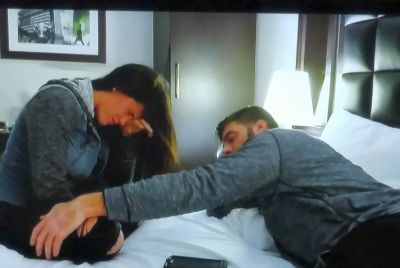 Lurch offers to rub his grubby mitts all over Jenelle in an attempt to make her feel better but she declines. She is mad that no one even cares that she is dying and suffering from every symptom known to man!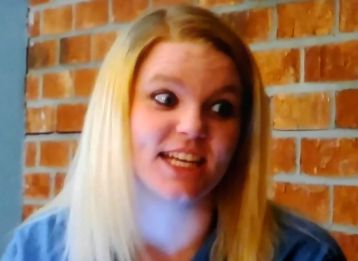 We check back in with Leah one more time and see that she's called her sister Victoria over to watch the video of Ali. Victoria encourages Leah to go over there and beat Miranda's ass with a backpack…or something.
"The lazy bitch needs to pick up the backpack and carry it for her!" Victoria screams about Miranda.
Leah is upset at Corey for allowing Miranda to treat the kids that way. Sigh.
Victoria says that just because the twins didn't come out of Miranda's baby chute, that's no reason for her to love Remi more than them.
These people all need drugs. All of them. Can Jenelle bring back enough benzos for the entire cast?
That's all for this week. Don't forget guys, #PrayForJenellesNumbTongue
To read The Ashley's recap of the previous episode of 'Teen Mom 2,' click here!
(Photos: MTV)