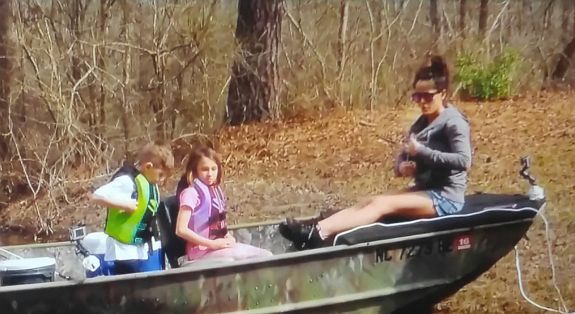 Well kids, we made it! We've wadded through lakes of Jenelle's crocodile tears, as well as countless FaceTime calls with an unhappy Kail and a shirtless Javi. Get out yer Duncan Hines deluxe icing, y'all, because this here is the Teen Mom 2 Season 7 finale!
Our seventh season finale starts off in Jenelle's neck of the woods. We find out that she and her swolmate soulmate, Lurch, are taking their assortment of kids on a fishing trip. Somehow, Lurch has gotten his swollen mitts on some sort of motorboat (which Jenelle surely told all her friends was actually a yacht), and they are planning to take Jace, Kaiser (the baby, not the Permanente) and David's forever sad daughter Maryssa out on the water.
(Hey, you never know…maybe the fumes of the motor will get Jenelle the HIGH! HIGH! she's been desperately seeking from every doctor up and down the East Coast!)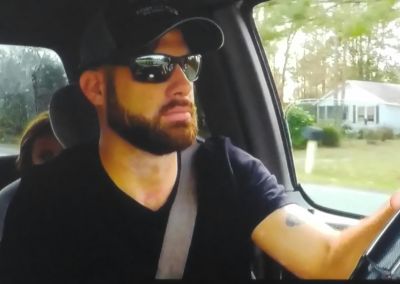 They get all the chillins all loaded up in the car, but Kaiser isn't exactly thrilled about the fishing extravaganza. He begins to cry, and ol' Lurch apparently has a short temper this afternoon. He whips around and yells at Kaiser for screaming, and then somehow blames Jace for the noise. He instructs Jace to "stop screaming like a little girl" as Jenelle just keeps spouting her trademark, "Oh God, dude…" over and over again.
Meanwhile, Jenelle just sits there, allowing Lurch to scream at her kids. She's hiding behind some serious shades (which were almost certainly given to her so she could hawk 'em on the Instagram in lieu of getting a real job).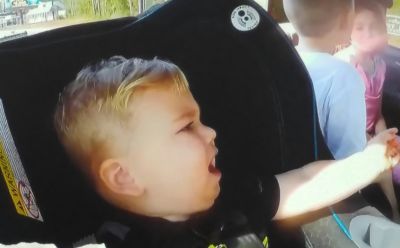 Kaiser is not letting up, however. He starts crying and reaching for the car camera, almost as if to say to the producers, "I know you can see me. Why aren't you getting me away from these degenerates?!" David mocks Kaiser's cries.
Never one to let allow everyone to forget that she's dying, Jenelle brings up how she's just exhausted from her search for drugs to cure her restless and sweaty legs. She feels some fresh air, as well as the sweet sounds of some barbarian yelling at her kids, is just what she needs to rid her of her ailments.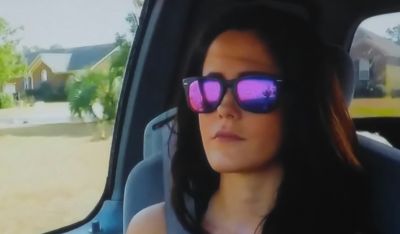 By this time, Kaiser is throwing an absolute fit because no one has paid attention to his cries (except to mock him, of course). Jenelle naturally chooses to go to her soulmate, rather than figure out what the hell's wrong with her kid.
David realizes that–uh, oh!– they're short a life vest and a fire extinguisher. (Isn't it cute that they are acting like they take safety precautions seriously? We all know that if the cameras weren't there, David would probably be making a lifevest-less Jace pull the damn boat to save gas!)
Luckily, Lurch calls his pal, J.D., and asks him to fetch the assorted safety items from "the house." (By "the house," of course, we mean Walmart because we know that they don't actually have that crap.)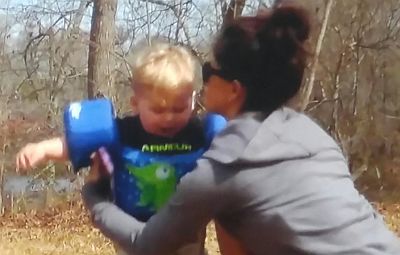 Kaiser is still screaming, probably realizing that his only chance to get away from Jenelle and her assortment of soulmates is to make a swim for it. She's doing her best to comfort him (by jerking him up and screaming in his face), so that he doesn't ruin her Instagram-worthy perfect boat trip. Jenelle is angry that she has "no help" with her son. Kaiser, who is just happy to be released from his highchair holding cell for once, is making a run for the lake until Jenelle scolds him.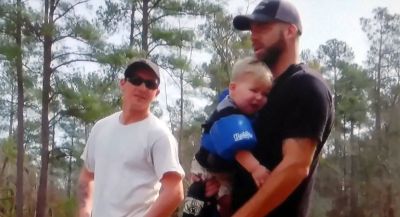 J.D. arrives with the safety equipment, and Lurch explains that baby Kaiser is a pain in his butt because he won't stop screaming, and that, like his daddy Nathan, Kaiser is a "little screaming bitch."
Aww…now if that isn't a Kodak moment, I don't know what is!
After hearing her boyfriend say such a cruel thing to her one-year-old, Jenelle springs into action, removing her children from Lurch's Little Boat of Horrors and heading home to throw all his stuff out on the front lawn, all while whistling the tune of "All the Single Ladies."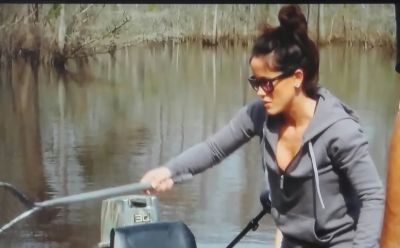 Hahahaha, just kidding. That would never happen. Of course, Jenelle just sat there and let this barbarian bumpkin say really awful things about her kids.
With that, the whole gang boards the S.S. TrashBag for a day of fishing "fun."
After that fine showing of parenting, even Leah is going to look like the ding-dong Mother of the Year!
Speaking of Leah, we check in with her next to see what she's been up to.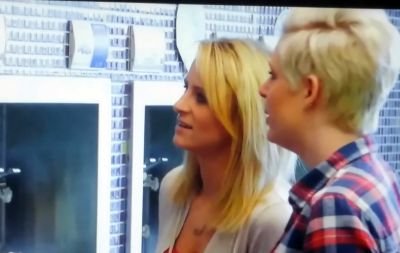 The kids appear to all be with their assorted dads, so Leah and her pal Kayla head out for a day of fun, with the first stop being the yogurt shop. Leah is disappointed to see that the shop doesn't have any ravioli- or snack-meat-flavored yogurt, so she settles for chocolate.
After getting their treats, Leah "sets" down for a spell and immediately launches into custody talk. Leah reveals that she and Corey have kind of agreed on a custody situation that works well for both of them. The girls will spend more time at their dad's, but will still be able to munch Lunchables with Leah during the week.
"We made these kids together, we can raise 'em together!" Leah proclaims.
I just got a mental picture of Corey huffin' and puffin' over a teenage Leah in the back of his pickup truck. Ew.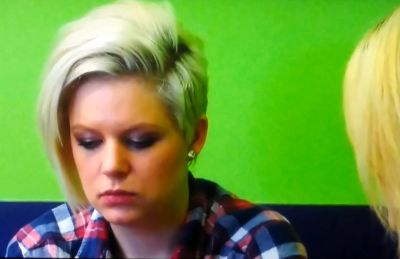 Kayla says that the last time she and Leah talked (on camera, that is!) Leah still had her bloomers in a bunch over the infamous "BackpackGate" video. (You can tell that it just pained Kayla to have to bring up this subject again but hey…free yogurt, y'all!)
Leah says that BackpackGate was actually turning into a ding-dang blessing because it opened the conversation lines between her, Corey and even that bitch Miranda!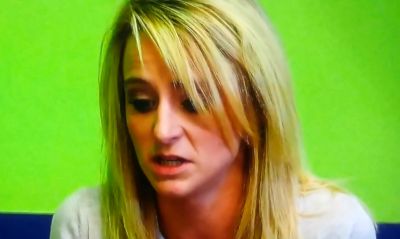 Leah tells Kayla that she's planning a cookout her house to celebrate the coming of spring, which, in the Land 'o' Leah is probably a beautiful time of year. The tractor pull done comes to town, the youngins no longer need to be buried in coats, and all the teen moms are 'bout ready to birth out some new blessings!
Leah says that she is also celebrating being almost a year out of "treatment," and the best way to do that is to gather up all the kinfolk and fry up some of Walmart's finest wieners! It's a special party, so Leah will be springing for the fancy dogs– the ones that are nearly 60 percent beef! (Well, provided that she gets an MTV check beforehand, of course.)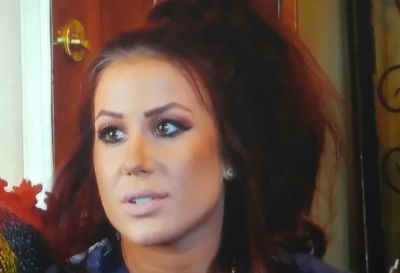 In South Dakota, Chelsea is chatting with Brittany about child support.
Honestly, if "Things Chelsea Houska Talks About on Teen Mom 2" were ever a category on 'Family Feud,' there would only be one answer: Adam and child support/custody. Well, also hair. So there would be two.
Apparently, Adam's lawyer advised him that court trips make for boring 'Teen Mom 2' scenes, because he is apparently not planning to go to court to continue to fight the child support amount that the mediator came up with for him to pay for Aubree.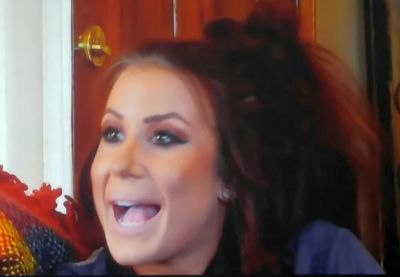 Adam is not happy that he's going to have to pay so much for his kid. (He may not be able to do every lifting competition held in someone's basement!) But he doesn't really have a choice. He is, of course, not going down without being a total douche. She says that Adam's been barking on social media that Chelsea is trying to gold-dig.
Yes, Adam, she is surely after your lofty "estate" (aka a pile of protein bars, a bag of cut-up muscle tanks and his souvenirs he got at Aubree's father/daughter dance….oh, wait…)
Luckily (for us), Chelsea says that this should resolve the custody/court crap for awhile (aka at least until next season!)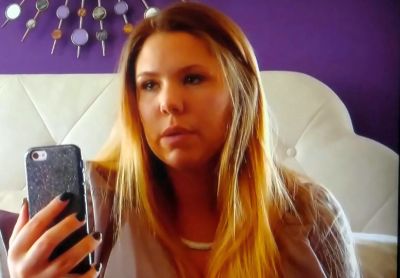 Finally, we see what Kail is up to. Naturally, we do this by watching her FaceTime someone. This time, it's Javi (you may not have recognized him because he was wearing a shirt). Kail tells Javi all about her experience in New York City, and says that it's her turn to focus on her career. Javi is like, "Um…that's great but….you're married and have a bunch of kids and dogs and stuff."
Javi says that he and Kail have a lot of things to "address." (Yup…like those "Divorce Party" invites!) He tells Kail that he hasn't felt like a priority since he left to save the world and she's basically like, yeah…well…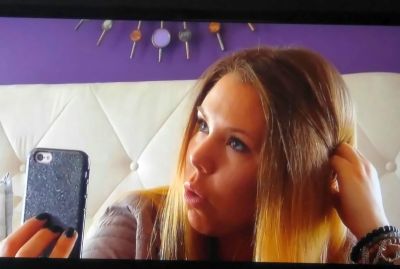 Kail reminds her husband that, even before he left and she had a miscarriage that he acted like a total dick about, they were fighting. Javi says that if he's just going to come back home and he's going to get the shaft from Kail while she's off chasing her dreams in New York, they might as well sign the divorce papers now so he can join Jeremy and Corey in the 'Teen Mom 2' ex-hubby clubby.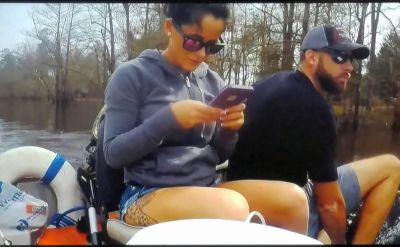 Meanwhile, Jenelle, Lurch and the kids are motoring their way around the Lake of Broken Dreams. The kids look miserable, while Jenelle is busy Twittering about how great of a day everyone is having. Kaiser is screaming again, and Jenelle tells him to hush-up so he doesn't scare the fish.
Um…pretty sure Lurch's big ol' mug will do that just fine!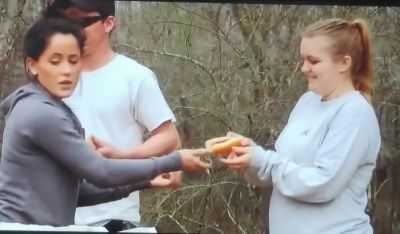 An hour later, they've docked on an embankment that may or may not have been the place they filmed "Deliverance." Jenelle and Lurch are grilling up some hot dogs, and all of a sudden Lurch's pal JD and his hillbilly honey, Amanda, have arrived. (Do they just live in the brush and emerge only when there's snack meats and/or MTV cameras or…?)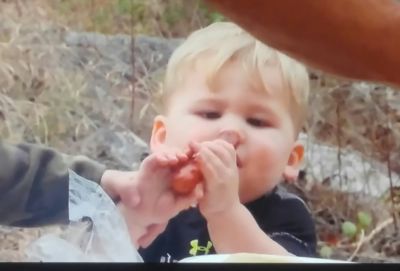 Jenelle is dolling out dogs to all of her pals when she gets a phone call from "the devil," aka her mother, Barbara. Barb tells Jenelle to bring Jace home around 6 p.m. and Jenelle agrees. (Pay attention to this…it will become important later on, I assure you.)
Lurch decides that he's going to text Barb because he doesn't want to have to drive all the way to Barb's house, especially when he has to meet his baby mama on the side of the road. He asks Babs to meet them halfway.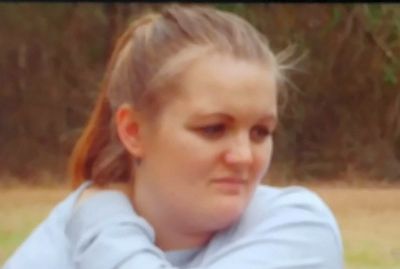 While they're waiting for Babs' response, Jenelle's pal Amanda goes for the Emmy! She delivers the producer-required question with such ease and naturalness.
"Has you and…your mom's relationships got…any betters?" she asks.
Amanda, you were so amazing. Thank you for being you. Sometimes God just gives us unexpected gifts in the form of trashy girls mumbling lines while stuffing free hot dogs into her gullet. #blessed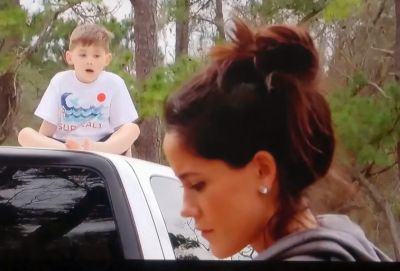 Jenelle announces that she's not getting along well with Barb, and that she's taking her to court to fight for custody of Jace.
Barb responds to David's text and says that she's not driving to pick up Jace, since Jenelle agreed to bring him home. At the mention of Barb's name, Kaiser starts screaming again, almost as if he knows that he's so close to getting in touch with her and having her haul his ass out of this (low) life.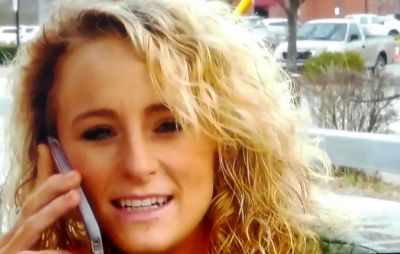 In West Virginia, Leah couldn't get her pal Kayla to come out with her so she could talk crap on her ex-husbands. Luckily, however, Leah is able to talk smack via her cracked-up iPhone, so she calls up Kayla and reveals that her ex-husband (the second one) done got himself a new girlfriend! That's right, kids– Jeremy Lynn is "Facebook official" with another girl!
Leah is taking the news well. (If this were a few years ago, she would have called up Mama Dawn, Chasity and whatever other members of her ragtag crew who had "minutes" on their phones and gone right over there and confronted Jeremy and his new flame, demanding that he do what's "best for the childrens!"and get back with Leah. I miss the good ol' days, y'all!)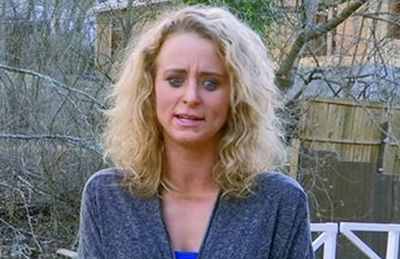 Since "treatment" Leah has been working on living a more positive life, so she won't be trying to attack Jeremy's new girlfriend, Brooke. Leah seems to know who Brooke is (probably because Jeremy has literally been dating her since last summer!) She says that Brooke is a single mom of a little girl.
"Jeremy's so funny," Leah tells Kayla, who must not have her asymmetrical hair combed because she's not willing to do FaceTime. "One minute he's with a bunch of girls, then he wants to get back with me, and then he's in a relationship"
Um…Leah? That's basically your life pattern, girl. New guy, back with ex-husband, repeat.
Leah says that while she "cares about" Jeremy, but she's not trying to hump him in the back of a truck or anything. In fact, she's happy for Jeremy, and vows to respect his new relationship.
"I don't want to disrespect her the way I disrespected Miranda," she says.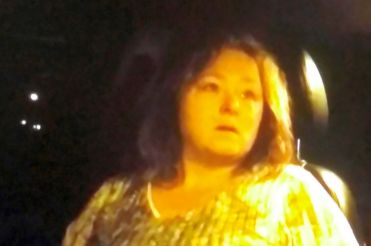 Wait…what?! Leah just made an intelligent, mature decision. Let's hope Mama Dawn doesn't charge on over there and tell her daughter that she's done making a mistake if she don't try to get her man back from that hussy!
That night, Leah has her entire litter (as well as Mama Dawn) all piled up in her car. It's time to drop off Addy with Jeremy at the rest stop, but Leah sees that this youngin exchange is a bit different from most because…Jeremy has his "new" girlfriend in the car with him!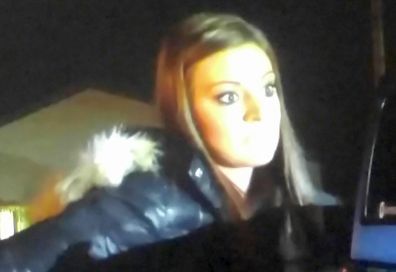 Oddly, Leah does not throw a mason jar at Jeremy's new girlfriend's head. (I know, it's weird because we're watching 'Teen Mom 2' and that seems to be the thing to do when your ex gets a new lady friend.) Brooke gets out of the car and introduces herself to Leah, who is gracious and shakes her hand. It's like being in the ding-dang Twilight Zone, y'all! Jeremy looks uncomfortable, and the girls quickly say their goodbyes.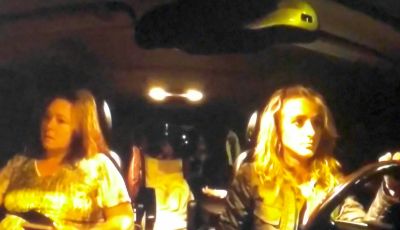 Mama Dawn pounces on Leah as soon as she gets back in the car, wanting to know how the "meeting" went. Leah says it was fine (because…they, like, said five words to each other), and that she hopes that she can eventually get to know Brooke better. Mama Dawn just looks at Leah like, "That ain't the youngin I done raised." She does, however, put her pitchfork away.
In South Dakota, Chelsea has lunch with Cole and they talk about how as soon as they get hitched, Chelsea's going to put her baby chute to good use! They decide to have three more kids.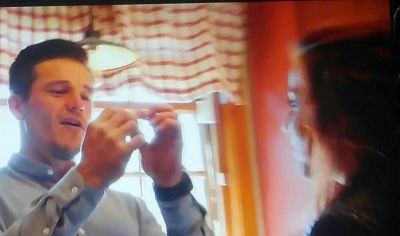 Later, Chelsea goes to fetch a package out of the mailbox. It's Cole's wedding band, and he's thrilled to see that it's not a piece of crap like he was apparently expecting. They do a practice ring ceremony and discuss whether or not to have Pete the Pig be their ringbearer. As you do.
In Delaware, Jo and Vee are playing with Kail and the kids at one of those blow-up jungle gym places that all of these people seem to go to. Isaac is Velcro'd to the wall, but is taken down so he can eat pizza in the party room. I guess when you have an MTV camera crew following you, everyday is a party!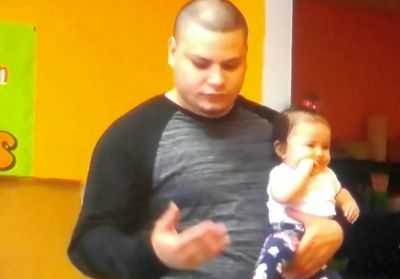 Although Isaac is enjoying all of the wall-stickin', pizza-eatin' fun, he says that he misses Javi. Kail pretends she doesn't hear all of Isaac's "Javi" talk, even though he keeps mentioning that it's going to be great when they're "all together again."
Um…
The next day, Kail is reeling after yet another big FaceTime fight with Javi. Her pal Shakirah comes over to stare directly at the camera help Kail sort things out. Kail tells her friend that after Javi left, she realized that she doesn't want any more kids because she wants to focus on her career. Also, there's that whole thing of her and Javi basically hating each other. They'd have to hump to make another kid and, from the looks of it, the only humping that will ever be happening in that house again is with Kail's dogs.
Kail says that she and Javi haven't had a good relationship for two years, so now is not a good time for her to be birthin' more Javi babies. Sounds reasonable to me…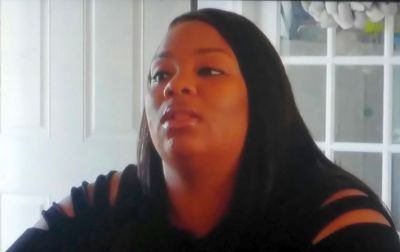 Shakirah asks if Kail and Javi have talked about divorce, and Kail says that it's a pretty frequent conversation topic for them. Kail says she doesn't want to get a divorce, especially because Isaac is so close to Javi. She does admit that she wants her kids to see her happy, and that she probably won't ever be happy being with Javi.
The next day, Kail is back on the FaceTime with Javi. He basically seems to be positive that they need to divorce. Kail says that it's partly because she doesn't want to have any more children, and Javi doesn't deny that. Javi says that he'll always resent Kail if she closes up the baby slip 'n' slide before he's ready. They decide that it may be better to get a divorce while Javi is deployed, so he doesn't have to come home at all. Kail agrees to get the ball rolling for the divorce.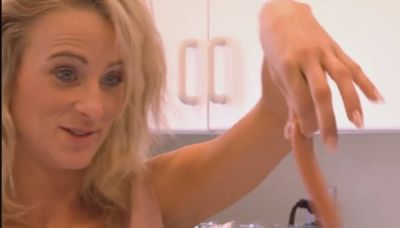 In West Virginia, it's time for the cookout, and Leah is busy a-grillin'! She uses her meat hooks to scoop up a bunch of hot dogs and just hands them out to her assorted kids. (Do none of these people eat hot dog buns? Did MTV only agree to pay for the dogs, not the buns or something? Jenelle and Leah both had dogs sans buns this episode.)
Ali is thrilled at the bounty of processed meats available to her, but Leah is not so happy. She gets a text from Jeremy, who tells her that he had to leave Addy with his mom so that he could go pick up Brooke's daughter for her. Or something. So…many…kids. So…few…rest stops…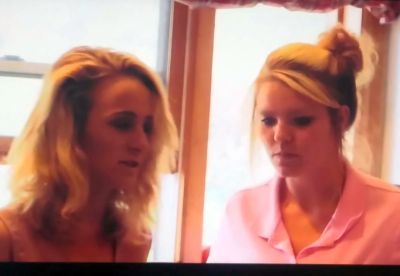 She tells Victoria all about it, and Victoria is just salivating over this new piece of drama. (We all know Victoria loves drama more than even Leah loves wieners! I mean hot dogs, of course….)
Leah is mad that Addy got dumped with her grandma when she could have been slopping down hot dogs with her sisters at the cookout. Leah is mad that Jeremy gave up time with his daughter to spend time with someone else's kid.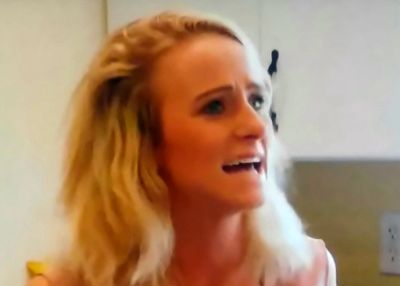 Ali walks in the kitchen, just in time to hear Leah yell, "I'm not going to allow Jeremy to hurt Addy!" which is, you know, not at all confusing and frightening to a little kid.
Leah says that this makes her feel disrespected. Wait…what? Someone get Leah a container of frosting! She's all stressed and veiny!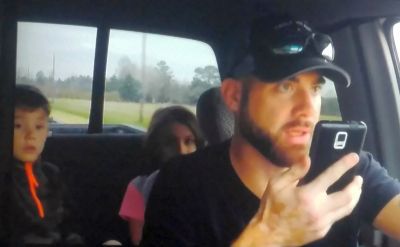 In North Carolina, Jenelle's various ailments are starting to come back. She's got chest pain, shoulder pain and general aggravation, but this time the cause is not hoof-and-mouth disease. It's her bitch of a motha, Barb, who is refusing to go along with Jenelle and Lurch's new plan, which involves her driving halfway to pick up Jace.
"It shows you just how much of a mother SHE is!" Lurch grunts.
These people have the mental capability of 10-year-olds. Seriously.
Lurch barks out a voice text to Barb, telling her that she's just going to have to hop in her "caaaahr" and meet them so they can get their way. Lurch is getting mad, and is starting to get that serial killer look in his eyes again. Barb is refusing to meet them, and Lurch can't believe that people aren't doing what he wants.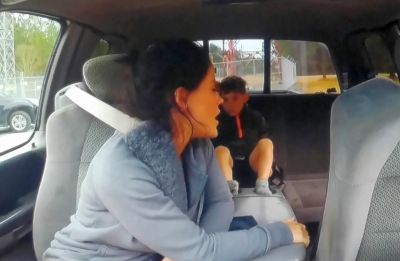 Lurch stops at a rest stop to dump off his daughter, and Jenelle fills the time by telling Jace the story of how he ended up with Barb. She states that "a long, long time ago" in a far, far away land, a judge told Jenelle that she had to give her baby to her mother because she didn't have a house to live in.
UM!?!?!?! Yeah….because you chose to live on the street with your boooooyfriend, get high, get arrested and forget that you had a baby at all. Jenelle, of course, forgets to mention all of this to Jace.
Jenelle starts singing the "when I get Jace back" song, and tells her son that she is taking Babs back to court so that he can live at the Castle Castle with her, Kaiser and whatever soulmate she's making babies with at the time.
Jenelle asks Jace if he's sad that he can't live at her house and he says yes. The reason isn't because he wants to be with Jenelle, though– he wants full access to Jenelle's "Call of Duty" game. Naturally.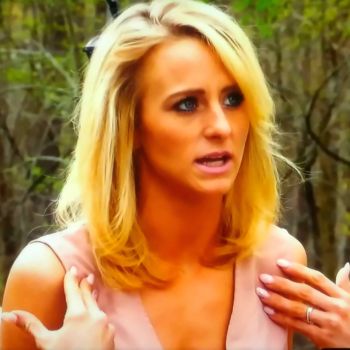 Meanwhile, Leah's had her sister fetch her youngest youngin, Addy, and the whole clan heads out to the porch to enjoy their processed meat products in the fresh spring air. Leah corners her brother-in-law to tell him all about the custody order, but he looks like he'd rather rub hot grill coals in his eye rather than "set" there and listen to Leah talk.
Leah says she's celebrating that she and Corey now have 50/50 custody of the girls.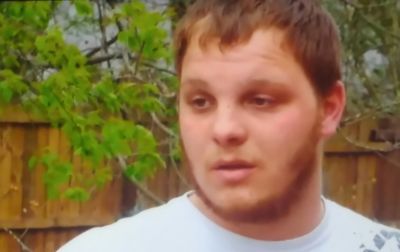 "That's how it should have been from the get-go," the brother-in-law says.
Um…wasn't it Leah who was preventing Corey from having 50/50? Just sayin'…
Leah says that her kids were inspirational to her, so she whips out a nifty S'mores making machine and plugs it in. In order to get the chocolatey treats, however, the kids have to listen to some of the crap that Leah learned in treatment.
Finally we check in with Jenelle one last time. We get to see the conversation from Barb's side of the call, though, because a camera crew has rushed on down there to film this crap. (Couldn't they have swung by the rest stop and fetched Jace on their way over?)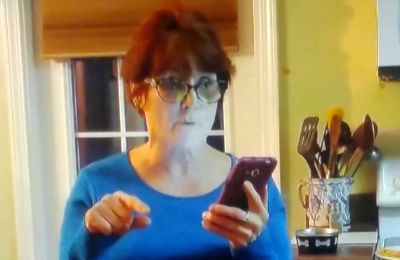 Barb is mad that Jenelle has still not returned Jace, and Jenelle is still insisting that Barb get in her car and drive up to get him. Barb says that she always picks up Jace, and Jenelle starts demanding her mother tell her why she can't have Jace back. (She wants to know RIGHT NOW!)
Babs doesn't miss a beat. She says that one good reason is that Jenelle can't stop switching soulmates on the regular, and that her latest one is a controlling oaf. Barb says that Lurch has nothing to do with the custody of Jace. Jenelle responds by asking for another reason she can't have Jace. (Apparently, she didn't like the reason Barb just gave her before.)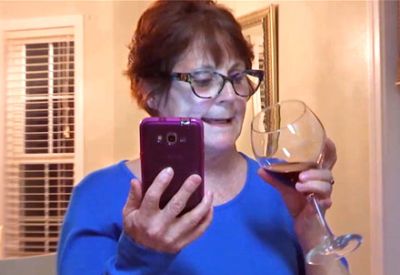 Babs is so over this crap. She just take a GIANT slug of wine from a GIANT wine glass (that was most likely puffy-painted to say "Dealing with Juh-nelle Juice") and tells Jenelle that her Chaos Castle is not exactly a stable environment.
Jenelle argues that, despite the fact that she's only lived at her house for six months, and that she goes on a kid-less vacation every other week, she's got a damn stable environment for Jace! SO THERE!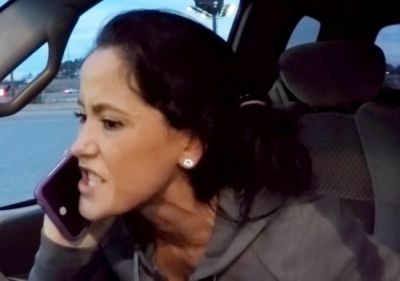 Jenelle argues that her vacations have been for MEDICAL REASONS (even Spring Break!) and that she's not on drugs anymore OR ANYTHING! SO THERE!
Jenelle tells Barb that she told Jace that they have to "go to something called court" for her to get him back.
Oh, come on, Jenelle. There's no way this kid has been on 'Teen Mom 2' for six years and has no idea what the hell court is. That's impossible!
Jenelle, while screaming into the phone, accuses her mom of being "verbally violent." She is refusing to budge from the gas station that she and Lurch are parked at, telling Barb that if she wants Jace, she has to come and get him. Babs agrees but says she won't let Jace come over again any time soon.
With that, Babs and Jenelle hang up on each other, while Lurch grunts in the background.
That's it for this season, guys! Next week we get to watch these people scream at each other in front of Dr. Drew!
To read The Ashley's recap of the previous episode of 'Teen Mom 2,' click here!
(Photos: MTV)