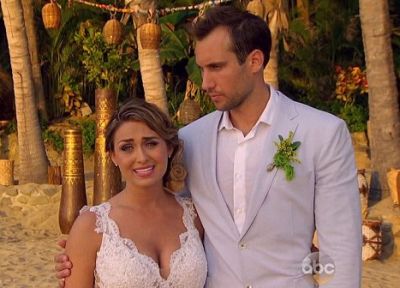 Lacy Faddoul and Marcus Grodd met, fell in love, got engaged and got married on Bachelor in Paradise— but it looks like their relationship has since come crashing down, and Marcus is telling all!
Marcus, who appeared alongside Lacy during the show's first season in 2014, confirmed to E! News that he and Lacy are "unfortunately no longer together," just one year after the couple said "I do" on a Mexican beach during the filming of 'Bachelor in Paradise' Season 2.
While a 'Bachelor' franchise couple splitting is not exactly shocking news, the story of Lacy and Marcus's break-up certainly is surprising. In an interview with Life & Style Weekly, Marcus revealed that, although viewers watched him marry Lacy on TV in June 2015, their marriage was never actually legal.
"When we came back [from Mexico] we were supposed to start the paperwork. But she stalled," Marcus told the magazine. "I feel duped."
Marcus, who joined the military last year, also revealed that when he returned from his three-month basic training for the Marines, Lacy seemed disinterested in making their marriage/relationship work.
"I wanted to move in together but she recommended that I find my own place," Marcus said, adding that the couple semi-reunited late last year. Unfortunately, things took a turn for the worse about two months ago, according to Marcus.
"It feels like she's a runaway bride," he said. "We had this fantastic relationship, and then it totally vanished. It was like she ran away…she just cut off all communication."
The pair exchanged heated tweets last month, when Marcus posted a quote about not wasting time on people who don't devote any time to you.
"Since when did you start giving women advice?" Lacy replied.
Lacy has yet to release "her side" of the story, but surely we can expect either a tell-all tabloid interview or a sit-down with Chris Harrison during the upcoming third season of 'Bachelor in Paradise!'
The demise of Lacy and Marcus' "marriage" leaves only one successful couple remaining from the 'Bachelor in Paradise' family. Jade Roper and Tanner Tolbert, who met during last summer's Season 2, got (legally) married in February and are still together.
(Photo: ABC)