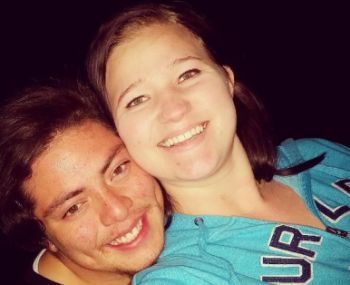 Just a few weeks Maddie Brown tied the knot with Caleb Brush in Montana, another Sister Wives kid has announced her plans to head down the aisle.
Us Weekly revealed this morning that Mykelti Brown, the second-oldest daughter of Brown family patriarch Kody and his third wife Christine, is engaged to her boyfriend of nine months, Tony Padron.
Mykelti, who is 20 and currently living in Utah away from the Brown family compound in Las Vegas, told the magazine that Tony proposed while they were on a hike in Utah.
"Tony got down on one knee and recited a poem he had written for me while opening a ring box," she said. "It was such a beautiful ring. I said 'yes' with all my heart and I meant it!"
Tony, a 22-year-old banker, did ask for Kody's permission before proposing to Mykelti.
"Kody is a man of large stature," Tony said, adding that Kody did give him his blessing to propose. "He seemed overjoyed."
According to Us, Mykelti's mother, Christine, was not as 'overjoyed' about the engagement as Kody was.
"I didn't know they were that serious," Christine says on Sunday's episode of 'Sister Wives.' "I thought that this was her play time."
Mykelti will be the second of the 18 Brown children to get married. While Tony has not been seen on 'Sister Wives' (yet), Mykelti has introduced a few other boyfriends to her parents on-air…one of which Kody warned her not to kiss for fear they would exchange "hormones" via their mouths. (Yes, that happened…)
Tony and Mykelti have not yet set a date for their nuptials, but have said that they are planning on having a unique wedding.
"The theme is going to incorporate who each of us is and our family traditions," they told Us. "We are thinking something Mexican vintage because it represents both of us."
The couple has stated that they will not have a plural marriage like Mykelti's parents. (Many of the other older Brown children have also said that they will also not live plural marriage.)
To see Mykelti and Tony's engagement pictures, as well as photos of her ring, click here!
(Photo: Instagram)