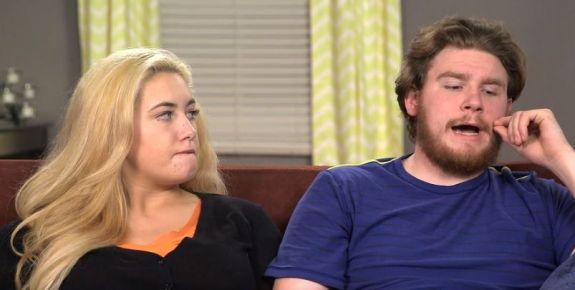 Last week, we skipped doing a recap of the second episode of Teenage Newlyweds. Before we get started with this week's recap, we will fill you in on what happened during Episode 2: basically everyone had sex, some people cried and no one wanted to focus on their future careers. That is all.
Episode 3 kicks off post-honeymoon. All three couples are starting to settle into regular life.
Over in Utah, 18-year-old Halie is distraught about leaving her family behind to become George's child bride. Everyone kept mentioning that just a few months ago, Halie was in high school and now she's well on her way to making babies. Awkward…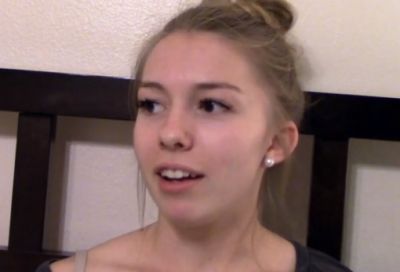 All of this baby-making will be taking place in the basement apartment of one of George's relatives, because that's where our Mormon newlyweds will be residing. While living under a house isn't exactly luxurious, it does have some perks—Halie won't have to worry about washing any windows because, well, there aren't any.
Meanwhile in Southern California, Brenda has moved in with her mother while her new husband, Travis, is working to make extra cash. He'll be gone three weeks, and then they'll reunite and move into their own place. The distance between them, however, hasn't slowed down their constant arguing. They are always bickering about something—whether it is feminism, politics or whatnot. It's just magical.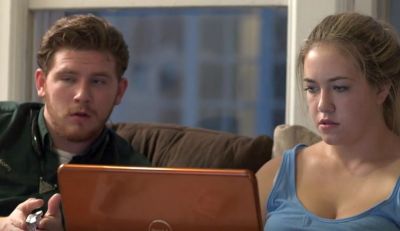 Finally we head to Oregon to see how our third couple, Emma and Joey, are enjoying married life. To appease his new wife, Joey is taking a break from slinging hay at the Feed 'n' Seed Store to look at houses online with Emma. Actually, he's just sitting there staring into space and shoveling processed meats into his gullet while Emma looks at houses.
Emma's dead-set on getting a house immediately. Unfortunately, she's just married herself off to a guy who hawks chicken feed for a living and plans to do that for the rest of his life. Although the chicken feed business is surely booming in Oregon, Emma and Joey are probably never going to be rolling in the dough, but Emma still wants to get a house right away anyway. She says they (and by "they" we mean "Emma") has enough for a down payment.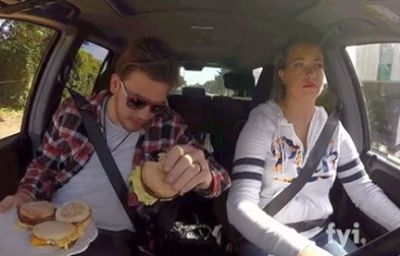 The next day, Emma and Joey are supposed to be meeting with a realtor but they are running late because they can't find the tax documents because they are lost in the heaps of junk and trash inside their house. After they manage to dig out the documents, they jump in the car to try to make their appointment. Emma is driving while Joey shoves four breakfast sandwiches into his face.
Unfortunately, Joey seems to have spent all his money on Egg McMuffins and not gas because the car sputters to a stop on the way to the appointment. They have run out of gas. (Well, to be fair, after all those breakfast sandwiches, Joey probably has plenty…)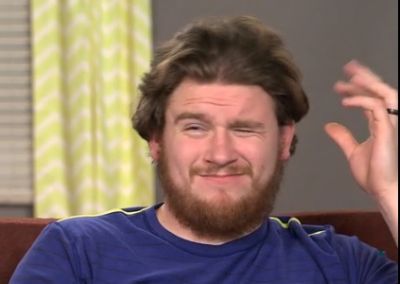 Eventually, they make it to the appointment, but they are completely clueless when it comes to "buying houses…and stuff." The mortgage broker tries to explain to them that they will have other expenses that they will need to pay out of pocket, like a home inspection and the sale's closing costs. Emma and Joey sit there looking clueless. Apparently they just figured they'd plunk down some Feed 'n' Seed cash and someone would hand them a house.
"There were a lot of things that I didn't understand about the meeting and that's kind of what I didn't like about it," Emma says.
"We don't know anything," Joey says.
Well, that's the understatement of the episode, ain't it?!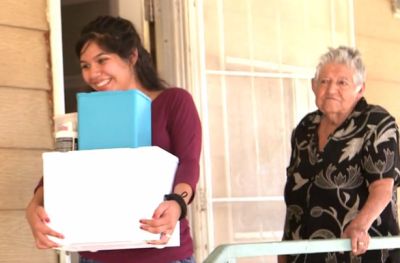 In California, Brenda's mother and grandmother are already sensing that it won't be long before Brenda's marriage explodes and she's moving back into their house. To prevent the inevitable as long as possible, Mom and GrandMama try to give the couple advice to work out their differences and make their marriage strong. Minutes after leaving, though, Brenda and Travis are already screaming at each other.
Travis keeps referring to himself as the "King of the Castle" but feminist Brenda doesn't agree. (Normally, we would say that the producers are coaxing them into fighting on camera, but it sure doesn't seem forced!) Brenda and Travis don't agree on anything. Why are they even married?
Even Travis' mom is worried about how their differences will affect them long-term. Didn't anyone tell them that they're fundamentally incompatible?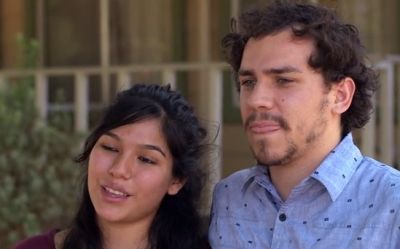 Brenda and Travis finally arrive at their new apartment. Let's hope that they like it because they spent all of their money (and all of the money they were given at their wedding) on it. Brenda's mother has doubts that they will be able to pay the $1,313 rent since they are both in college and neither appear to be employed. Maybe they can move to Oregon and Joey can get them jobs at the ol' Feed 'n' Seed?
Back in Utah, our favorite basement dwellers Halie and George are getting settled into their new digs when George's dad, who is always donning a fedora that matches his outfits, comes over to give them a book titled "Happy in Eternal Marriage." No pressure or anything, guys…
Halie's mom keeps calling her to wail about how sad she is that Halie has moved out and how much she misses her. George looks terrified, almost as if he's wondering if the calls are ever going to stop.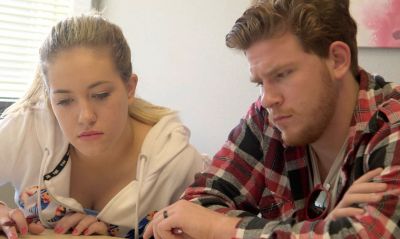 Meanwhile in Oregon, Emma and Joey are at the lending office trying to read all of the loan papers. She is signing papers while Joey stifles a yawn and blindly signs anything handed to him.
We check back in one last time with Travis and Brenda, who are eating soggy eggs and drinking cola out of wine glasses.
"We are adults!" Travis exclaims.
Um…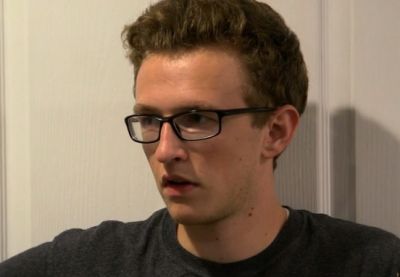 On the next episode, George and Halie babysit in preparation for their future.
"We want six kids," Halie says.
George, however, doesn't seem so gung-ho about having six kids. (That would mean they'd have to "do it" at least six times!)
"I don't know if I am ready to be a parent," George says.
Speaking of babies, Brenda's period is late. Uh-Oh. Remember Brenda is pro-choice, while Travis is pro-life, so an unplanned pregnancy may cause a lot of friction between them. Of course, these two don't wait to find out if Brenda is actually pregnant: they start arguing about what to do right away! It's never too early to get a good fight started!
To read our recaps of other episodes of 'Teenage Newlyweds,' click here!
(Photos: FYI)