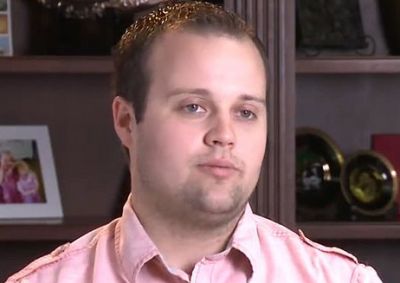 (Please file this story under "Report" until it can be confirmed!)
The Duggar Family thought it had finally escaped the scandal surrounding their eldest son Josh but it looks like there's more trouble headed their way!
As we previously reported, Josh admitted last year to molesting four of his sisters and one "family friend" when he was a young teenager. At the time, not much information was given about Josh's fifth victim except that she was a sometimes babysitter of the Duggar clan, and was underage at the time of the incident(s?)
Well, the "family friend" may be ready to come forward. In Touch Weekly (which is credited with blowing the lid off the molestation story) is now reporting that an unnamed 28-year-old woman who lives near Josh's hometown in Arkansas is ready to come forward about her molestation at the hands of Josh Duggar.
"After last year's revelations about Josh's molestation scandal, word got around that there was another girl who said she'd been abused by Josh when she was a teenager," a source told In Touch. "The Duggars knew the girl. Michelle was terrified when she heard that this girl was talking about what Josh had done."
(Please note that it has not been confirmed if this is the known fifth victim of Josh, or an additional alleged victim.)
According to the source, Jim Bob and Michelle immediately went into damage control mode and scheduled a meeting with the girl and her parents. The girls' parents told the Duggars that they would not be pressing charges and they were not out for any money.
While the girl and her family don't want Josh's money, they do want the Duggars to know that what Josh allegedly did has had long-lasting effects on the girl. According to the article, the girl rebelled after being allegedly molested by Josh, leaving home as soon as she became an adult.
The source also claims that when the news of Josh's molestation scandal broke last year, it turned the girl into an "emotional wreck."
So far, the woman is keeping her identity a secret and has yet to speak out publicly about her ordeal. There have long been rumors as to who Josh's fifth victim was. It has been said that the girl was a daughter of another prominent family in the Duggars' religion, and that it was a girl who Josh had been in a short courtship with. None of these rumors have been confirmed, and The Ashley will not name these girls or the family that she is rumored to be a part of, since they are just rumors.)
Anyway, while the girls' parents told Jim Bob and Michelle Duggar that no legal action would be taken at the time of the incident, it is unclear if the girl could still press charges down the line. In Touch is also reporting that she could be in the process of writing a tell-all book. However, this has not been confirmed either.
Meanwhile, Josh seems to be working to repair his marriage with his wife, Anna. As The Ashley reported last month, Josh and Anna revealed that they are still struggling in their marriage after Josh's confessions. (Aside from molesting his sisters, he also admitted to picking up women on dating websites and having an addiction to p*rnography.)
The couple says they are currently in professional marriage and family counseling.
"It isn't easy and some days are very difficult," Josh and Anna wrote in a statement regarding their marriage. "It is a long road to rebuild trust and a truly healthy relationship. We are very thankful for God's forgiveness, grace, and help, as it is our strength and guide to rebuilding our lives. As the future unfolds, we are taking one day at a time and we are grateful for your continued prayers for both of us and our sweet children."
The Duggar family has not yet commented on this new claim of a fifth victim of Josh's coming forward.
(Photo: TLC)