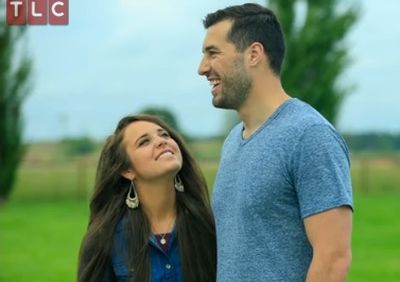 Get ready for the made-for-TV wedding special because…another Duggar girl is courting!
Duggar Daughter No. 4, Jinger, took to the family's website last night to introduce us to her new man, 28-year-old Jeremy Vuolo. Jinger announced that she and Jeremy are officially courting which, in Duggar speak, means dating with the purpose of getting married. She is the third Duggar girl to court, following the paths of her older sisters Jill and Jessa, who both got married in 2014.)
Jinger has always been one of the more outspoken Duggar sisters. She loves coffee and photography, and in one episode a few years ago she said her dream was to live in a big city. Well, it looks like that dream may come true, as she's landed herself a (former) professional soccer player with the San Antonio Scorpions!
Jinger didn't reveal much about Jeremy's background in the courtship announcement video, except that she met Jeremy last May, and that she "first saw his heart" when they completed a mission trip together.
Anyway, after meeting and making eyes at each other on the mission trip, Jeremy called up Jinger's dad, Jim Bob, and asked permission to get to know his adult daughter. All went well and here we are anxiously awaiting another made-for-TV Duggar wedding.
Here are a few more things we've been able to find out about Jeremy:
He grew up in Pennsylvania (far from the Duggars' home state of Arkansas) and is the son of a pastor. It appears that his father is currently the pastor of a church in Maryland.
He is an educated man. He attended Hartwick College in Oneonta, New York, but graduated from Syracuse University. He was the goalkeeper for the Syracuse soccer team and was named MVP during his senior year.
He no longer plays soccer. People reports that after college, Jeremywent on to play pro soccer in Finland for the AC Oulu and eventually signed with Major League Soccer's New York Red Bulls in 2012. He took a brief break from soccer to pursue ministry but returned in 2013 to play for the San Antonio Scorpions of the North American Soccer League. He resigned from the team in 2014 after completing his mission trip in the Philippines.
He's tall! Jeremy measures an impressive 6 feet, 3 inches, nearly a head above Jinger!
He is an ordained pastor. In a video made for Athletes in Action, a sports ministry, Jeremy talks about his faith. "My identity needs to be in something that's never going to change, and that's Jesus Christ," he said. "It begins and ends with having that foundation in Christ, finding my identity not in my skills on the field, not in the person that I am, not in the relationships I have, not in the accomplishments or how people perceive me, but having my identity found in the person of Jesus Christ and who he is and what he did for me and his unconditional love for me."
He's good friends with Jessa and her husband, Ben Seewald. "I was initially friends with Ben and Jessa, and it was through them that I got to meet Jinger," Jeremy told People. "We are very excited to begin this journey together."
Jessa regularly shares videos on her YouTube account that feature Jeremy. He was in a Duggar family video in April celebrating Jason's' 16th birthday. In the video, he can be seen giving Jason some advice. "Jason happy birthday," he said. "My charge to you as a young man is keep your gaze fixed upon Christ. Keep your gaze upon Christ, keep your eyes there, fight every day for your affections to be towards Jesus first, and then the other things will fall into place."
TLC has made no announcements yet, but it's safe to say that we can probably expect a "Jinger Duggar Wedding Special" sometime in the near future!
Watch the courtship announcement video below:
(Photo: TLC)