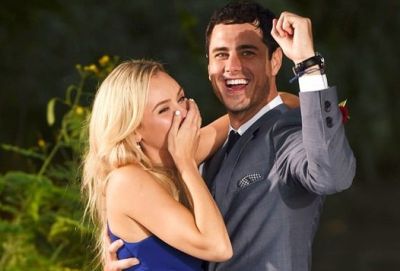 Ben Higgins and Lauren Bushnell— the latest couple to come out of The Bachelor— now have big reason to try to live "Happily Ever After"– their reality show careers depend on it!
Us Weekly announced today that the couple, who got engaged at the end of Ben's season of 'The Bachelor' earlier this year, will star in a new reality show coming in October.
The magazine reports that the show– which has been given the vomit-inducing name of Ben and Lauren: Happily Ever After— will air on the Freeform network. (If you're wondering what the hell the "Freeform" network is, it's basically the new name of the old "ABC Family" channel.)
The show will focus on Ben and Lauren's new life together in Denver, where Lauren moved several months ago to be with Ben. It sounds like the show will cover their adjustment to life living together as an engaged couple. (Think Nick and Jessica…only more boring…)
"Starting a life together is never going to be this super-smooth transition," Ben told Us Weekly. "It's going to have rocky edges at times, but I love coming home to her at the end of the day."
Although they haven't announced a wedding date (yet), the reality show will also cover Ben and Lauren's wedding preparations.  According to Variety, 'Happily Ever After' "Ben will also explore getting involved in politics as Lauren tries to establish her post-'Bachelor' identity."
The couple told the magazine that they didn't hesitate to say yes to the offer of having their lives filmed again.
"After you walk away from 'The Bachelor,' it's not like your life becomes private," Ben said. "People still find out what you're doing, so it's not changing our life to be public."
"We're already used to sharing our lives with everyone else, so we thought, 'Why not?' It's a fun way to share our life after 'The Bachelor,'" Lauren added.
If Ben and Lauren do make it down the made-for-TV aisle, they will only be the third couple from the series to get married. (Season 17's Sean Lowe married his pick, Catherine Giudici, in 2014, and Season 13's Jason Mesnik is currently married to Molly, a woman he met on the show.)
Ben and Lauren are the first 'Bachelor' couple to get their own spin-off, however.
"Ben and Lauren are the biggest 'Bachelor' couple of the last 10 years," Karey Burke, Freeform's executive vice president of programming and development told Variety. "Their romance captured everyone's attention, and we are delighted to continue their story on Freeform."
(Photo: ABC)