The state of West Virginia has been devastated this week by extreme flooding, with the areas in which many Teen Mom 2 stars reside being some of the worst hit. The Kanawha County towns of Elkview, hometown of Leah Messer, as well as Clendenin, where Corey and Miranda Simms and many family members of Leah and Jeremy Calvert reside, were among the towns that saw the most devastation.
"The amount of rain that recently fell on parts of West Virginia and southern Virginia exceeded a once-in-a-century event for the specific area and resulted in catastrophic flooding in some communities," AccuWeather Senior Meteorologist Alex Sosnowski stated.
CNN reports that at least 26 people have already lost their lives in the flooding.
While all of the cast members are safe and accounted for, some of their families have faced devastation.
A source tells The Ashley that Jeremy's grandparents, who live in Clendenin, lost everything they owned in the flood. Jeremy, who has been in South Dakota on an extended assignment for his job, flew home on Thursday as soon as he heard.
"They not only lost their home but also the contents inside and belongings that were priceless," the source tells The Ashley. "Items that dated back a century."
Jeremy has been working to help his grandparents, and will be letting them live in a home he owns.
The Ashley recently told you that Leah is in the process of moving into a new home, and it appears that her home is OK. However, Leah recently posted photos of her twins' school, which appears to be halfway underwater.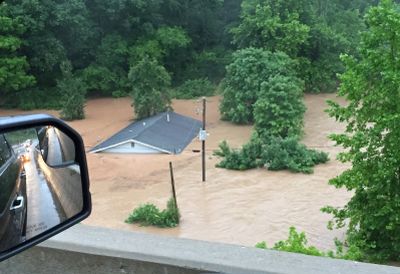 Corey and Miranda Simms live near Clendenin as well, but it appears that their home is intact. In fact, Corey had several of the guys from Teen Mom OG and 'Teen Mom 2' over at his house last night for some reason. (The Ashley is working on finding out more about this.)
While it seems that Corey and Miranda are some of the lucky ones in Clendenin to still have their home, many of their neighbors have lost everything.
"My heart breaks for our community and the loss we are suffering from," Miranda tweeted last night. "I have complete faith we can rise above this! #Prayers4WV"
Corey's father, Jeff, told fans on Instagram that he and his family are safe, but they did lose a car to the floods.
"I can replace a car, thankful my family is all good," he wrote.
The Ashley will update this story if more information becomes available. If you'd like to help the victims of the West Virginia floods–either by donating money or supplies– you can do so by clicking here.
(Photos: Facebook, Instagram, MTV)