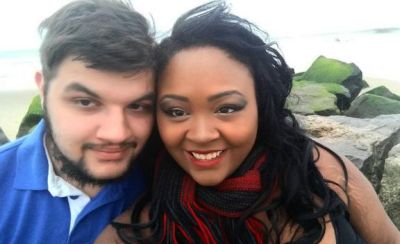 Less than a year after they tied the knot, a 16 and Pregnant couple has already split!
Jordan Howard and Tyler Zeplin, who starred on the fourth season of the MTV reality show, have announced that they have separated after eight months of marriage. The couple, who are parents to son Chase (whom Jordan gave birth to on '16 and Pregnant') and daughter Skylar, had been together since 2008.
They are best remembered for having the '16 and Pregnant' episode that centered around their interracial relationship (and their families' negative feelings about it).
Both Jordan and Tyler have made the split "Facebook official," but Tyler took to his page yesterday to share more about what happened in their marriage. It appears that Jordan has already moved on.
"Update: Jordan wasn't cheating on me," Tyler wrote. "We separated and she found someone afterwards. I didn't fully understand what happened. We are still good friends and I do wish her the best."
Just last month, Jordan wrote on Facebook that she and Tyler had just signed a lease on a new townhome together, so the breakup seems to be fairly new.
Jordan and Tyler are just the latest '16 and Pregnant' couple to split. Just within the last year we've seen several other couples from the show dissolve their marriages, including Season 3's Jordan and Brian Finder, and Season 5's Karley and Tony Shipley.
To date only five girls who married their baby's father from '16 and Pregnant' are still married: Summer Rewis of Season 5, Myranda Trevino of Season 4, Izabella Tovar of Season 3, Catelynn Lowell of Season 1 and Mackenzie McKee of Season 4.  The rest of the '16 and Pregnant' marriages have ended in divorce. (Many of the girls have married other men, however.)
Wanna see what some of the other '16 and Pregnant' girls are up to? Click here!
(Photo: Facebook)