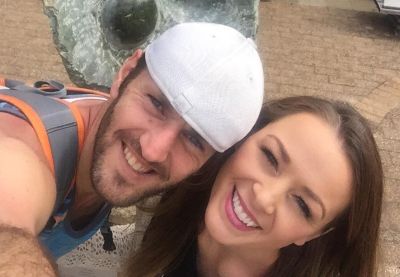 The first Married at First Sight baby is officially on its way!
Jamie Otis and her husband Doug Hehner, who met and married on the first season of the show, have just announced that they are expecting their first child. The couple, who got married in 2014, told People that Jamie is due in December.
"It feels like we're just now truly starting our lives together," Doug told the magazine. "It's the icing on the cake for us to be starting our family and we're absolutely over the moon."
While Jamie was adamant about wanting to have kids (like yesterday), Doug was hesitant and insisted that he needed to complete a long (and somewhat strange) bucket list before he and Jamie had a baby. (That list included sky diving, going on a ghost hunt at a prison, taking an African safari and swimming with sharks, naturally.) The couple actually ended up completed Doug's list.
"We can't wait to start this new chapter in our lives," Jamie told the magazine. "Being a mom has been my dream."
The couple has allowed cameras to follow them through their first two years of marriage on Married at First Sight: The First Year, alongside fellow Season 1 couple Jason Carrion and Cortney Hendrix. Jamie and Doug have stated that they are close to purchasing their first home together, which will hopefully be big enough to accommodate all of the children they hope to have in the future.
"We'd like to have 2-3 and adopt 1 or 2," Jamie told The Knot in April. "I had custody of my siblings and was a foster parent for a couple of years when I was younger. Ever since I had to take care of my siblings…I decided I want to adopt in my future. There are so many good kids in need of a loving home, and I hope to one day begin fostering again and eventually adopt a couple of children."
Jamie and Doug have not stated the gender of their baby, and have not revealed what they plan to name him or her– yet. It's not yet been confirmed if 'MAFS: The First Sight' will be renewed for a third season, but with the baby news, it's likely that the network will want to continue to follow Jamie and Doug's story.
This is the first baby to come out of 'Married at First Sight.' To date, only Jamie and Doug, and Cortney and Jason have stayed married. The other seven couples have all decided to divorce.
(Photo: Instagram)