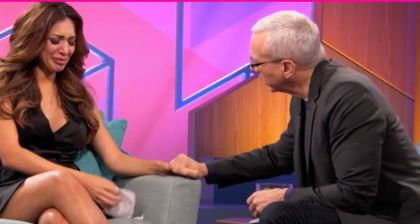 Dr. Drew Pinsky has been dealing with the casts of Teen Mom and Teen Mom OG since they were kids (with kids) on 16 and Pregnant. Since then, the Doc has hosted all of the end-of-season reunions for both shows (and has taken a lot of crap for doing so, by the way). For the first time ever, Dr. Drew revealed how he feels about some of the casts' most controversial characters– in particular, Farrah Abraham and Adam Lind.
During a recent appearance on the "Allegedly" podcast, Dr. Drew was asked which of the franchise's cast members he'd most like to strangle. He didn't even hesitate in his answer. In case you have been wondering, Dr. Drew wants to strangle Farrah just like the rest of us do.
"She's not awful," Dr. Drew told the show's host. "She is frustrating… She suffers. Believe me, when people behave like that it is because they are suffering and I feel bad for her a lot. But, she can be very frustrating."
Dr. Drew, who has been dealing with Farrah since she appeared on the first season of '16 and Pregnant' back in 2009, stated that despite wanting to strangle Farrah, he does like her.
"She's a beautiful woman. And she's a woman now, I dealt with them when they were teenagers," Dr. Drew said, adding that it's really not Farrah's fault that she's so fame-hungry.
"That's her job," he said. "She has embraced it and this is what she's going to do and she doesn't have other skills or training and she's got a mom who encourages her to do that stuff and a dad that's kind of really ambivalent about it and he's having a tough time himself… And then she was led in by people she trusted and feels as though she was exploited and things weren't the way she intended them. She's trying to navigate through this crazy world she's living in. I feel bad for her."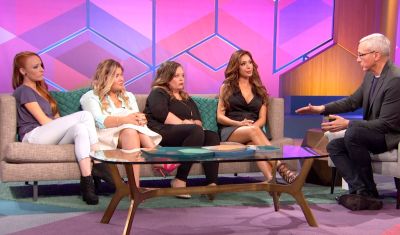 While he does feel bad for the Backdoor Teen Mom, he does not feel any sort of attraction to her (or any of the other Teen Moms, for that matter!)
"Nooooooooo. It's almost like you were saying that about your kids or something… I see them as who they are," he said when asked by the host if he's sexually attracted to any of the girls. "They are not objects of anything for me. They're people who've been really struggling and good enough to share their lives with people… You don't get pregnant at 16 and not have liabilities. That's an at-risk youth by definition."
Dr. Drew was then asked to reveal his feelings on Adam Lind, who infamously refused to answer any of Drew's questions during the recent 'Teen Mom 2' Season 7 reunion show.
"Oh, Adam the boyfriend… I have a deep affection for almost everyone on that show," he said. (We can assume that Drew's use of 'almost everyone' excludes his buddy Adam.) "My job as a clinician is always to empathize with people, see their point of view and just try to understand their pain and stuff. And I've been with these kids a long time and I do understand them."
As The Ashley stated earlier, Dr. Drew has caught a lot of flak from the show's fans for not addressing some of the serious mistakes the girls have made over the years, and for not using his skills as an addiction specialist to help the girls who are struggling with alleged substance abuse issues. On the podcast, Drew said that this is one of the things that he dislikes the most about being associated with the 'Teen Mom' shows.
"I can tell you what does frustrate me, is people expecting me to treat [the cast members]," he said. "I do a one-hour talk show with them where I explore their lives and I offer myself as a resource to them. They all have my phone number. At most I will guide them to someone [who can treat them]. I don't treat them."
(You may recall that Dr. Drew once did treat celebrities on-camera who were struggling with substance abuse issues. That didn't exactly end well…)
H/T to Starcasm for finding this gem!
UPDATE: As expected, Farrah has responded to Dr. Drew's comments about her. Click here to see what she had to say!
(Photos: MTV)