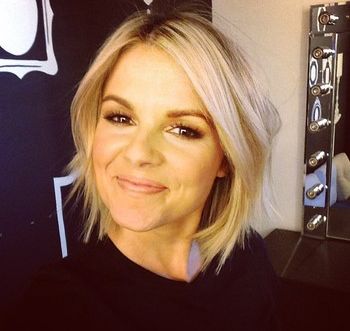 The Bachelor franchise baby boom continues!
Just days after former Bachelor Sean Lowe and his wife Catherine Guidici welcomed their first child, former Bachelorette star Ali Fedotowsky has given birth to hers!
Ali, who starred on the sixth season of 'The Bachelorette,' announced via Us Weekly that she and her fiance Kevin Manno welcomed their daughter yesterday.
The baby was given the name Molly Sullivan (after Ali's grandmother Molly Fedotowsky and Kevin's grandmother Eva Sullivan).
"Welcome to the world Molly Sullivan Manno," Ali wrote on her Facebook page on Thursday. "Born at 8:22am on 7/6/2016 weighing 7lbs 6oz and measuring 22 inches long. You are absolutely beautiful and perfect in every way. Kevin & I love you more than we will ever be able to put in words. Thank you for making me a mommy."
Ali and Kevin were supposed to get married in Mexico in September, but recently decided to cancel their wedding, due to the risk of the Zika virus. They have not announced when they will tie the knot. (Ali broke up with Roberto Martinez, the man she became engaged to during her 'Bachelorette' season, years ago.)
Baby Molly's arrival is just the latest in a long line of 'Bachelor' babies due to be born this year. Currently, three other former Bachelorettes stars are pregnant: Emily Maynard, Jillian Harris, Ashley Hebert and Desiree Hartsock, in addition to several other 'Bachelor' franchise stars.
(Photo: Instagram)