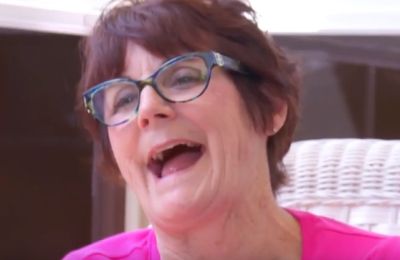 Well Juh-nelle! Ya better move ova– ya motha's the star now!
MTV is once again capitalizing on the popularity of Jenelle Evans' oddly accented mother, Barbara Evans, and this time, she's getting her own TV special!
Barb, who has starred in several web series in the past, will be the subject of the "Being Barbara Special," which will air next week on MTV. (The special's name is obviously a nod to the "Being Maci," "Being Farrah," "Being Catelynn" and "Being Amber" specials MTV did a few years ago to catch viewers up on the lives of the Teen Mom girls.)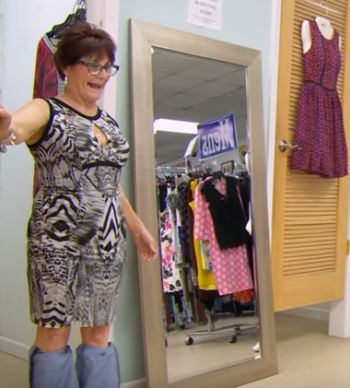 It seems that, unlike the "Bae for Babs" and "Barbara Breaks It Down" web videos of the past, "Being Barbara" will be set up much like a regular episode of 'Teen Mom 2.' It appears that the "fourth wall" will be down (meaning that Babs & Co. will be acknowledging the cameras).
In one of four sneak peek clips MTV posted today of the "Being Barbara" special, Barb talks about her desire to have a friend…with possible benefits. (Get it Babs!) Jenelle suggests that Barb focus on dating and living her life "without any distractions," telling her that Barb should give her back custody of her son Jace.
"Wouldn't you be more happier if you could come home and be like, 'I can do whatever I want?'" Jenelle asks her mother.
Barb refuses to entertain the idea, and they end the clip with the typical sad 'Teen Mom 2' music.
In another sneak peek clip, a 'Teen Mom 2' producer helps Babs learn about dating apps for older women.
"I don't want these dudes," Barb says as she scans the man candy on a Sea Captain dating app. "Look, they're all gruffy lookin'! How come they're all into sex, man? They wanna know, 'Have ya eva had sex on a wata bed or a house boat?'"
Babs did not seem thrilled with any of the salty men featured on the dating app.
In the third clip, Barbara learns all about the art of "manscaping" from the same "Teen Mom 2' producer who helped her look for an eligible sea captain to date.
The producer informs Babs that things in the dating world have changed in recent years, and now men shave their, um, private areas just like women do. Barb is flabbergasted!
In the final clip, Barbara is shown out shopping at a used clothing store with her daughter Ashleigh. She tries on various dresses before finding one that catches her eye.
"This one I like! It's all Spandex!" Barb cackles from inside the dressing room. "I love Spandex! It's like wearin' a girdle!"
Babs parades out in the sassy, animal print frock (while keeping her jeans at her ankles, as you do).
The shopping photo montage is basically the best thing The Ashley has seen all week.
Barb eventually finds a dress that she vows to wear to the next 'Teen Mom 2' Reunion taping!
The "Being Barbara" special airs Monday, July 11 at 9/8c on MTV!
(Photos: MTV)