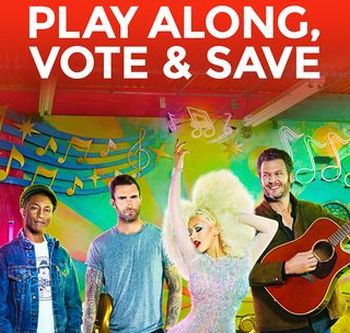 There is no lack of apps available for the reality TV/game show fan. From apps that allow you to watch your favorite shows, to an app that bans the Kardashians from ever appearing on your feed (no, seriously, it exists), Smartphone apps have changed the way we do everything, including watch TV.
In a lot of ways, reality television represents the modern twist on the game show. When once families might have gathered to play along with Wheel Of Fortune or Who Wants To Be A Millionaire, we now see couples tuning in to watch The Bachelor, or whole families keeping tabs on a contestant's progress on The Voice or America's Got Talent.
Currently, there are multiple gaming apps that allow game show fans play from their Smartphones—such as a group of simple but engaging apps by designer Radu Gosman. These apps are just for fun (you can't actually win money), unlike one inspired by 'Wheel of Fortune,' in which fans can actually win money from playing. Some of the most interesting online casino games are those that don't just present slots or jackpots, but do so while invoking elements of pop culture and entertainment. It's not quite the same as the game show, but it's an inventive twist aimed primarily at younger gamers.
Reality shows are popular enough without games like these to boost their brands with younger demographics, but the presence of the games does make one wonder if current, competition-based reality TV could spawn similarly inventive titles. Here are a few mobile games we'd like to see:.
The Voice – Sing Along & Advance
'The Voice' has its own official app, which is already part of the show, in a way. Through the app, viewers can vote and participate, though not exactly in a game-like manner. Interestingly though, there is also an app that allows fans to sing along with popular music as if they were on the show, and Smule has a few different instrument and singing apps that even allow people to interact and collaborate with music. So what if we combined these concepts? Imagine a 'The Voice' mobile app in which you could sing along to songs from the show, and then interact with others in the hopes of advancing. Others could listen to your song, vote you up or down, and you could advance to new stages based on percentages. Naturally, if you didn't get through, you could always start over from the blind auditions (where a single positive reaction could get you through to the main game).
MasterChef – Digital Cook-Off
MasterChef is one of the more straightforward cooking-based reality competitions when it comes to actually inspiring recipes. The show is pretty good about revealing ingredients and revealing expert analysis on techniques and final results. Naturally, the biggest thrill is trying to cook along in real life, but culinary enthusiasts (especially beginners or people who aspire to cook but haven't learned yet) might also enjoy a game simulating the competition with purely digital cooking. You could dive into competitions like mystery box challenges etc., gather ingredients and prepare a dish digitally. You could then be judged on technique, timing, recipe accuracy, etc., to either move on to a new stage of the competition or be sent back to the beginning. Perhaps players who got all the way to the finale could even be sent free MasterChef cookbooks from the latest TV season's winner!
Teen Mom: Who's in Jail App
The cast of the 'Teen Mom' shows always seems to find themselves in trouble, making it hard for the show's fans to keep track of who's in jail and who's not. With this app, 'Teen Mom' superfans would be able to tell which girls and guys are from the franchise are currently behind bars!
Bachelor/Bachelorette Dating Game
Sure, there are already more dating apps than you can keep track of. In fact, even the host of 'The Bachelor' once invented his own groan-worthy dating app. But can you imagine a real-world dating experience designed as a version of the "game" we see in these shows? You could sign up either as the Bachelor/Bachelorette or a contestant and go through stages of dating (either online conversation or actual dates) in the attempt of winning a relationship.
Blake & Gwen Tracker
Fans of 'The Voice' can't get enough of the adorable relationship between 'The Voice' coaches Gwen Stefani and Blake Shelton. The couple, who has been dating since last October, may not be currently working together on the set of the show, but fans love to follow their relationship via social media. "Shefani" lovers would love an app that allows you to know where Gwen and Blake were last spotted (in his Oklahoma hometown, or on a red carpet, for instance), and what their latest updates are!
We may or may not ever see games like these. But should reality competitions remain as popular as they are now, it's hard not to imagine something like these examples emerging. These games could make their respective shows more exciting than ever for fans.
(Photo: iTunes)