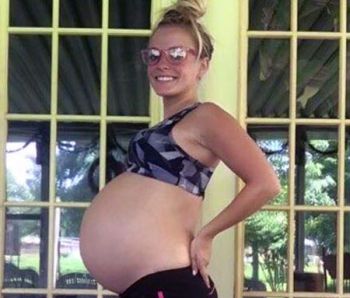 Mackenzie McKee is ready to pop!
The former Teen Mom 3 star, who is currently pregnant with her third child, recently shared baby details with her fans, as well as a few photos of her massive baby bump to her social media accounts.
Mackenzie, who announced her pregnancy in April, recently revealed she's having a boy.
Mackenzie and her husband Josh McKee have gone through some hard times in recent years, but the couple seems to have their relationship back on track (which is a good thing, since Mackenzie will be shooting out another one of Josh's babies in about a month).
Josh and Mackenzie are already the parents of two children–  Gannon, who's almost five, and two-year-old Jaxie. Obviously, they enjoy choosing random names for their children, and Baby #3 will be um, blessed, with a unique name as well. The couple announced that their third child will be named…Broncs.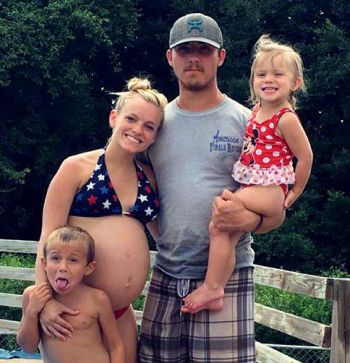 Obviously, the name could be a nod to Josh's rodeo-ing, (i.e. "Broncs"/ "broncos"…get it? Yeah, me neither.) The name was previously used by Ashlee Simpson and Pete Wentz for their son, although they spelled it like the New York City borough, Bronx.
Mackenzie is stating that she will have no more children after this pregnancy. She hashtagged a family photo posted to her Instagram on the Fourth of July with "#LastMcKeeToBeMade." She had once said that her doctor told her that her body would no longer be able to handle a pregnancy after she turned 21, although she never went into specific on that.
It's no wonder she's over being pregnant. Mackenzie has certainly had her share of pregnancies in her short 21 years. In addition to her pregnancies with Gannon, Jaxie and Broncs, she also suffered several miscarriages over the years. The first was a baby she was pregnant with before having Gannon (and before appearing on '16 and Pregnant') whom she and Josh had planned to name Oakley. She also suffered a miscarriage after Jaxie was born.
Mackenzie is in the small group of '16 and Pregnant girls' who have three children (or are pregnant with their third). In addition to Mackenzie, those girls include Season 1's Ebony Jackson and Maci Bookout; Season 2's Lori Wickelhaus and Leah Messer (who had twins) and Jenelle Evans (who's pregnant with Baby #3); Season 3's Jennifer Del Rio (who had twins); Season 4's Sarah Roberts (who's pregnant with Baby #3) and Kristina Head.
(Photos: Facebook, Snapchat)