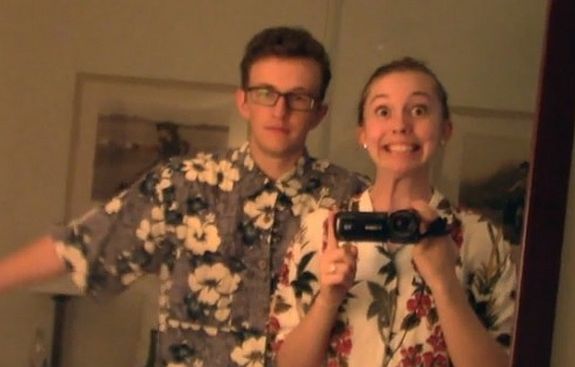 It's time once again to check in with those crazy Teenage Newlyweds on FYI! They've gotten married, had sex, had pregnancy scares, and made some terrible financial decisions in previous episodes, but this week's episode will focus on how they are managing to keep up their friendships since tying the knot.
We kick things off with Brenda and Travis. When we last saw them, Travis had blown all the couple's spending money on skate shoes (as you do), leaving Brenda just a few bucks to use to buy stuff for her birthday party. As a result of being broke, they have to serve what may be the saddest birthday cake ever to Brenda's family.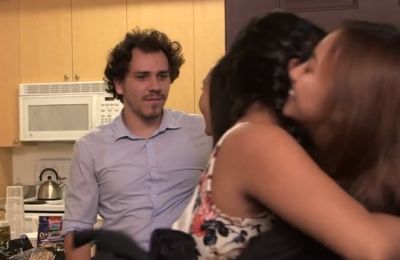 At the party, Brenda's mom is throwing some serious shade at Trav for being a spoiled brat. Travis, meanwhile, seems annoyed that no one is commenting on his brand-new kicks!
Over in Utah, George is still moping because Halie doesn't want to blow all their money on the trip to Hawaii he booked for them. He's running around in a Hawaiian T-shirt in an effort to make her feel bad (and/or just get some use out of the way-cool Aloha gear he bought for the trip).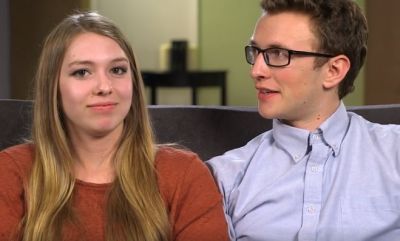 Eventually, Halie gives in and agrees to go to Hawaii. They say it's worth it because they are "making memories" (and possibly Mormon babies!) and they need to "catch up with each other."
While that's all well and good…memories don't pay the rent, kids!
In Oregon, Emma is sad that she doesn't get to spend much time with Joey. She goes to school and works nights at the pizza place and Joey bales hay at the Feed 'n' Seed all day, so quality time together is rare.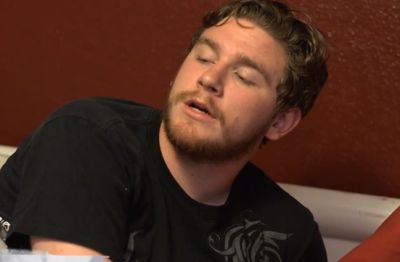 After a late night at the pizza parlor, Joey's already in bed by the time Emma comes home. Her inconsiderate (and most likely insomniac) friend keeps blowing up Emma's phone, but she doesn't want to talk to her because, well, it's the middle of the night. Emma's like, "biotch can wait" and goes to bed.
Emma's parents tell us that they rarely see Emma and Joey anymore, due to all of Emma's obligations.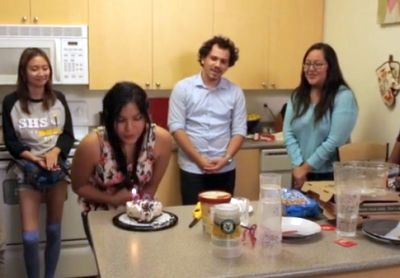 Over in California, Brenda is still having the worst birthday party ever. Her friends are all gathered around her apartment sharing one bag of generic chips and Travis pulls out the cake. It is literally a lump of leftover ice cream cake that looks like it was made when Nixon was president.
Travis doesn't mind, though. He slaps some candles on it and shoves it in front of his wife, who is less-than-thrilled that her new husband gave her a mangled cake.
"When I first saw the cake I was embarrassed," Brenda said. "It's my birthday and he spent money on himself."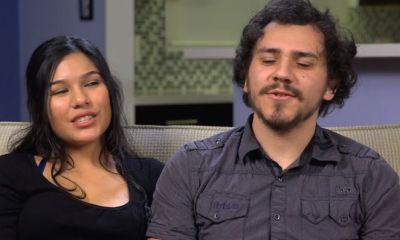 Even though she's not thrilled with the cake, Brenda is very happy to finally be 20.
"I finally got rid of the teen tag," she tells us.
"So much street cred," Travis adds.
Meanwhile, Halie and George go to Hawaii and talk about how they deserve the trip for being "regular adults."
One question: how did they get a rental car? One of the producers must have rented it for them because they aren't 25 yet.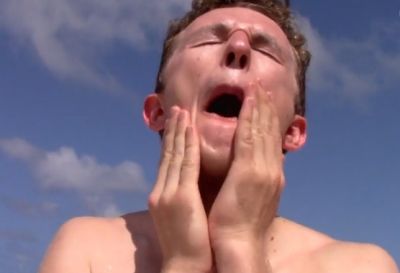 On a hike, Halie gets nervous about getting lost but George assures her it's fine because he's a Boy Scout. Of course he is.
Later, Halie tells us that they made the right decision to go to Hawaii. The alone time has helped their relationship.
While they are living it up in Hawaii, Emma is dealing with real life in Oregon. Her friend is mad that she hasn't been spending time with her. Her friend is pouring her heart out to Emma and telling her that she's the only one that has been there for her and Emma responds, "This is awkward."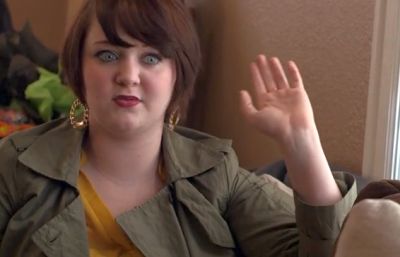 What a friend. She must be taking sensitivity lessons from her loaf of a husband, Joey.
Later, Emma talks to Joey about how being a married adult is a bummer, because she no longer has time to spend with her friends, due to all of her responsibilities. Joey agrees that being an adult sucks…and stuff…and says he'd like to see his guy friends more. They decide to split up and go out with their respective friends on the same night.
Emma and her friends go to the nail salon (which actually looks like a trailer that someone lives in). Emma's friends basically do their best to make Emma feel like crap for getting married and "leaving" them.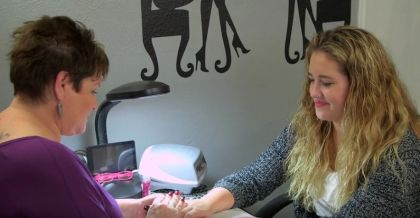 The nail lady, who seems alarmed when she finds out how young Emma is, gives her some sage advice.
"If you're gonna fight, you've gotta fight naked," she says.
That's solid advice, except now we have to picture Joey naked.
Meanwhile, Joey and his bros hit the pub, where Joey has high ambitions for the evening: He plans to black out from drinking. It's nice to have goals!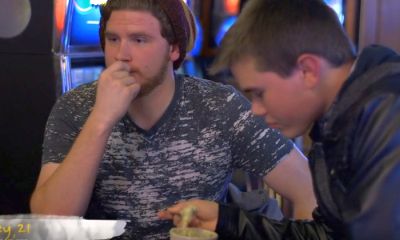 While Joey and his pals are shoveling in some weird-looking soup one friend brings up the fact that he thinks Joey is whipped by Emma. Joey insists that isn't the case; he says he just prefers to hang out with Emma on his nights off from slinging chicken feed.
Back in Utah, Halie and George come back from Hawaii and Halie immediately starts complaining about how much she misses her family and how she has no friends of her own.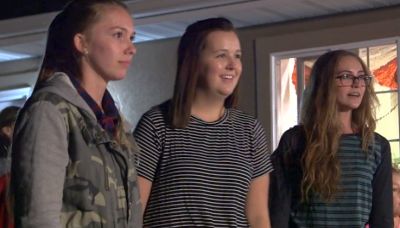 To cheer her up, George invites his/their friends over for a rousing game of kickball. (We've got to give George credit—he does his best to make his wife happy.)
Later, the good wholesome fun continues when George and Halie head out to a cabin with George's friends to go sledding. Unfortunately, Halie is still miserable.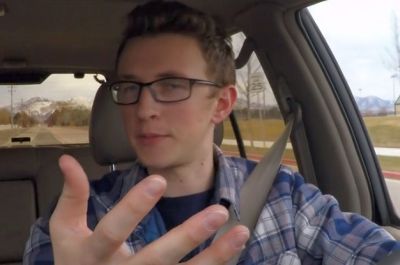 The next day, George complaining to his dad that, despite taking her to Hawaii and providing her with plenty of good clean Mormon fun, Halie is still miserable. He feels like he still can't pull her out of her funk.
Meanwhile, Halie calls her mom to complain again about having to live in Utah. She admits to being a bit jealous of George, who has his family nearby. She seems to regret moving to Utah but doesn't want to say it.
Back at the worst birthday party ever, Travis and Brenda's friends ask them about their relationship. It seems like the friends were prompted by producers to ask about all of the things we know Brenda and Travis disagree on. Well, to be fair, that's kind of everything. They don't agree on politics, they don't agree on how many children they should have, and they never argue or talk about deep issues. That sounds healthy.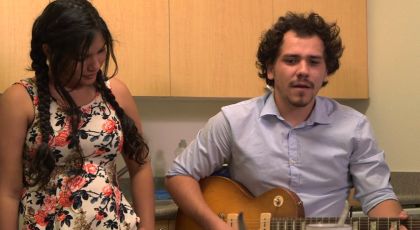 Since it's Brenda's birthday, Travis has to come up with some sort of gift to give her, even though he's broke. Surely he tried to run through the house looking for gifts to give his new bride. (A roll of toilet paper? A used men's razor? His old skate shoes?)
Travis finally decides to give Brenda a birthday song.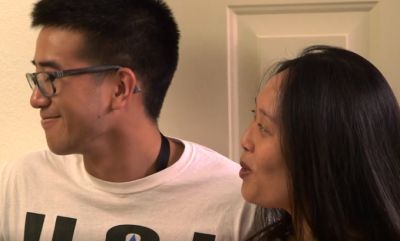 Yes…and it's as bad as we all had hoped.
Travis is there, singing like a nightingale with laryngitis, while Brenda is just staring at him, embarrassed. Meanwhile, their friends smile awkwardly, almost as if they're trying to decide if this is real or if Travis is playing a big joke on them.
Next week, Halie's parents come to visit and George gets a little snappy with Halie's over-protective mother, Emma gets tired of bossing Joey around, and Brenda and Travis go to counseling.
To read our recap of the previous episode of 'Teenage Newlyweds,' click here!
(Photos: FYI)