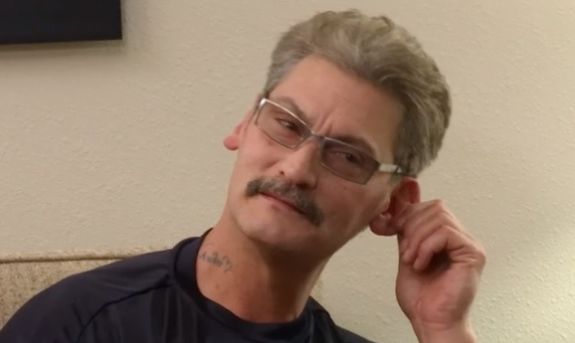 For years, The Ashley has stated that MTV would be better off if they ditch the girls of Teen Mom OG and just focused the series on the real star of the show, Tyler Baltierra's dad, Butch Baltierra. It looks like the network has finally listened and is giving The Ashley (and legions of other fans) what they want– a full Butch special!
"Being Butch," a one-hour special that will air Monday, July 18, will focus on Butch, just as Monday's "Being Barbara" special focused on Teen Mom 2 star Barbara Evans. From the preview clips of the special released by MTV, we know that "Being Butch" will focus on Butch's efforts to stay clean and build his relationship with his son, Tyler, and Tyler's wife Catelynn Lowell. 
Butch, who was released from prison in August 2015 after a long stay, will also attempt to figure out what he wants from his current relationship.
In one sneak peek clip of "Being Butch," Butch and his girlfriend, Nadine, discuss marriage. Butch's son, Tyler, approves of Nadine but thinks that Butch should hold off on marrying anyone.
Later, Butch discusses his past issues with substance abuse, and comes to the realization that, in the past, he put drugs before his kids. Nadine tells it to Butch straight– encouraging him to go talk to a counselor to help him rebuild his relationships with his kids.
In another clip, Butch (who has taken Nadine's advice and gone to therapy with Tyler) is talking to a counselor.
"I'm trying to go forward, I'm not trying to go back," Butch says, as he's obviously struggling to face his past actions. "I don't want to go back because I was dumb, man."
Tyler encourages Butch to watch a scene from an old episode of 'Teen Mom' in which Tyler is talking to the counselor about the lack of love he gets from his father. Butch is understandably brought to tears.
In a final clip, Butch talks about staying sober, and denies that he was ever addicted to crack cocaine.
Tyler and Catelynn both disagree, stating that they feel that Butch was addicted, and Tyler reminds his dad of a text that Butch sent to him during a binge that stated that Butch loved cocaine more than his son.
"I was emotionally and spiritually bankrupt," Butch explains.
"Being Butch" airs Monday, July 18 on MTV!