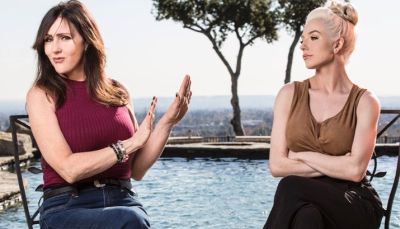 Courtney Stodden's estranged mother, Krista Keller, is ready to tell all: in the form of an upcoming book!
As we learned from watching them on The Mother/Daughter Experiment, Krista and Courtney have a very strained relationship, thanks to Krista marrying off her then- 16-year-old daughter off to a much older man and then allegedly trying to steal him away from Courtney.
In an interview with Radar Online, Krista says her book with explain why she has a terrible relationship with Courtney.
"I am writing a tell-all," Krista told the site. "I'm going to tell the complete story so that people will understand why this happened and how it happened. Courtney had a wonderful childhood. If I'm guilty of anything it's guilty of spoiling her. We all spoiled her. Courtney was the youngest child, there is an 8-10-year age difference between my two older children and Courtney. I was 34 when I had her. She was a baby we never really thought we would have. Courtney was over-indulged. Sometimes when you over-indulge, people mistake that for a bad childhood."
Krista said she chose the title Too Much! For her book because she gave Courtney too much in life.
"When I was a child, I didn't have all the things Courtney had, and I wanted to make sure that she had the things I didn't have," Krista said. "I overreacted. I gave her too much, but, I did everything with love."
We learned on the therapy show that Krista had an "emotional affair" with Courtney's husband, actor Doug Hutchison. Doug also claims that Krista came on to him sexually. Krista denies the advances but admitted on 'Mother/Daughter' to having a "connection" with Doug. The show ended with Courtney hating her mother more than when she started the 'Experiment.'
Krista also claimed that the apology she made to Courtney on 'Mother/Daughter Experiment' for trying to steal Doug was edited.
"When I apologized to Courtney for having an emotional tie to Doug, I was saying I had no right to be his confidant," Krista tried to explain. "I really should have turned that over to someone else."
She said that she, "apologized for anything that I could have done wrong. It was taken out of context."
Krista says that her upcoming tell-all book will set the record straight on her relationship with Courtney, as well as her 'relationship' with Doug. Even though Courtney, who is currently pregnant with her first child, seems to have no interest in making amends with her mom, Krista told Radar that she still cares for her daughter.
"I want her to have a happy life and I want her to have a happy healthy child. If I have to love this child from afar, then I will," she said.
Writing a tell-all book about your daughter probably won't improve your relationship with her…just sayin'…
No release date has been given for Krista's book, but we will probably wait until it hits the clearance rack to buy it. If Courtney decides to retaliate by writing a tell-all about her mother, though, that's a book we'd pre-order as soon as possible!
(Photo: Lifetime)
"