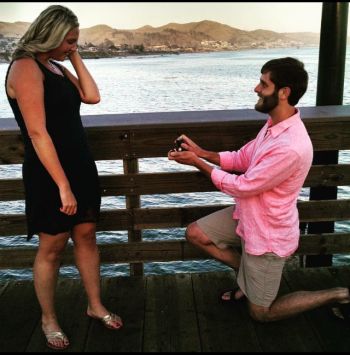 Derick and Jill Dillard found out some big news once they were able to get some wifi in the jungle of their Central American mission field– Derick's brother, Dan Dillard, is engaged!
Dan, who has appeared on 19 Kids and Counting, proposed to his girlfriend, Deena Tougaw, earlier this weekend. In photos posted to Instagram, Dan and Deena revealed details of the proposal, which took place on a pier in Monterrey Bay, California.
"On a beautiful pier, in an incredible small beach town in California, as the sun was setting, I said yes to my prince," Deena wrote in the caption of a photo of her showing off her ring. "I've never felt so loved in all my life."
"She said yes! So glad that [Deena] accepted my proposal to marry me!" Dan wrote in the caption of a photo of him down on one knee, proposing.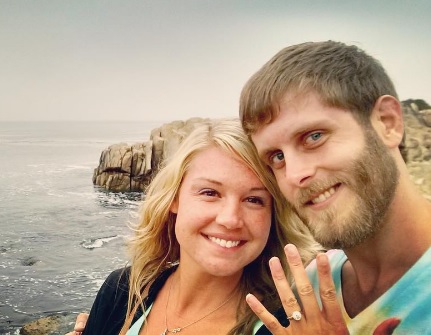 Now that Dan, who is Derek's only sibling, is engaged, let's compare his relationship with Deena to Derick's relationship with Jill…
Length of relationship: Both couples dated only a short time before getting engaged. Derick and Jill courted for five months, while Dan and Deena have been together for just over six months.
Wife to be: While Jill was home-schooled and trained to be a midwife, Deena has a degree from the University of Arkansas and currently works for North Arkansas College. Both woman are very religious but Deena does not follow the same strict rules that Jill and the other Duggar girls do– she even wears pants!
Rules & Regulations: While Derick and Jill followed the strict rules of courting (no kissing before marriage, no holding before an engagement, etc) it seems that Dan is a bit more relaxed in his relationship. It doesn't appear that Dan and Deena did the whole "courting" thing, and just simply dated.
It's unknown if Deena has even met Jill, as Jill and Derick have been in Central America during Dan and Deena's entire relationship.
Derick sent a congratulatory message to his brother and future sister-in-law via social media.
"Congratulations to my brother and future sister on their engagement! The things you find out when you get wifi while on the mission field LOL! May the Lord bless y'all as you seek him," Derick wrote on Instagram.
(Photos: Instagram)