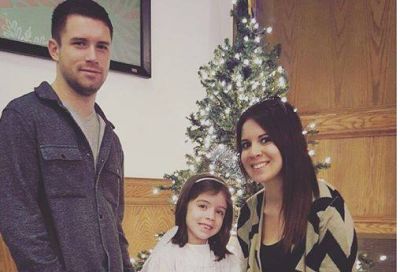 Ashley Salazar, who starred alongside her fiance, Justin Lane, on a memorable Season 2 episode of 16 and Pregnant, has announced that she is pregnant with the couple's second child!
Ashley announced the big news via her Instagram, posting a photo of her eating and Justin drinking two blue drinks, along with the caption, "Eating for Two" and "Drinking for Two." Ashley noted in the photo caption that the color of the drinks signified that they are having a baby boy.
She also wrote that she is due January 28.
Ashley is best remembered for being one of the only girls from 16 and Pregnant to choose adoption for her child, though she struggled for years with her decision to place her daughter, Callie (now six years old), for adoption with her aunt and uncle. During Ashley's heartbreaking episode of '16 and Pregnant,' Justin was not a supportive partner to Ashley and they soon broke up.
Their story, however, does have a happy ending. Ashley and Justin reconciled about three years after Callie's birth, and have been dating ever since. The couple became engaged in October 2014, several months after Ashley suffered a miscarriage. These days, they live together in Texas and see Callie regularly.
Currently, Ashley is one of nine girls from '16 and Pregnant' who is still with her original baby-daddy. That's quite a feat, considering there have been 59 girls who have starred on the show over the five seasons.
Want to know what's happened to some of the other girls from '16 and Pregnant' since their episodes aired? Click here!
(Photo: Facebook)