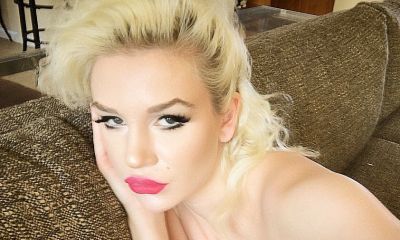 Courtney Stodden and her husband, Doug Hutchison, are grieving the loss of what would have been their first child. Her manager has confirmed to People that Courtney suffered a miscarriage.
"It is with a heavy heart to inform you that last week Courtney Stodden suffered a heartbreaking miscarriage," Courtney's manager Gina Rodriguez told the magazine.
"Courtney and her husband, Doug, are at an emotional loss for words and are using this time to grieve with their close family and friends. Please respect their privacy as the couple try to cope with losing their precious baby and seek the support they both need."
Courtney, who most-recently starred on The Mother/Daughter Experiment, announced that she was pregnant in May and had been excitedly posting baby bump pics to her social media accounts since the news went public. On July 16, Courtney tweeted to her unborn child, writing that, "God is embracing you."
Doug, 55, and Courtney, 21, have been married since 2011. In addition to 'The Mother/Daughter Experiment,' the couple also starred on a season of Couples Therapy. Courtney has stated that she and Doug had not planned to announce this pregnancy as early as they did, but the news was leaked to the media very early on. It is unknown exactly how far along Courtney was in her pregnancy when she miscarried.
(Photo: Twitter)