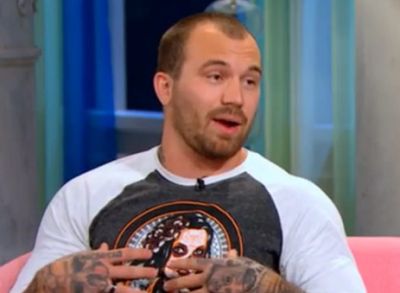 Adam Lind made it clear on the Teen Mom 2 Season 7 Reunion Special that he was "so done" with the show and would not be returning to film any more seasons. During his time on stage with Dr. Drew and his ex, Chelsea Houska, Adam stated that he desperately wanted out of his MTV contract. However, Adam has been spotted filming around his hometown recently, being filmed by an MTV crew.
The Ashley has confirmed that Adam was, indeed, filming for the upcoming season of 'Teen Mom 2' last week. He attended his daughter Aubree's softball game, which was being filmed, and according to The Ashley's source, he "was rude to the film crew and producers." However, the producers may take action against Adam's tantrums! 
"He attended that game with his fiance, Stasia and daughter Paislee, and basically the whole time just whined that whatever he did on camera would be edited to make him look bad," the source tells The Ashley. "The producer tried to assure Adam that wasn't true, but he still caused quite the scene. Stasia was basically just standing there, silent, the whole time. She looked really uncomfortable."
The Ashley has confirmed this with a second source, who backs up the first source's story.
According to one of The Ashley's production sources, Adam may be required to continue filming, as the next season is now officially Season 7B (rather than 8), so contracts were not renegotiated. (The Ashley can't confirm that Adam is required to keep filming, however.)
Also…from The Ashley hears, the show's bigwigs are not happy with Adam's tantrums, as they are paying him insanely good money to film for the show. The Ashley's source tells her that the producer may be already (or may start) withholding payment from Adam when he does not cooperate during filming.
"If he is not doing the job they are paying him to do, why should he keep getting paid? That's their feelings on it," the source tells The Ashley.
Another source tells The Ashley that Adam's bills just went up, as he has just had an increase in what he pays his second baby-mama, Taylor Halbur, in child support, so he may need stay on-board the 'Teen Mom 2' money train for a while longer!
(Photo: MTV)