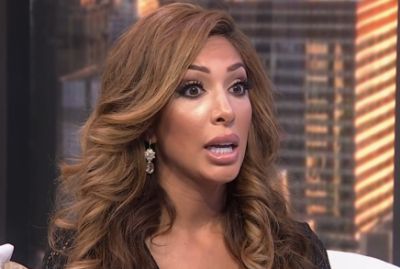 Farrah Abraham is still upset that Dr. Drew Pinsky joked that he wanted to "strangle" her—and she's hoping that The Doc loses one of his longtime jobs over his comments!
Farrah sat down with People Now to discuss Dr. Drew's comments about her. As The Ashley previously reported, Dr. Drew was asked on a podcast to reveal which of the 'Teen Mom' cast members he'd strangle, if he had to strangle someone. Naturally, he chose Farrah and naturally, Farrah was angry.
"I just don't believe in joking about violence anymore," Farrah said. (Mind you, this is the same girl who threatened to kill all of her Celebrity Big Brother housemates over a broken flip flop…as you do.)
Farrah stated that her on-air brawl with some of her 'CBB' cast mates has made her fail to see the humor in talk of violence.
"I think since my Celebrity Big Brother situation with Janice Dickinson…and as police and other things have gotten involved over there in the UK, I just don't feel like joking around about violence in any sort of a way with someone who I work with, who I look at as a professional, and someone who I've shared a lot of my intimate feelings with. I don't know. If you're frustrated, you're frustrated; leave it at that…no strangling or choking people.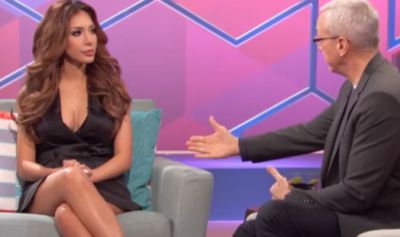 "That made me not be able to look at him as a professional, as much as I did, or look up to him as much as I did. That's just, where I feel about that," she added.
Farrah said that she hasn't spoken to Dr. Drew directly since he made the comments. However, she said that she may be open to accepting the invitation extended by The Doc's wife, Susan Pinsky, to have Farrah on her podcast to clear the air.
When asked how she'll feel seeing Dr. Drew at the upcoming 'Teen Mom OG' Reunion, Farrah made it clear that she's not thrilled about the situation.
"I'm open to a new host for the 'Teen Mom OG' reunion," she said.
Earlier this month, Farrah told Radar that she "will no longer have him around me for my health and safety due to his violent 'strangle' actioning [sic]."
She also insisted that Dr. Drew must want to have sex with her, and that he watches her "Backdoor" adult movie on the regular.
Dr. Drew has stayed silent throughout the "catfight."
It's unlikely that MTV will replace him as the host of the 'Teen Mom' reunions. After all, it's a gig he's held since 2010!
Watch Farrah's full interview with People Now below:
(Photos: People, MTV)