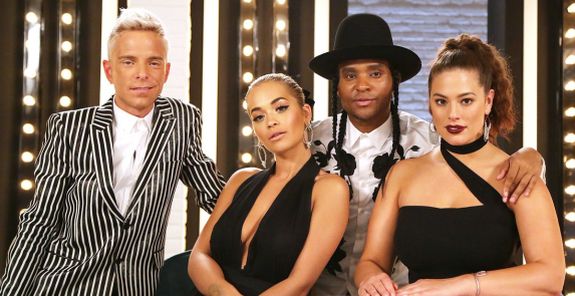 VH1 has taken on the task of resurrecting America's Next Top Model after the loooong-running reality show got the ax by The CW last year. Original host and creator Tyra Banks jumped ship as host (but will stay on as an executive producer), and today VH1 announced the new cast of characters who will be hosting and judging the upcoming season.
British singer and actress Rita Ora will be taking over for Tyra as the show's host. ("Rita Mail" doesn't exactly have the same ring to it as "Tyra Mail" but, hey, what can you do?)
A press release from VH1 describes Rita as, "an extremely influential figure in the fashion world, having been named one of the best dressed at this year's Met Gala. She is the aspirational master of her own rapidly expanding universe, yet the woman behind the brand remains fun, humble, and down-to-earth."
Joining Rita on the new-and-hopefully-improved 'Top Model' will be supermodel Ashley Graham, Paper magazine Chief Creative Officer Drew Elliott and celebrity stylist and "image architect" (whatever that is) Law Roach. The three will serve as the new judges.
"While there never will be a Tyra replacement, what we wanted to do was really infuse that panel with style fashion and pop culture experts,"  VH1 and Logo president Chris McCarthy told InStyle. "Together they collectively have the power of what is driving fashion and pop culture today."
VH1 has not released a lot of information on the show's revised format, but in the press release sent out today, the network stated that it planned to retain some of the features of the old 'ANTM.'
"VH1's 'America's Next Top Model' preserves the DNA that viewers have come to know over the course of 22 cycles, yet the franchise has evolved to appeal to a new audience and reflect the modeling industry today."
The exact premiere date has not yet been released but VH1 has stated that the show will premiere sometime this fall.
(Photo: VH1)