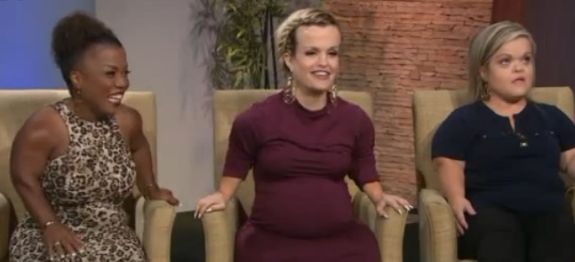 There's nothing The Ashley loves more than a reality TV catfight– except, that is, for a live reality TV catfight.
Feuding Little Women: LA stars Terra Jole and Christy Gibel ended up on stage together on Wednesday during a live interview with KTLA and things got downright nasty! The interview, which also featured their co-star Tonya Banks, marked the first time the ladies had spoken on live TV about their epic glass-throwing bar brawl in January that allegedly left Christy hospitalized with brain contusions.
Although their brawl took place seven months ago, the ladies made it clear during their interview on Wednesday that they are still not getting along.
When the reporter asked Terra and Christy where things currently stand between them, and neither woman wanted to answer.
"That's exactly where things stand," Terra finally replied.
"[The fight] has definitely put a damper on our relationship," Terra later added.
When the reporter asked about the charges that Christy allegedly pressed against Terra for the incident, all hell broke loose on stage!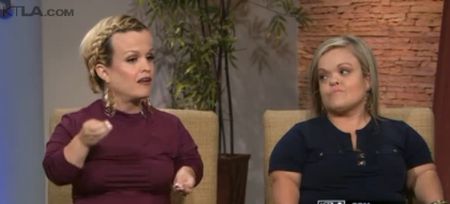 "I dropped them," Christy said, to which Terra replied, "You didn't drop them! It's impossible for the DA…if you file a police report with a felony assault it's impossible for the police to drop it. Ask any court judge!"
Christy protested that she hadn't yet contacted the District Attorney's office when she dropped the charges.
"See this is why [we don't get along]!" Terra replied.
After the women were shown a clip of a scene in which the brawl and the charges were discussed, Terra talked about how the charges Christy filed against her have affected her life.
"I was affected by the police report," Terra replied. "I was not innocent in this whole situation, but I didn't deserve to be accused of assault with a deadly weapon. When that did happen, it became very real. It became a legal situation that my husband is very offended by…This was a stupid bar, throwing drinks fight, that's it. For someone to act that stupid–"
"I don't think it was stupid!" Christy piped in.
"It's very hard to come back from that and not be offended by it on a regular basis," Terra continued.
Finally, Tonya voiced her opinion on the incident.
"Christy, you did not get contusions, calm down!" she stated.
"No one has ever seen this report, no one has ever seen her proof," Terra added.
Tonya then suggested that the two contusions Christy says she suffered from the glass-throwing brawl may have actually been the result of abuse Christy suffered from a previous relationship 10 years ago, an idea that Christy denied.
"Contusions don't go away!" Tonya yelled. "It shows up! Doctors said that on the show!"
The reporter took the liberty of stopping the interview there, before someone picked up a chair, shoe or any available glassware and chucked it at their enemy.
Watch the clip of the catfight below!