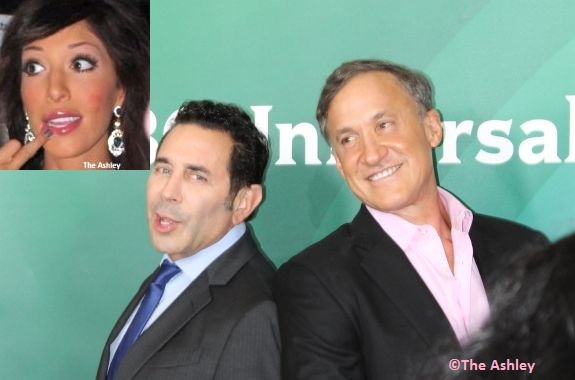 Farrah Abraham can keep having plastic surgery– but the Botched doctors say they would be hesitant to ever do a cosmetic procedure on the Teen Mom OG star, even though she once came to them for help after a disastrous lip implant procedure left her screaming "Botched!"
Dr. Paul Nassif and Dr. Terry Dubrow met with Farrah during a 2015 episode of 'Botched' and refused to give her the lip implant she desired. In a red carpet interview with The Ashley during the 2016 Summer TCA Tour, the Docs explained why they didn't want to work on Farrah.
"[We were] definitely hesitant," Dr. Nassif told The Ashley, adding that her reality TV star status had nothing to do with those feelings.
As you may recall, Farrah's lips swelled to epic proportions after she suffered an allergic reaction while trying to have the procedure done by another doctor in January 2015. She immediately took to her social media accounts to shame the doctor. According to Dr. Nassif, this action was one of the reasons he didn't want to work on Farrah, whom he called "difficult."
"When you have someone that puts things on social media and can be a little bit difficult for someone to deal with, it made us think twice about things," he said.
According to Dr. Dubrow, Farrah's doctor did not "botch" the procedure as Farrah claimed, and did not deserve the public shaming he received from Farrah.
"She had a reaction to procedures done properly, and I think she felt that maybe they weren't necessarily done properly," Dr. Dubrow told The Ashley. "Things can go wrong, so it's important that anyone who wants to do something like this understands that."
Although the 'Botched' docs didn't end up operating on Farrah (and even recommend she not have any more cosmetic procedures done on her lips), Farrah has had plenty of work done on herself since her episode aired. The 'Teen Mom OG' star has continued to get Botox and lip fillers, had another breast enlargement surgery, and is rumored to have had some sort of cosmetic procedure on her butt (although she has yet to officially confirm that she altered her um…backdoor).
For those of you keeping track of Farrah's ever-growing list of plastic parts– she has had (at least) three boob jobs, a chin implant, a chin implant removal surgery, (possible) butt implants, cheek filler injections, lip fillers, Botox, and at least one nose job…so far.