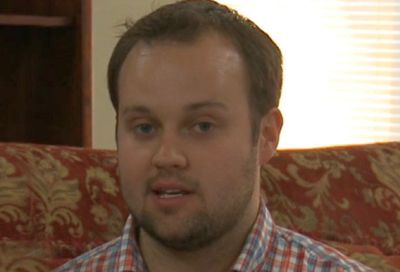 Ol' Jim Bob may have to once again bust out his checkbook to help cover up his eldest son Josh's bad behavior.
Matthew McCarthy, a Los Angeles-based DJ and photographer, has filed a lawsuit against Josh, seeking an undisclosed sum in damages. Matthew claims that the image Josh used as his profile pic on cheating site AshleyMadison.com, as well as various dating sites, was actually an image of him. After it was discovered by the media in August 2015 that Josh had these profiles, Matthew's image was splashed all over the Internet– and he claims it caused him a loss of income, not to mention a lot of embarrassment.
In his filing, Matthew claims that he has been teased because of Josh's "extreme and outrageous" use of his photo. He claims to have been called various names including "DJ Duggar" and "Duggar's boy toy."
According to Matthew, this harassment has caused him to lose work, and suffer from "prolonged pain and suffering, anxiety, depression, embarrassment, humiliation, loss of self-esteem and extreme and severe mental anguish and emotional distress including but not limited to frequent panic attacks, disruption of sleep and insomnia, mood changes, fits of anger, a loss of interest in pursuing both professional and personal endeavors, and a complete loss of self-confidence."
Way to go, Joshy! Next time use your own mug when you're trying to creep the Interwebs for chicks!
After it was discovered that Josh had a profile on AshleyMadison.com and other dating sites, Josh admitted that he had been unfaithful to his wife, Anna, and claimed to have an addiction to p0rnography. He then checked himself into a faith-based "rehab" facility to try to pray the naughty thoughts away.
Josh left the facility in March and has been attempting to repair his marriage in the months since.
Matthew states in his filing that he comes from a religious family and that they, too, have suffered embarrassment because of this. When the scandal hit the news last August, Matthew talked to Gawker about how he felt when he discovered what Josh had done.
"Initially, I just kind of thought it was funny," he told the site. "But then I started reading. Now that I've found out that this guy's a child molester, and he's unfaithful and all those other things—it's awful! Especially since he's supposed to be this stand-up religious guy. I mean, I'm not all that religious, but I do—I am very close with my family. And am basically the exact opposite of him And now, this maniac is using my pictures online to try to get laid. It's just crazy—it's surreal."
This is not the first lawsuit to be filed against Josh. Last year, adult entertainment star Danica Dillon filed sued Josh, claiming that the former 19 Kids and Counting star roughed her up during several sexual encounters they had. Danica dropped the lawsuit against Josh in February, and Josh maintains he never even met Danica.
(Photo: TLC)